I've just been down to LA and the latest workout craze is climbing the Sweaty Secret Stairs of Santa Monica. Also the most novel new way to try and spot a star.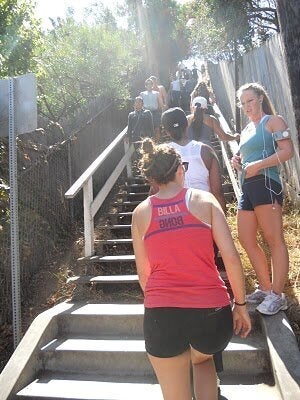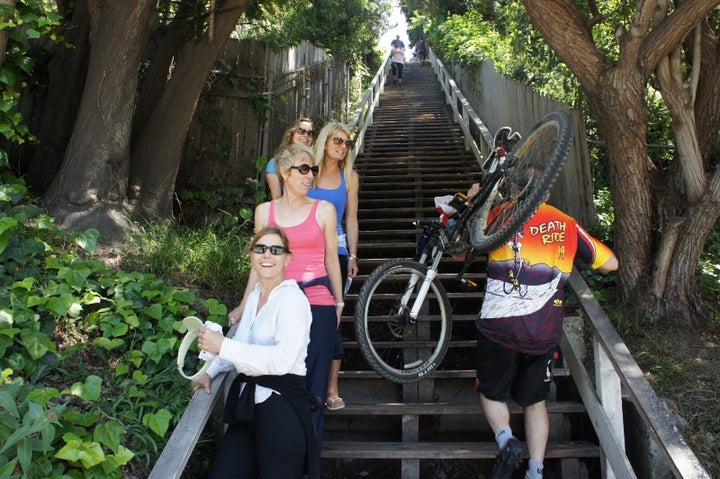 Here you will find all the Hollywood Wannabes with the AlreadyTheres. My friend thought she saw Matt Damon on one of the days we were there but we couldn't be sure.
I am talking about the 170 wooden steps between Entrada and Adelaide in Santa Monica and a few paces down, the even steeper 189 concrete steps on Fourth Street.
The busiest are the wooden ones which on Yelp have inspired all sorts of vitriol. "If Dante's Hell had a stairmaster this would be it!!" We were sore after walking them four times and some people run up them for an hour!
Actually few people are walking them "Old Skool" as we did. There's one person who walks them on their hands!! Many take them two at a time, some do dance steps or run up sideways, some haul their bikes up.
Some men and women come here to find a date though others complain it's "too much like a meatmarket." There are all shapes and sizes with some awesomely buff and others you wish they put their shirts on. The wealthy or famous park their black Escalades or yellow Lamborghinis at the top of the gorgeous palm tree-lined street, meet their trainer and start the stairs.
But everyone, no matter how wealthy or famous, has to stretch on the sidewalks. Don't try and stretch on the 4th Street grass medium barrier, apparently the residents will call the police to issue you with a ticket.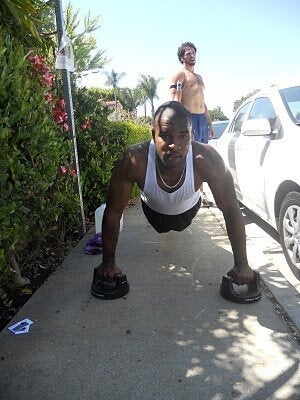 If you want to do the entire two-hour Stairs Walk which is a great way to see into people's backyards, start at the bottom of Amalfi Drive, the home of Tom Hanks, Sugar Ray Leonard, Steven Spielberg and formerly O.J. Simpson. This book will show you the rest of the way.