She's got my blouse on! The one I've been searching for forever. That was my first thought on seeing these stunning pics of 48-year-old Elle Macpherson on vacation in Ibiza, in the constant company of the paparazzi. Is it a peasant blouse or a beach cover-up? I'm calling it The Elle, for all it's blue and purple fabulousness with pompoms on top.
Because when you get this top, you get the Elle bod - complete with non-bobbly thighs, silky knees, perky boobs and eternal goldy tan. It's true. That's why I've been searching for it for so long.
Wearing The Elle blouse I could be picking up my kids from soccer camp but look like I've just been hit the sandy shores after yakking all night with celeb peeps who are famous, but in a disarmingly bohemian and eco way. Where did you find it Elle? Could have easily have been a 5 euro find at the beach markets...or 500 euros at Harvey Nicks.
For the past five years I've had my one cover-up stand-by (from Letarte) but it's not The Elle...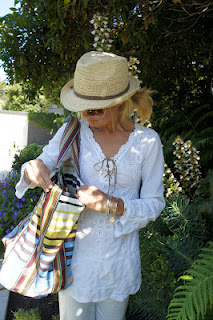 Photo: Jody Brettkelly. Wonder why I'm standing in the vege patch...Elle wouldn't do that...
Last week in France, land of charming blouses, I thought I hit le motherlode with these two tops...I would like to say I bought them from a little-known artisan selling her wares in a cobbled alley but actually they came from the 50% off sales at Galleries Lafayette, a big department store.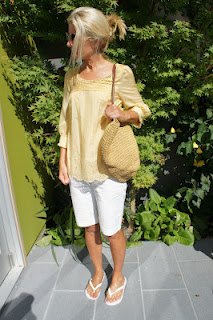 Photo: Jody Brettkelly. Blouse: Paul and Joe Sister...white jandals bit dorky, Elle wouldn't wear those...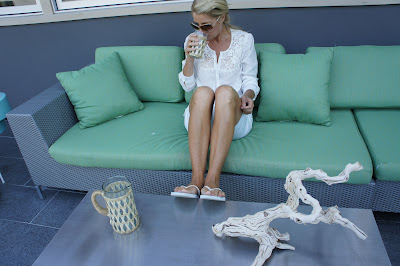 Photo: Jody Brettkelly. Blouse: Gerard Darel. Nothing in the glass, saving calories like Elle
The irony of all this: I have been wearing my new wanna-be Elle blouses with my beloved old rattered Joie shorts and Kasil jeans, neither of which I can bear to throw away. Both have at least five holes in each.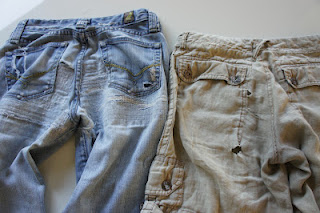 Photo: Jody Brettkelly
What would Elle say?