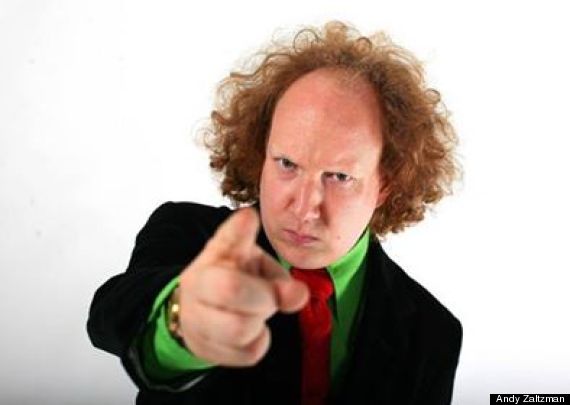 When was the last time you laughed so hard your face actually ached? When you chortled consistently for so long that your sides really were threatening to split, and at the very least, your ribs were begging for respite?
And this from more than three hours of entertainment from five top notch comedians, for the grand total of £4?
I got all this and more at my local comedy club on Monday - The Good Ship Comedy Club in Kilburn, north west London - and the chances are, you've got a local comedy club that you should be checking out and supporting n'all.
Anyone will tell you that being a stand-up is a slog, and the craft of a comedian is honed by repeatedly playing small comedy club gigs. Many clubs have been struggling over the last few years too with the financial downturn hitting door takings hard. But what could be a better tonic in these austere times than having a night out where you are virtually guaranteed a laugh? And after all, laughter is scientifically proven to protect you from the damaging effects of stress, lessen pain and boost both your energy levels and immune system.
Yes, there are larger comedy clubs across the UK like the Jongleurs chain that guarantee a marquee singing virtually every night and of course, those established TV comedians touring the country's enormodomes to ramp up those DVD sales at Christmas where a smile is pretty much a nailed-on cert.
But at your local comedy club, you get all the fun of seeing the (potential) stars of the future up close before they become huge, alongside bigger names trying out new material within touching distance (don't though, you might be arrested) - which can often be funnier than when their act has become finely honed.
Plus, you get all this for a fraction of the cost which is always a plus in the current economic climate (TRANSLATION: You've got more money left over to spend on beer at normal prices...).
The Good Ship - a pub on the Kilburn High Road - has been running its Monday comedy night for a good few years now, and I've had the privilege of seeing the likes of the fabulous Lucy Porter and the hilarious Richard Herring for pennies. And I don't even have to splash out on a cab home.
Frankly, at the Good Ship this week, I'd have paid my £4 for the compere alone. Ben Van Der Velde is the perfect comedy club host - funny as chuff and so friendly, you really feel you want to go down the pub and have a drink with him one day. Then you realise that's kind of what you're doing anyway...
He is a master of audience interaction and last night, he was gifted brothers whose dad manufactured ketamine, and a derivatives trader called Pip. The audience weren't just warmed up, but pretty hysterical even before the first act of the night hit the stage.
Opening was the brilliant Angela Barnes (the BBC New Comedy Award Winner no less) with her self-deprecating but still fiercely funny jokes involving dating, babysitting and tales of woe about suffering glue ear, followed by Manx joker Rob Heeney with a great tale of snapped achilles fortune rather than misfortune, and an impressive range of Scouse accents.
I absolutely adored James Bran's combination of world-weary haikus given a deliciously wonky delivery, and Mike Wozniak was equally quirky and hilarious with his Help For Heroes 'wrong gig' schtick, spurious cat facts and tales of an SAS one-man band.
Bringing the evening to an epic close was the amazing Andy Zaltzman with a righteous work-in-progress set that was still better than many arena stand up routines, roping together religion, politics and cricket, then skewering the lot of them.
It was just a fantastic night out, and the local comedy club virgins I'd corralled into coming were converted.
So while a minority of comedians become millionaire tax avoiders on the telly, why not give a boost to those trying to make a living on the toilet circuit and give your local comedy club a try?
Laughter is the best medicine after all - the brothers in the audience last night definitely appeared to prefer it over ketamine...