I had a a bit of a cultural epiphany the other day. After a wonderful long weekend holiday on the Kent coast, I saw recently reformed Nineties rock band Babes in Toyland at the Shepherd's Bush Empire.
For those unfamiliar with Babes In Toyland, frontwoman Kat Bjelland and her cohorts inspired Courtney Love to become a rock star and were pivotal not just to the grunge scene, but the riot grrrl movement and arguably, the last wave of feminism.
In a packed Shepherds Bush Empire grungers, rockers, riot grrrls, indie kids and even a heavily pregnant office girl dressed in black were going crazy to Babes tunes like a 'Bruise Violet'.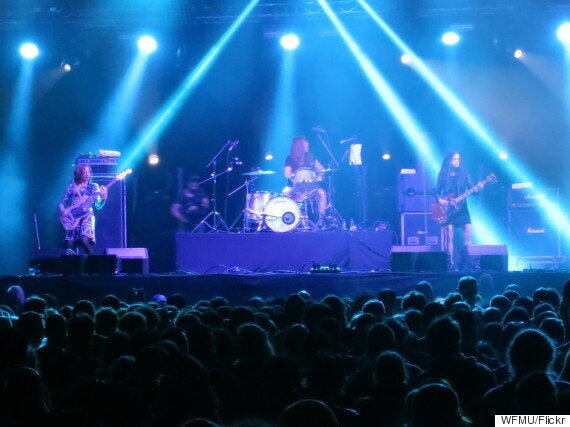 The reformed Babes in Toyland
Everyone seemed united with a shared love - I couldn't put my finger on it, but there was a certain *look* about everyone there too. The band were powerful, visceral, funny, entertaining and possibly tighter musically than they were first time around. Kat was a snarling, passionate embodiment of rock, her body a slave to her involuntary dance moves, so strongly did she allow the power of music to possess her.
It was 1991 all over again. I was transported back to when I had spiked hair, wore charity shop dresses coupled with brothel creepers, and listened to Babes while studying feminist film theory as part of my degree at the University of East Anglia in Norwich. But as well as nostalgia, I felt the feminist fire in my belly and comradeship with a tribe all over again, something I hadn't felt in years.
Frankly, Babes and in particular crazy-haired, bovver-boot wearing, body spasming Kat, are required viewing for today's lily-livered, fourth-wave, no-platforming feminists. She is the embodiment of not giving a shit.
But it made me think - what kind of young feminist role models do we have in music now? Where are the new subculture tribes in the 21st Century?
Where are the youngsters picking up a guitar and screaming songs about the patriarchy in such a compelling way? Why are there not more young people dressing crazy and going mad for their particular brand of music? And outside of feminism, what new subcultures are there for young people to join, to believe in and celebrate?
Is the seeming lack of new tribes today because our internet-driven mass culture is so all pervasive, persuasive and homogenous? Where every new tune, video, fashion or thought is instantly available for consumption in the palm of your hand without ever having to try and seek it out and really think about what you are searching for? Even if that is to help you form your identity?
Perhaps our obsession with nostalgia is a result of this.
It could be that it's more satisfying to seek the counter cultures of yesterday and identify yourself through a prism of history - like Nineties alt rock and indie - where perhaps not every single is on Spotify and a bit of crate-digging research is required. Perhaps that also explains the comeback of other Nineties bands like so-called shoegazers Ride or My Bloody Valentine, grungers L7 and the resurgence in popularity of Northern Soul. It seems every 'new' scene, whether fashion or music, is a celebration of something past. And the Goth Weekender in Whitby is more popular than ever.
Which brings me back to my weekend before seeing Babes spent in Kent.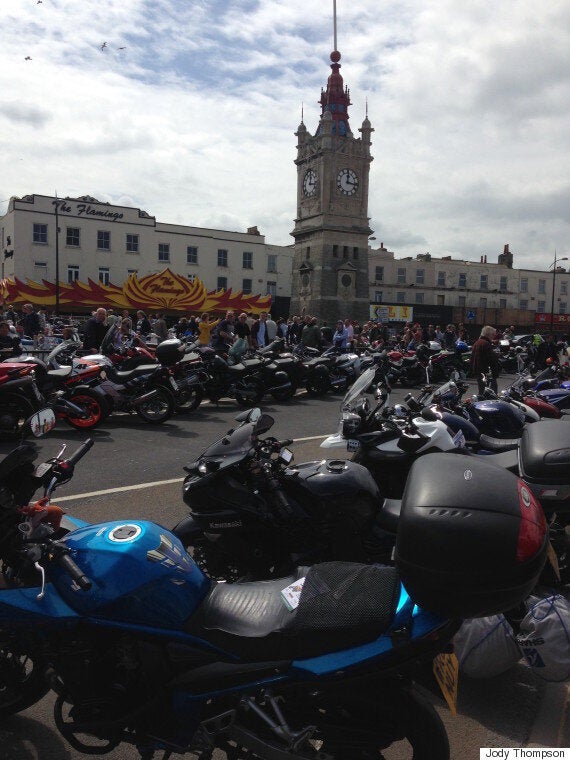 I was in Margate for the Ace Cafe-curated Margate Meltdown, which is a celebration of the old days when mods and rockers had a punch-up on the seafront on Bank Holidays past (the Ace Cafe being a famed bikers hang-out on Hanger Lane in London).
As a result, tens of thousands had descended on the seafront. And it was chuffing marvellous.
Margate wasn't just awash with mods and rockers. Of the huge crowds, alongside the bikers, there were teens bringing old tribes bang up to date in the 21st Century - Teddyboys and girls, steampunkers, hippies, ravers, cyberpunks, bobbysoxers, soulboys, Amy Winehouse-channelling beehive and tat sporting fifties freaks. As well as your more run-of-the-mill folk and maybe still quite 'alternative' sorts like me.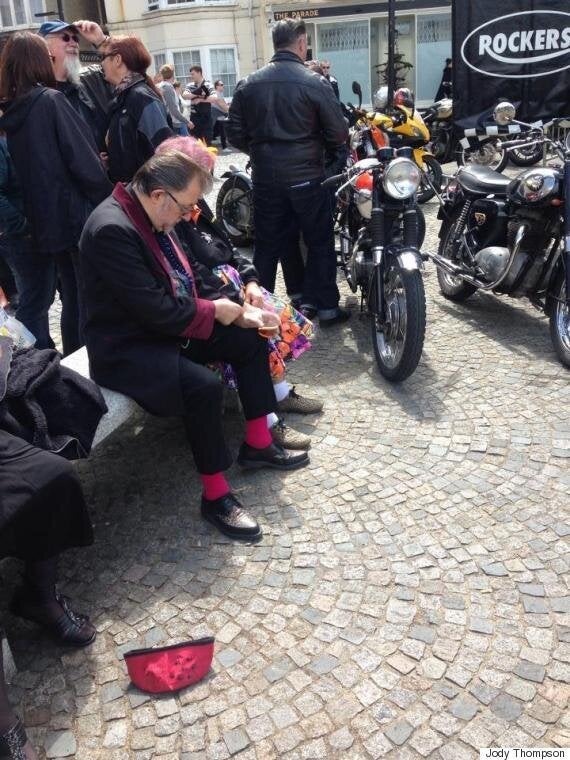 You're never too old for a tribe
It was brilliantly British in so many ways, and left me thrilled that there are still so many tribes out there, celebrating and identifying and being just a little bit eccentric.
You just knew the mods had spent hours tracking down vintage accessories for their scooters, both mod men and women scouring secondhand shops for the perfect vintage tonic suits and dresses, the bikers polishing their vintage bikes they'd spent years restoring or targeting on eBay to within an inch of their lives, and the Ace Cafe stage DJs playing tunes they had spent years amassing and were never, ever for sale on Amazon.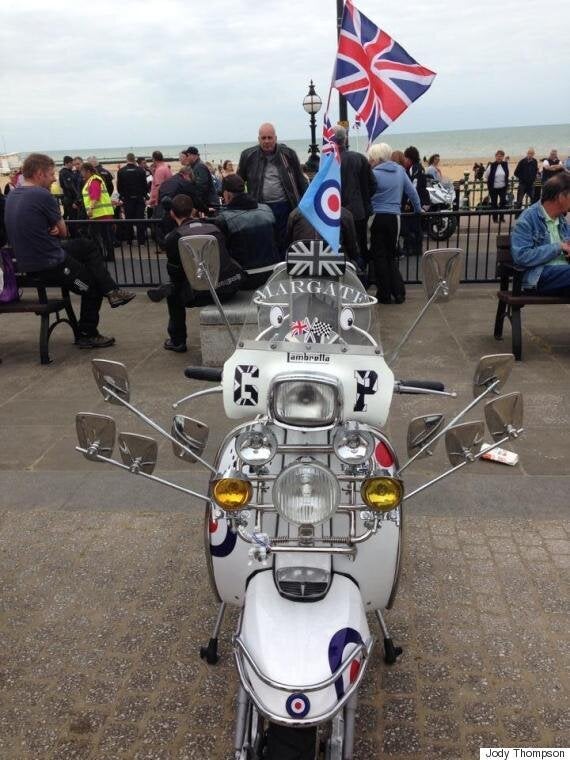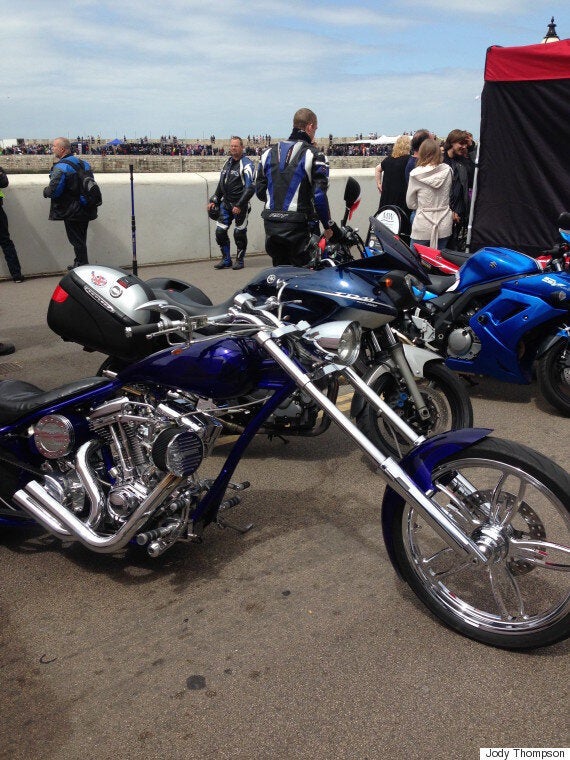 Mods and rockers together at last...
But when you think about the booming fashion in vintage style from the likes of Liam Gallagher's Pretty Green and Paul Weller's Real Stars Are Rare, to Wayne Hemingway's vintage festivals, nostalgia really is more huge than ever and it seems the vast majority of subcultures now are looking back.
I'm old and lucky enough to have witnessed and participated firsthand in the subcultures of indie, acid house, grunge and Britpop through the Eighties and Nineties. That's four major youth counter culture movements in little over a decade. In the 20 years since, how many have we had?
There might not be a new youth counter culture on the horizon anytime soon, but when the retro ones are so much more fun, can you blame the kids for wanting to be in the oldies gang?