Like many people in our hectic times, I work hard. I rarely leave the office on time, my laptop hours are ridiculous away from my desk, and when I do get to the gym, I pound the treadmill too ferociously and don't do pilates and yoga enough.
Coupled with stresses outside of work and various physical ailments, it's a perfect storm to leave me mentally and physically drained on a daily basis - something a rare spa trip provides welcome respite from.
I've been to spas all over the world, but hand on heart, I have never, ever been anywhere like Lush Spa. It's ripped up the rulebook, and thank heavens for that.
A logical extension of their handcrafted natural vegetarian body products line, they've imagined a new way of tending body and soul, where it's not about five star fripperies, but instead, a place which is rejuvenating and restorative in a wonderfully creative, yet charmingly rustic way, using methods that actually work.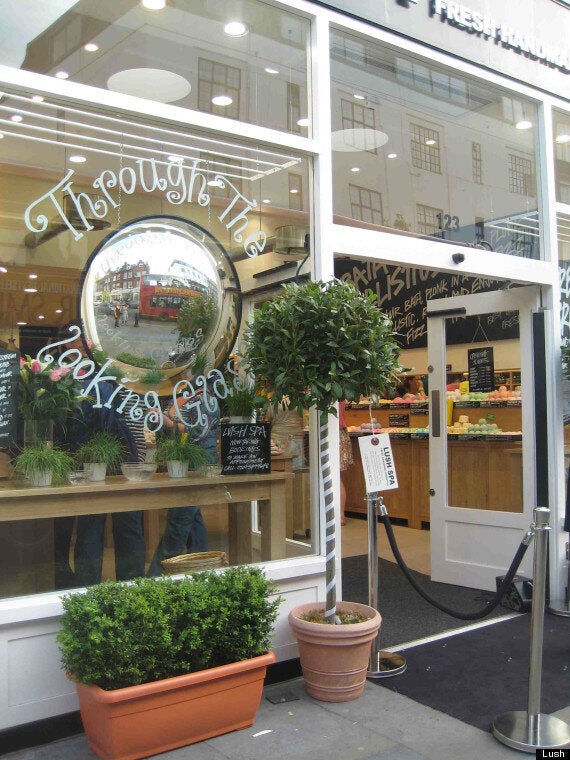 The shopfront at the King's Road shop and spa
I arrive at their shop on London's King's Road for the spa's trademark Good Hour treatment - billed as 60 minutes that will undo knotted muscles with a trigger point, deep tissue massage technique with 'a salty seadog twist' so I'll be ready to go full steam ahead again. I fear it could be style over substance and feel a bit queasy at the potential sea-based quirkiness. How wrong I am.
You're taken through to the little spa tucked at the back of the shop that looks like the most beautiful rural seaside retreat - all scrubbed white wood, vintage prints, fresh cut flowers, and wooden shelves lined with glass jars of Lush potions and concoctions that you can sample. It's the sort of five star experience that is instantly so comfortable it makes you breathe a sigh of relief and just relax.
The kettle is on as I chat to the wonderful therapist Chloe round the wooden bench table in the central kitchen. You're given cucumber-infused water while you fill out your prerequisite medical form, then she goes through each detail with you afterwards - okay, as you suffer from that, I reckon we should do this that, but would you rather I focus on that, what do you think? etc. Chloe also explains the treatment's seafaring theme will leave me 'rocking and rolling with the waves' and that the music accompanying is a heartrending love story between a sailor and his intended. It all sounds a bit alarming.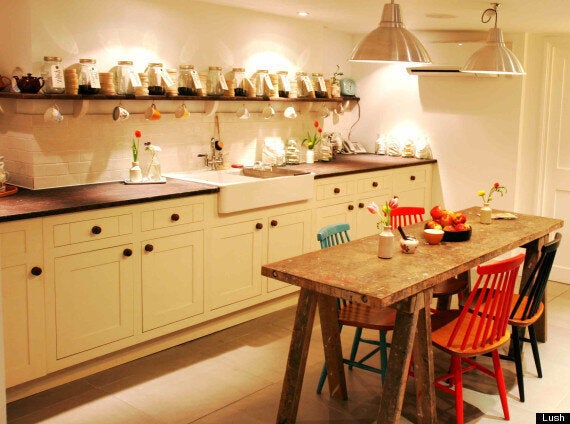 You're then shown the different massage bars and gels to sniff and asked which you prefer - I love the gel for muscle pain but for the main bar, I plump for the gingery pepper one. Delicious. You're even offered the version of the bath bomb that will start your journey.
Every single nuance gone through, we go to the therapy room which again is gorgeous and comfy and not at all glitzy and offputting - there are quirky bits of art and tulips spilling out of vintage glass vases amid the white-tiled understated glamour.
Chloe tells me to strip off, and once comfortable on the heated massage bed, ring the little bronze hand bell to say I'm ready. Before she leaves me to get undressed, she plops a natural bath bomb, which contains seasalt, seaweed, lavender and other lovelies, into a jug of boiling water underneath the bed (hence the kettle), pops on the music and exits. A gorgeous seashanty fills the room and clouds of scented vapour fill the room and lap round my feet in waves like dry ice. It's truly magical.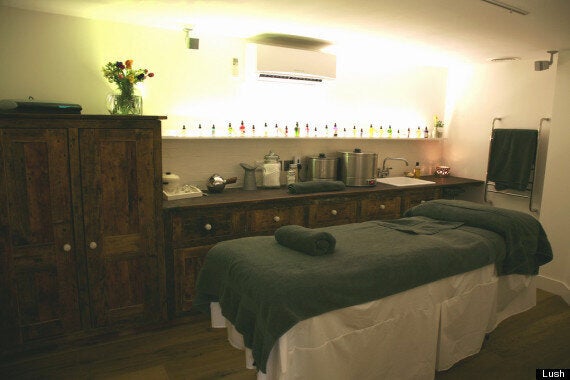 One of the treatment rooms
I lay there breathing in the heady aromas and listening to the bespoke soundtrack LP, arranged and written for this treatment, that tells the tale of a sailor in olden times called Jonny, who's meeting a girl from the West Country whilst falling in love to the sounds of seabird, waves and his seadog boatmates. It's a hipster take on sailor songs though, pulling in motifs from the likes of Jonathan Richman's Egyptian Reggae, the Clash's Bankrobber and even the theme tune from Captain Pugwash, all nestled amongst apparently ancient mariner tunes.
The soundtrack continues once Chloe sneaks back in the room and attends to my body and she does indeed get into the groove, manipulating my horrible hamstrings in time to a high seas melody (which includes actual surround-sound recordings of seabirdsong). It's slightly disconcerting but once you've forgotten you're in landlocked SW3, the feeling and results are amazing.
As well as the bells and whistles of the mulitsensory experience which really does go above and beyond your normal spa service, you also get a proper deep tissue massage from someone who is highly trained and who really knows what they're doing, but with all the quirks that make this special.
My tight quads, glutes, forearms, shoulders, neck and back are expertly pummelled for an hour until they are knot-free, at the same time as my brain is given the prerequisite scents and sounds to transport the mind too.
Once your hour is sadly over, you get dressed and drift back through into the spa kitchen, where you get a cup of proper tea with a pippet of rum to drop into it (arrrr!), accompanied by some ship's biscuits (delicious fingers of shortbread), plus your choice of any fruit you like from an overflowing fruitbowl (to help prevent scurvy I'd wager).
You're also gifted the massage bar you handpicked for your treatment, so I am going to have gingery, cocoa-buttered limbs for some time yet. I was also so enamoured of the various potions I sampled whilst dreamily getting myself together after the treatment, I bought the stunningly citrussy Sun eau de cologne along with banana-based Sympathy for the Skin body cream and a fresh oatmeal facemask to take home after - if only to erm, tide me over til my next visit.
Lush Spa was beyond lush - I was totally swept away...
The Good Hour (it's actually 70 mins, ie a very good hour) is £80 and available at the Lush Spas in Chelsea, Edinburgh, Kingston, Leeds, Poole and Liverpool.