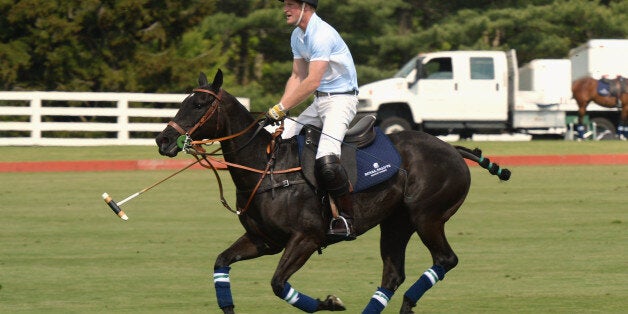 Predictably, England lose to Argentina. So far, so typical of our sporting history. But the 10-11 score is not a fulltime football shootout. It's polo, schweedie.
I'm sat in the vast O2 Arena in London this week watching our three best polo players battle it out in the Gaucho Churchill Cup across a sand-covered pitch with the top trio of Argentine horsemen. It's thrilling, 40mph-fast and brutal - all flashing hooves, flaring nostrils, bulging biceps and barging each other out of the way whilst dodging violently-swinging mallets. Sadly, we fail at the final whistle to be pipped at the post by the cliched foe.
But the brilliant thing is that even for those amongst the thousands of spectators in this enormodome who have never sat on a horse, everyone is cheering on England, as The Fratellis' Chelsea Dagger blasts out after the last goal we score.
Ah well. The majority of the crowd (no polo-playing Prince Harry, sadly) are still fired up by the spectacle as they file out of the steep wedding cake-esque tiers of the O2 to catch the Tube home, or go to the afterparty to mingle with the firm-thighed polo lords and catch the post-gallop turn, Strictly stars Vincent Simone and Flavia Cacace, who are trotting Argentine tangos as a final insult. It's all part of polo's bid to throw off it's 'posh boy' cachet, and tonight is a benchmark. It's fun for all comers.
But whilst most leaving their seats are simply happy after a marvellous night's entertainment and exciting sport, I am left simply staggered at the skill of the polo players. Because just a week ago, I had my first polo lesson - and despite being a lifelong horserider and, according to some, a talented equestrian, I am chuffing rubbish at it.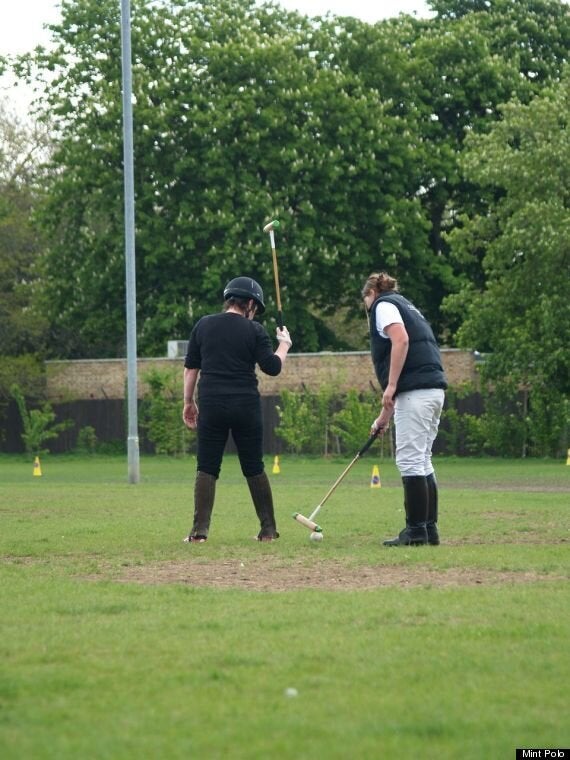 Me practising my shots before getting in the saddle
I have always been that particular class of financially poor but completely obsessed horserider. My family never had money, so I never owned a horse. But because I was passionate and persistent, eventually aged 12, after five years of lessons, I nagged (pardon the pun) someone in the next Fenland hamlet to look after their horse that they never rode.
However, despite taking part in gymkhanas, horseshows and Pony Club events with wonderful dumpy New Forest pony Zeb (the posh girls *always* looked down on me for not owning my own equine BUT I WON ROSETTES, DAMN YOU), polo was never on the agenda as, well, I didn't have the mount or the dosh.
But courtesy of the Chesterton Humberts MINT Polo in the Park Academy and Cool Hooves Polo, just a few days before my date at the O2, I found myself in the middle of Hurlingham Park near Putney Bridge (surrounded by baffled dog walkers) having my first polo lesson.
For those who don't know, polo - billed the Sport of Kings, probably 'cos only they can traditionally afford it - is of Persian origin and was first played in the 5th Century BC, but England has made the sport its own since then. Along with India. And Argentina. But you might not know it started off as a sport for the poor - basically, it was hockey on dobbin.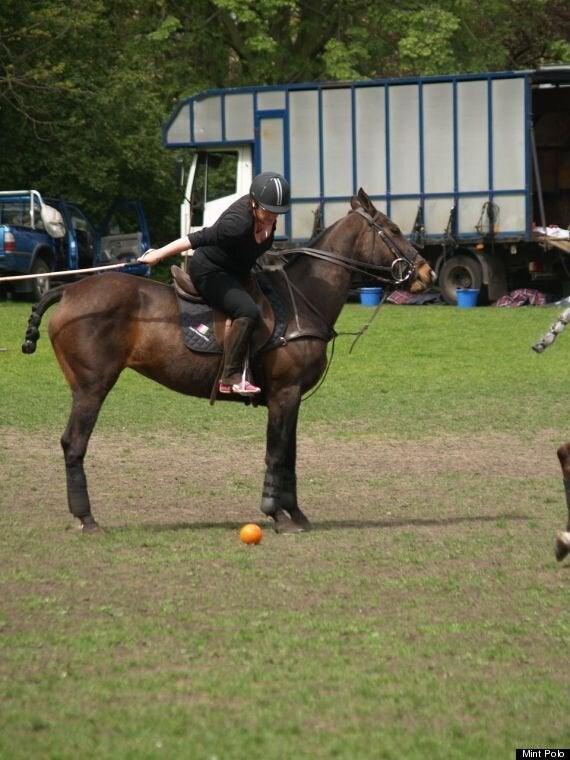 Together with a bunch of mostly total polo novices, some of whom have never even ridden, the instructors took us through the rules of the game first (basically, hit the ball into the goal, and in the meantime, try and get it off the opposition) and how to hit the ball. Other important rules equate to you're on half a tonne of horse, don't cross someone's path when they have the ball, otherwise the result is burgers. And always keep your wrist straight when you swing the mallet for a shot, otherwise it will start hurting (I didn't, it did).
After a run through of the polo whys and wherefores sat on nothing flightier than a plastic chair, it was time to be assigned our beautiful horses outside, mount up, and get to grips with riding with a massive mallet in one hand, and reins in the other. I felt a bit like John Wayne on the prairie, lassoo in one hand while keeping a potentially angry animal in check with the other, waiting to rope a rogue calf. Only in SW6.
No thanks to a lazy mare called Tallulah who treated cantering with contempt, it was hard to keep up with the action, but despite my mount's mardiness, I got quite a few hits of the ball (Some of them good! But by crikey, I am generally bobbins at hitting in the right direction), had an absolute blast and graduated from class - with a certificate to prove it.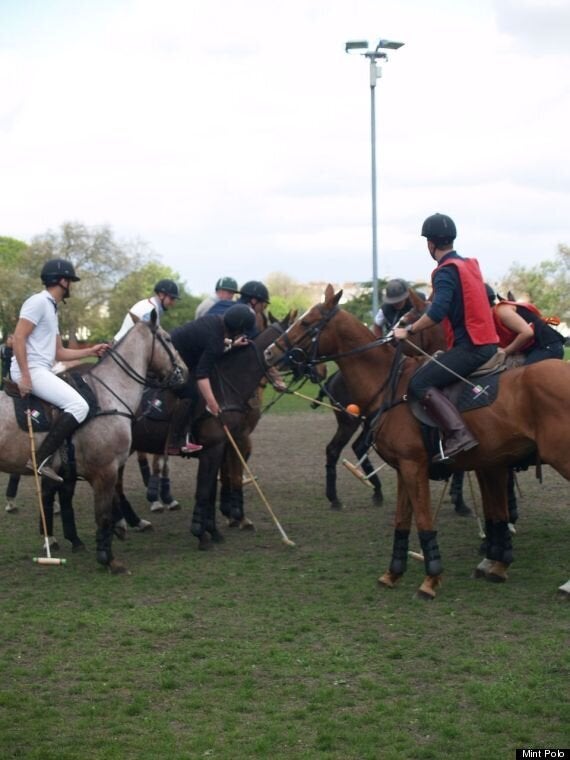 Whacking the ball in the thick of the action
Really, being able to ride is actually not much of an advantage when it comes to polo. You have to forget years of learning as the way you sit on a horse is totally different in polo - the centre of gravity shifts, as you mostly have to lean forward. And forget your subtle dressage skills - these nags just know forward, stop, and are steered by the directions of the reins slapped on their sinuous necks. So complete ingenues have as much chance as weather-beaten old hackers as having a chance of glory in a chukka (the periods of play that a polo match is split up into).
Even though I was useless, the adrenalin rush (when Tallulah eventually did break into a canter) was incomparable. Seriously, imagine mastering a sport where it's not *just* your skill, but it's coupled with persuading a wayward quadruped into taking part too. And it's REALLY FAST. Magic.
Riding isn't cheap and therefore polo isn't either, but if you fancy a bash at something of an exotic but marvellous sport - and what adrenaline junkie wouldn't? - just have a go. There are quite a few companies, not least Cool Hooves, who ensure whilst you might not be a moneyed sort who's daddy has bought you a pony, you can have a bash for a reasonable price, and who knows? You might be better than Prince Harry.
Even if you don't want to play, go and watch. It's ace, honest. Check out Mint Polo in the Park at the Hurlingham Club, London, as a spectator on 7, 8 and 9 June polointheparklondon.com. I'll see you there, pushing in divots in my stillies.
All images copyright Mint Polo in the Park