From John O'Groats to Land's End, the overwhelming, tinsel pom-pom-brandishing consensus is that Britain's Summer of 2012 has already been the most gold-medal-worthy, celebration-tastic of this generation - regardless of the weather, dismissing the economic situation, ignoring any anti-Jubilee sentiment and shoving to one side with an impatient elbow that the Paralympics are yet to come.
And even though I'm not being made to do a swandive into a giant trifle from the top of Nelson's Column, I couldn't agree more. But the one thing that has made me just as proud to be British and love this year and country just as much as the Olympics is not necessarily on the UK's widescreen red-white-'n'-blue radar.
It's a little festival called Secret Garden Party. It was the 10th anniversary this year, it happened at the end of July, took place in gorgeous chocolate-box countryside around a picturesque lake near Huntingdon and my face still hurts from smiling. Plus, I'm still picking bits of glitter out of my personal effects to this day. And that's why I have to rave about it now, as in hindsight, it's in danger of not being included in the great tableau of what was the Best of British this year.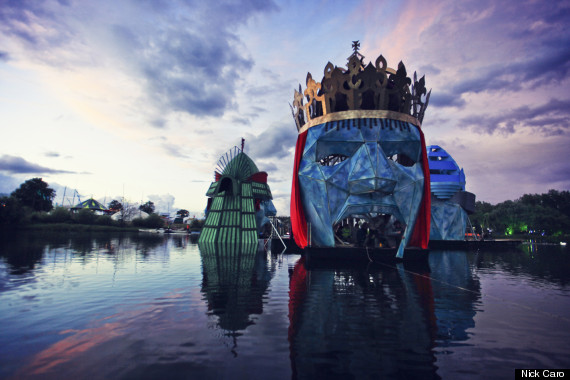 It really is the most entertaining, astonishing, surreal, thought-provoking, thrilling, heart-warming and magical event that happens every year on these mad little lumps of sea-washed rock. But the 2012 version was even more special.
Okay, you have your T in the Parks, V Festivals, Reading and Leeds and a host of other band-meets-field scenarios over the year, even Glasto when it happens. But nothing can top SGP. It's the zeitgeistiest pinnacle of British culture like no other - arty on a grand scale, eccentric, breathtaking, doesn't take itself seriously, sees everyone taking part, happy and involved, with great music as the cherry on top. A bit like the 2012 Opening Ceremony. But over four days.
I have to declare an interest right now though, as I have been involved pretty much since its inception - DJing (unpaid - you just want to be part of it) twice up a tree surrounded by dozens of glitterballs, three times on a stage floating in a lake, once on a golden tank, once on the main stage and this year, on the staggeringly-beautiful Where The Wild Things Are stage, hewn from hundreds of twisting branches. I may have forgotten a year or two. It's that kind of event.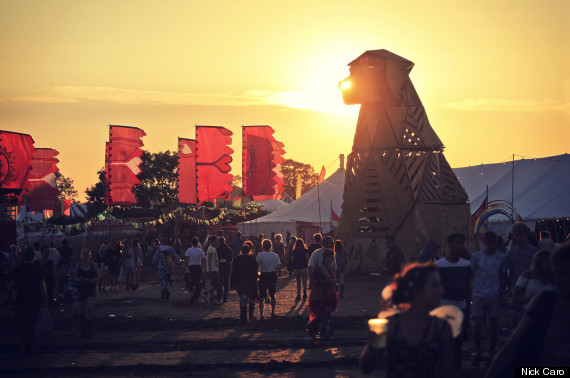 But regardless of that, I am not being biased when I say this year was more brilliant than ever before, from science talks to guerilla happenings, myriad art installations of pure beauty or provoking proper belly laughs, to the sheer volume of festival-goers partaking in the theme of 'Standing on Ceremony' in whichever way they saw fit. Everywhere you looked, there were inventive, beautiful and often plain bonkers fancy dress takes on the idea, from Mexican Day of the Dead dolls, geisha girls, Iron Man made out of an ironing board, devils and brides. And Pacman followed by three ghosts.
There were also the bells and whistles created by the SGP team to celebrate their decade that left the jaw locked in awe.
There were camel rides, whirling giant wooden big wheels with skeletons as passengers, a man dressed as spaceman having his own private disco, random baptisms of glitter, a powder paint fight involving hundreds of people, fire parades, mud wrestling in the haybale constructed Colo-Silly-Um, frugging to dubstep-spliced 1930s swing in the Oddball Dancehall and guerilla gigs from Victorian vagabonds in the Badger Woods.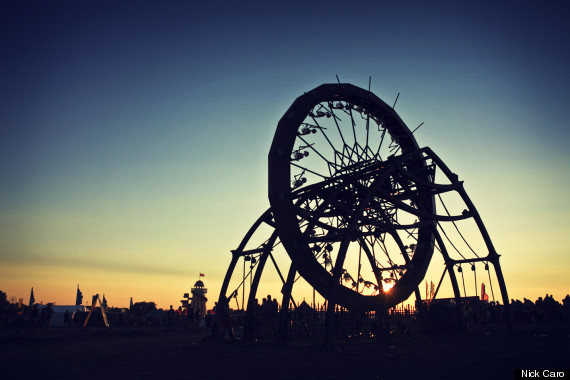 And where else would have skydivers dropping into the lake for fun or skywriting planes drawing a loveheart in the sky above the site in to commemorate the tens of thousands beaming unwashed beneath, just for fun? And that's before you consider a fireworks display on the Saturday night that almost knocked the Jubilee sparks into a cocked hat. There was a spooky arc of laser dots in the sky that rivalled the Wembley arch, the burning of the huge sculptural floating dancefloor in the middle of the lake, hundreds of neon balloons set free into a balmy summer night, all timed to perfection to a soundtrack of the best of British music from Queen to Orbital as pyrotechnics blasted into the sky.
Oh yeah, there was a bit of mud, but what could be MORE BRITISH? It was soupy on Friday, sticky on Saturday and gone by Sunday. That was it.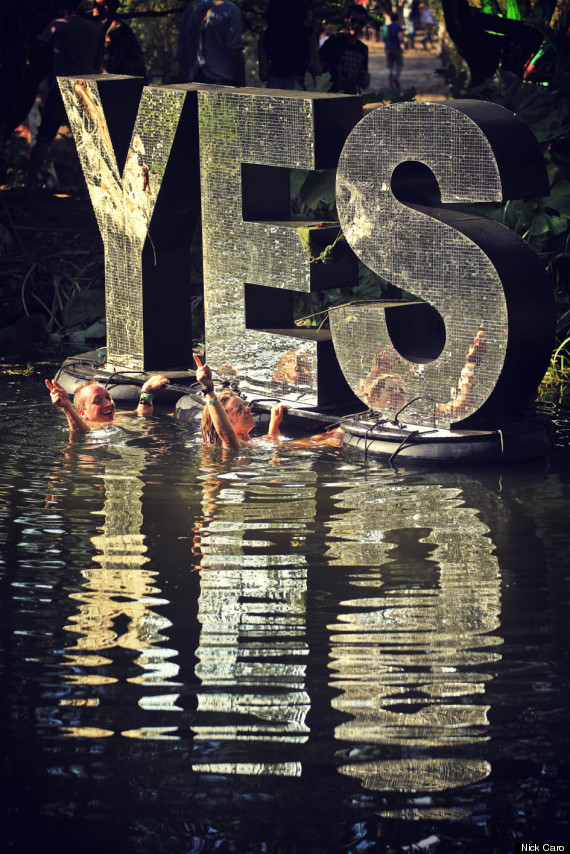 And that's before you get to the bands. Jake Bugg at the Crossroads stage was a 19-year-old dirty rock'n'roll revelation from Nottingham who gave short shrift to the idea that the only young talent in the UK comes from X Factor. Alabama Shakes shook down the masses with their masterful soulful bluesrock. Barons of Tang cranked things up into the early hours with their vintage rockabilly gypsy punk rave. Little Roy's reggae versions of Nirvana classics was perfect for a sunny afternoon. Homegrown headliners Orbital were astonishing in the ambition of their live show, from lights to incendiary electro tracks and then there was the infectious gypsy-tinged pop swing of Caravan Palace that closed the party with beats irresistible even to legs that had already danced non-stop for at least three days. And there was so, so much more I don't have room to talk about (and some sets I could tell you about but, um, I'm a bit hazy), dotted around on myriad stages and unadvertised happenings.
Basically, it's like Burning Man meets Little Britain.
That last image which I'm sharing with you below is branded on my brain as one of my favourite images of Britain this 2012 - it's right up there with the Olympic rings being forged in the opening ceremony at the London 2012 Olympic Games. Team GB was one thing, but a team that celebrates the best of British year after year is just as worthy of celebration. Team SGP - gold medals all round!