What is the most amazing holiday you've ever had? It's SO hard to decide isn't it, and you always change your mind at the last minute, don't you? Okay, so how about the top five countries you've ever been to?
Well, I recently arrived back from an idyllic trip to Thailand, and I can honestly say that it's now up there on both counts for me.
That's quite a feat, considering I've been lucky enough to travel widely around the world, being a journalist who's done a great deal of travel writing, and someone jammy enough to have a lot of friends scattered across the globe. And as everyone knows, the best holidays are those spent with mates in a foreign country. They have the knowledge to show you the real side of life in exotic climes, the secret places, all the non-touristy places, just the best side of wherever you pitch up.
I needed a break, so I decided to take a trip to see an old school mate who lives on Thailand's most chi chi island, Phuket, something I've been wanting to do for years.
Like most people heading on this particular longhaul flight (I got a great deal from eBookers on the pretty good Thai Airways), I was expecting tropical heat, stunning beaches and jungles, lovely people and great food.
Because my friend Tash is an amazing person who happens to be a PR (so seems to know everyone in Thailand), she decided she was going to organise the trip of a lifetime into the bargain. So after spending all day on arrival at the relatively deserted northern tip of the wonderful Bangtao beach, the next day, jetlag forgotten, we were on a speed boat heading out of the luxurious Royal Phuket Marina to the island of Koh Phi Phi and the amazing Zeavola resort.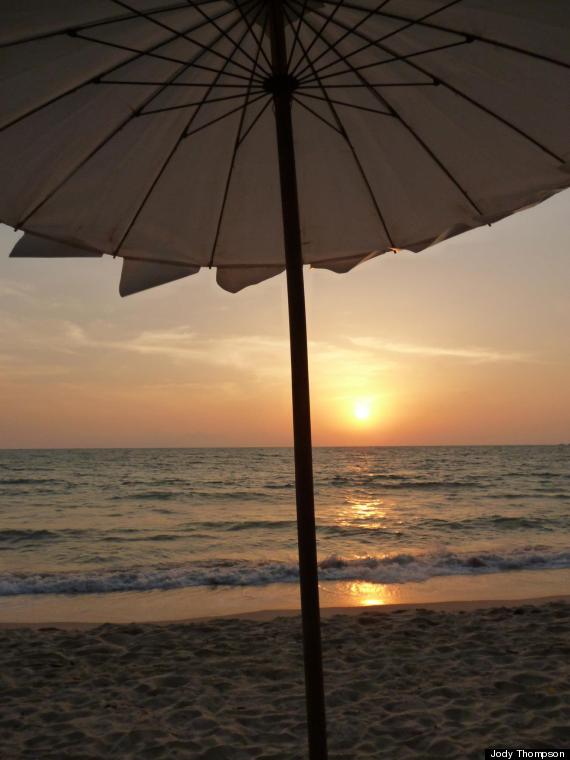 Bangtao beach in Phuket
After an hour's journey over a glassy sea as smooth as Simon Cowell's forehead, the view as you draw close to the shore is stunning. It's an incredible eco resort specialising in 'barefoot luxury', with the most amazing villas nestled in the jungle facing a pristine white beach and impossibly sapphire-blue Andaman Sea, surrounded by incredibly lush hibiscus-laced gardens of native tropical plants.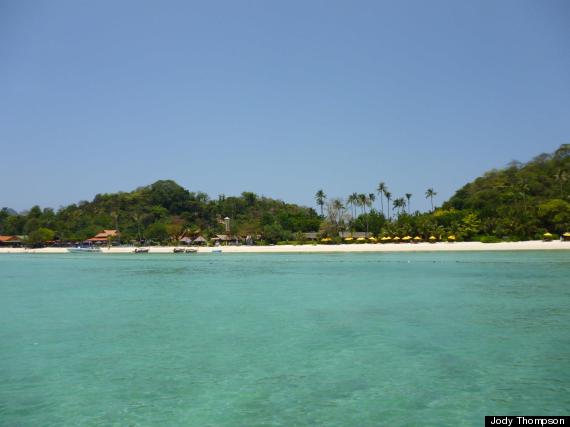 Arriving at Zeavola on Koh Phi Phi
More importantly, it wears its ecological credentials on its sleeve - the management take environmental impact massively seriously here - it's all about getting back to nature. All wastewater is recycled on site using natural methods and they even keep the rats away with a well-cared for collection of cats and a discrete python population - and the kites who live AND nest here are hugely prized.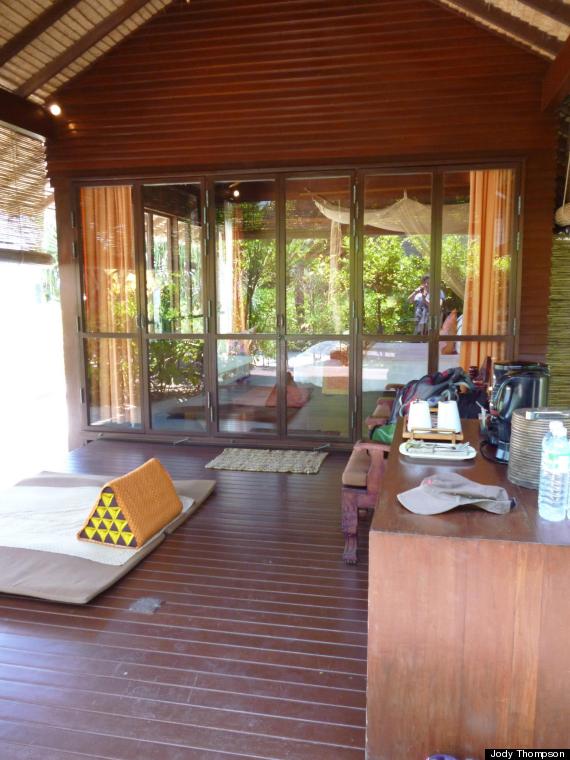 Our villa at Zeavola
The hand-crafted teakwood villas are a divine mix of luxury and rustic, with half the living area, complete with extensive mini bar, open to the elements. The closed off bedroom and bathroom is fully-equipped with air con and mosquito nets, wifi, luxury organic products and other mod cons - and a fantastic private outdoor rain shower to really feel at one with the elements.
If simply lazing about, swimming in the bath-warm crystal sea or getting pampered in the beautiful spa gets too much (I had the blissful Thai Touch and Thai Herbal Compress massage) you could take advantage of their scuba dive centre, or take a day boat trip round the idyllic islands that make up Phi Phi. The trip takes in sights such as the wild monkeys who live (obviously) on Monkey Beach, with stop-offs to go snorkelling in secluded bays to see some unrivalled underwater wildlife on the surrounding coral reefs. I've snorkelled in the Red Sea and the Caribbean, and this topped both. I saw a rare shoal of pipefish, though sadly the reef sharks remained elusive. The day trip also includes a stop at Maya Bay, where Leonardo Di Caprio got down to his trunks filming The Beach.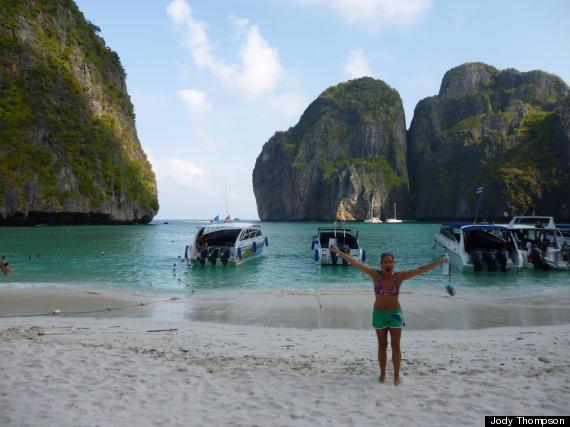 Tash at Koh Phi Phi's Maya Bay
Then it's back for some wonderful food at the beachside restaurant (nothing beats eating with your feet on the silkiest sand) served by the incredibly friendly staff, accompanied with some devilish cocktails - the spicy tom yum martini being my favourite. There's no need to go anywhere, but just a short walk up the beach takes you to a handful of charming beach bars and restaurants, where we sampled some hilarious Thai entertainment, including an obligatory turn from a ladyboy.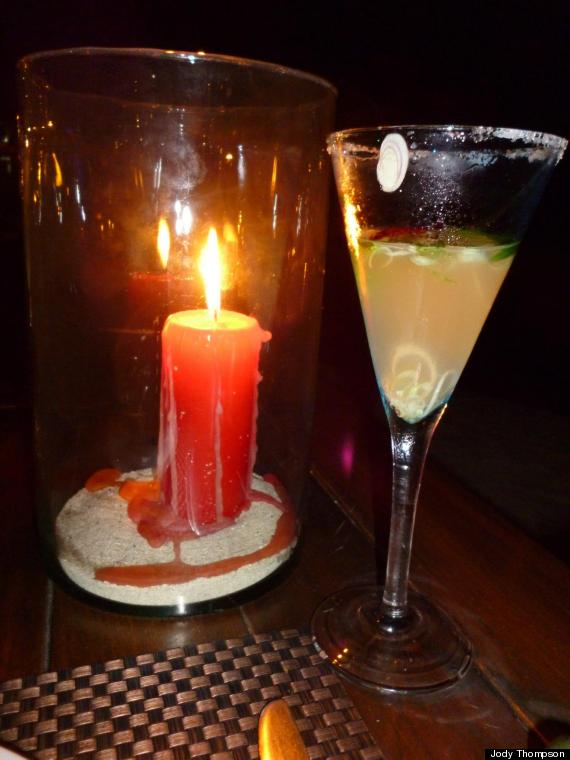 Tom yum martini on the beach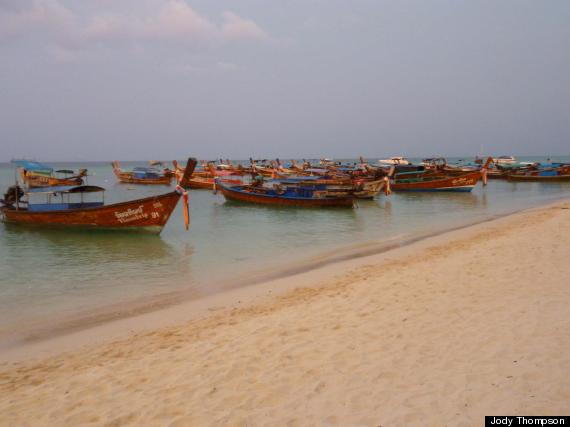 Longtail boats on Koh Phi Phi beach
It really is paradise.
But if I thought Zeavola and Phi Phi were special, my next stop was even more out of this world. After another exhilarating speedboat ride back to Phuket and a flight a couple of hours later, I was at Samujana on Koh Samui.
It's a resort with a difference - some 30 individual villas cascading down a hillside overlooking a private beach which are available for rent. Each one is designed around the features of the landscape, so boulders etc are incorporated, with stunning results.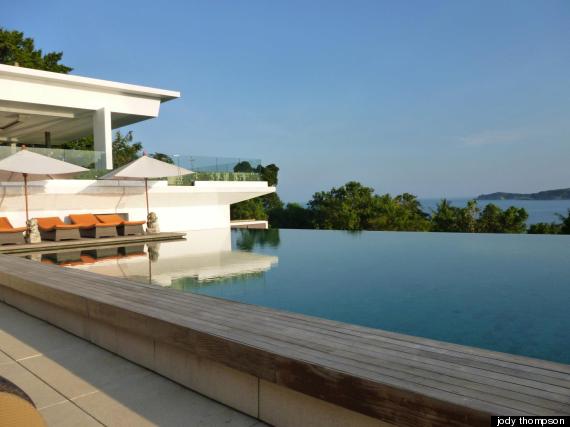 The stunning Villa 12 at Samujana on Koh Samui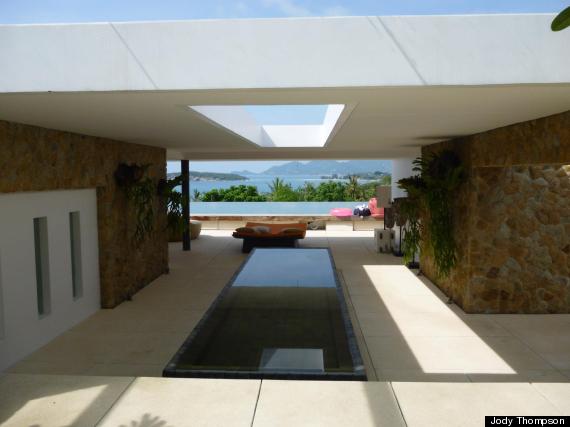 The entrance to Villa 12
A bunch of us were staying in the staggering Villa 12, where Tash was conducting a photo shoot, and it was like living a rockstar life for four days. Even my room alone had a sun patio, a garden sun terrace and my own outdoor Jacuzzi.
The seven double-bedroomed villa also has its own gym, cinema, Thai boxing ring, outdoor trampoline, huge infinity pool with fully-stocked poolside bar, and all meals are sorted for you by the staff, from cooking up a Thai feast, stoking up the barbecue or ordering in fabulous pizza from a nearby restaurant.
That's before you get to the incredible views over the bay, the beautiful decor, walk-in rainforest showers and rolltop baths in every room, the villa-wide integrated sound system, that you can also dock your own iPods into, the LED lightshow at the bottom of the pool at night and the amazing floating beanbags, the beautiful roof gardens, the huge sun terrace - I could go on, but suffice to say it's the most incredible villa I have ever seen in my LIFE. And when you realise that if 14 of you stayed there, it would only cost you £100 each a night, it's a rockstar life - even just for one night as a special treat - that's actually possible.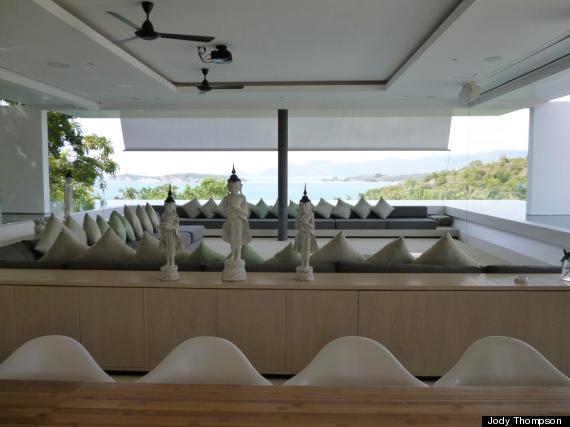 The rockstar living area at Villa 12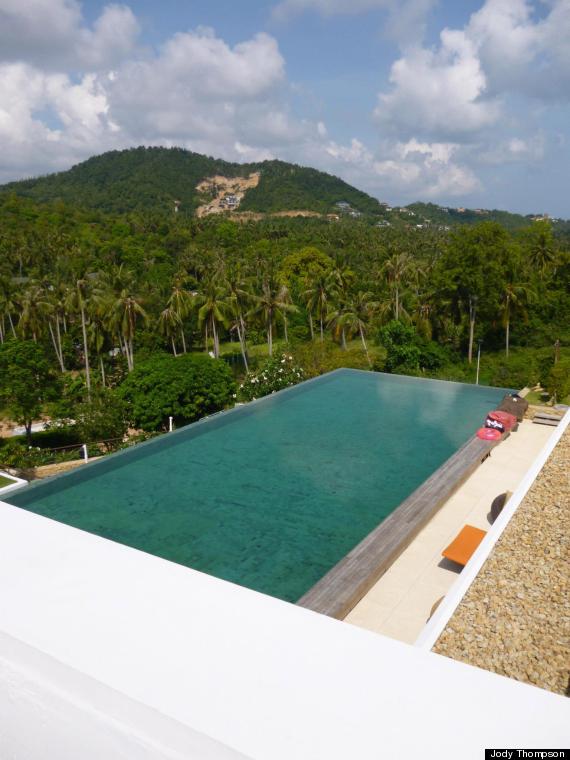 The view of the infinity pool from the sun roof terrace
If you can tear yourself away from Samujana, elephant trekking through the jungle round one of the stunning waterfalls in one of the island's national parks was a lifetime highlight, and taking in the incredibly beautiful - and vast - Wat Phra Yai Buddhist temple where I climbed up to the giant buddha to ring all the bells in the gallery of the building sat at his cross-legged form - another.
Dinner at the gastropub-esque Larder, run by British expats, was also excellent and although I adore Thai food, it was nice to have something different (smoked snow fish with asparagus risotto and poached quail's egg for me).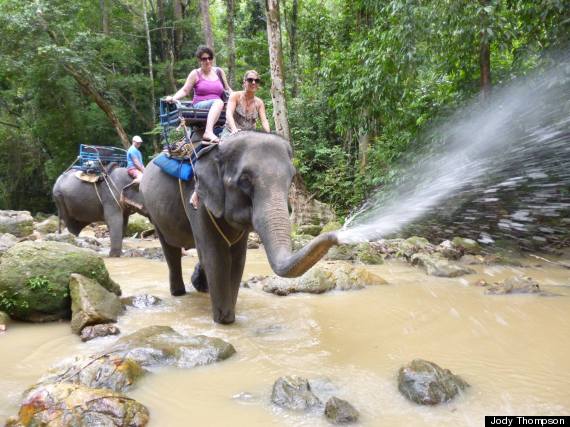 Elephant trekking in one of Koh Samui's national parks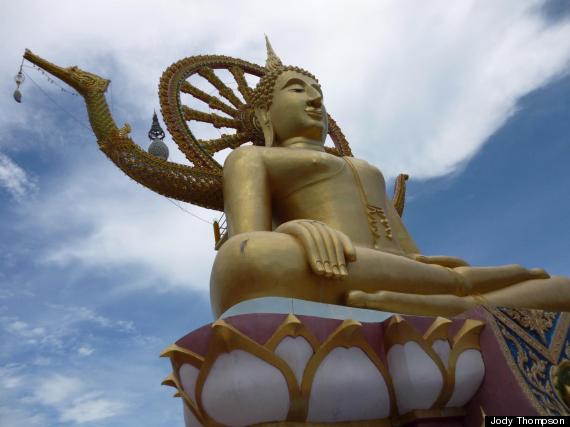 I can't believe it's not Buddha etc
Other highlights are too many to mention (a lot involved lying around reading - and sleeping) but the food makes up a lot of them. There were fabulous meals in tiny spit and sawdust cafes right up to an extraordinary Royal Thai banquet at the original Blue Elephant in beautiful colonial Phuket old town (I had the most amazing baked seabass and crab curry). I became a complete prik nam pla (sliced chilis in fish sauce) junkie which I sprinkled liberally on everything, particularly my favourite lunch of spicy seafood or veg pad kaprao, where the prawns or veg is stir-fried with holy basil and served with steamed jasmine rice with a fried egg plonked on top. You stir the whole thing together - yours for generally about a pound. I also ate a lot of tom yum goong, the fabulous hot and sour soup with shrimps, plus the pad Thai we all know and love, and my absolute favourite for any meal, som tam, the spicy green papaya salad with dried shrimps, long beans, tomato, peanuts and lots of chili and lime, which I had on one memorable occasion with lobster.
Also back in Phuket for the last four days of my holiday staying with at Tash and her partner Steve's villa (and their cat Arthur), there was an amazing charity fashion show at the stunning Trisara beach resort in Phuket with an amazing dinner at their restaurant, Seafood, afterwards, a Paul Oakenfold gig at the swanky Xana beach club and a facial, traditional Thai massage and pedicure, all cheap as chips.
Thailand has the nickname Land of Smiles for a reason too - the people were just all so lovely and the scenery really is just stunning. And that's before you factor in the beautiful weather (when you're out of monsoon season, natch), the incredible food, the nightlife (not of the Patong or Patpong variety) and the amazing history and culture.
However, catching up and reminiscing with Tash (and singing along to our favourite indie hits as we drove around Phuket) were possibly the best times of my whole trip there - you can't beat hanging out with friends, wherever they may be.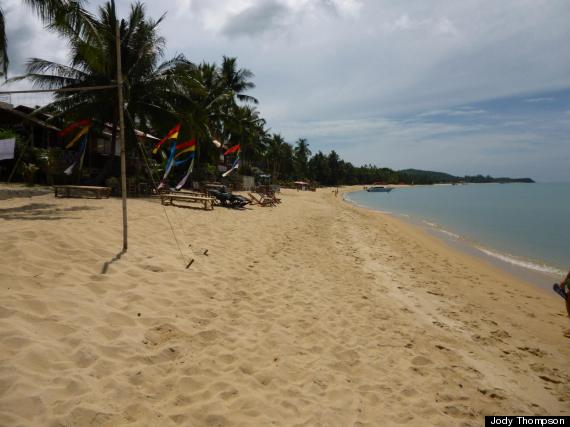 Byebye Bangtao beach
And for my last day, I had to spend it back at brilliant Bangtao beach with Tash for one last time, to finish how I started, and to wave goodbye to my last stunning Thai sunset - and Tash until I see her again.
Oh and for the record, the other four in my travel Top Five are Mexico, Iceland, Jordan and Barbados. Although hmm, maybe that should be Australia, Malaysia, Spain and Turkey? And wait, what about Greece, Russia, Egypt and Israel? Although I might change my mind on the others, Thailand will always be there. Can't wait to go back...
http://www.blueelephant.com/phuket/