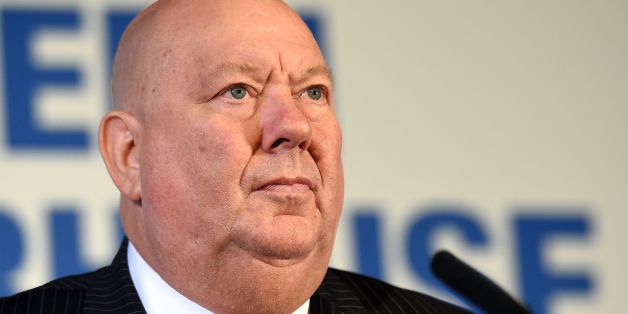 PAUL ELLIS via Getty Images
When I was a young boy growing up in post-war Liverpool in a family dependant on benefits, I learned what it was like to go cap in hand to survive.
One of the worst aspects of poverty is that your potential in life is so completely limited. It's hard to do pretty much anything with nothing in your pocket.
Food becomes scarcer. Hobbies and trips are rationed. Christmas is an ordeal.
Half a century later, in one of the richest countries in the world, I see it happening all over again.
Liverpool is currently undergoing the roll-out of Universal Credit, the attempt to integrate a series of benefits into a single payment, in a bid to cut the welfare bill and encourage work.
That's the theory.
As is often the case with central government policies, the situation on the ground is very different.
The Resolution Foundation think tank calculates the move to Universal Credit will see some working families left facing a benefit reduction of up to £2,800 a year.
Many of these will be the 'just about managing' families Theresa may was once so concerned with.
Meanwhile, Citizens Advice says the policy is too complicated, with people struggling to understand it, while there's a lack of support available when the system fails them.
Having been rolled-out in a piecemeal fashion, there is about to be a ramp-up in the numbers moving to UC.
Already, 11,000 people in Liverpool have been transitioned to the new benefit - but this is set to increase dramatically in the coming months.
But the cracks are already there to see.
One of the most damaging aspects of the changeover is the retrospective nature of the payment. Recipients end up waiting up to six weeks between applying for the benefit to receiving any money.
Only millionaire ministers and salaried civil servants could devise a system that has absolutely no understanding of the way in which the poorest people in our society already need to rob Peter to pay Paul.
You simply cannot leave families with no money for weeks on end.
As a result, councils like mine are forced to cover the gap, helping to keep people out of the clutches of loan sharks and payday lenders.
Despite losing two-thirds of our central government funding since 2010, we will always protect the most vulnerable.
We spend around £18 million a year in helping vulnerable families through our Citizens Support Scheme, Mayoral Fund and other grants.
We have also allocated funding to each of our 30 wards across the city, so that councillors can recommend small grants to community and local voluntary organisations to help people with basic needs.
We are doing what we can, but we are stretched very thin.
This is the biggest-ever change to the benefits system, with seven million people transferring over to the benefit by 2022.
Government policy should be worked through before it is rolled-out.
The poor deserve better than to be placed in a Whitehall petri-dish.
Especially as there is a basic fallacy at the very heart of Universal Credit.
Rather than 'curbing the costs of welfare' as ministers insist, Universal Credit simply passports the bill from central to local government. We are left picking up the pieces of botched policy with our council tax payers left picking up the bill.
The Work and Pensions Secretary, David Gauke, will address the Conservative Party Conference on Monday morning. No doubt he will accentuate the positive and eliminate the negative in relation to the tale he tells about Universal Credit.
What he should do is show some humility and admit there are massive problems with the system and address them before even more families find themselves at their wits' end, trying to cope.
As we head towards Christmas, he will not want to be remembered as the Secretary of State who cancelled Christmas for millions of families just about managing to make ends meet.