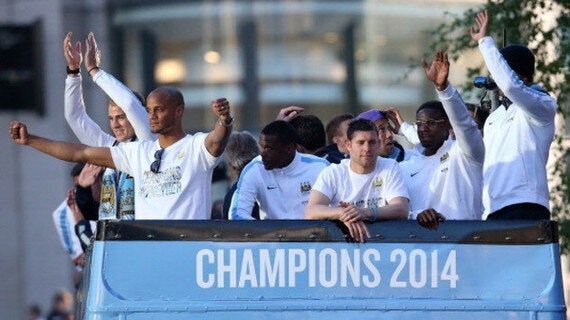 Whilst the drama and excitement of the 2013/14 Premier League run-in has come to an end, UEFA have wasted no time in enacting an elementary sanction on billionaire Premier League champions Manchester City for breaching the rules of Financial Fair Play.
The Citizens were fined £49m by European football's governing body and will face a cap on their Champions League squad for next season. They will also be forced to agree to other rulings such as limited losses for the next couple of seasons. City have reluctantly agreed to these sanctions, stating that they coincided with the 'natural course of the club's planned business operations'.
It would seem then, that FFP rules are achieving their primary goal of curbing the exorbitant transfer and wage spending of recent years - but is this a positive situation for the Premier League as a whole?
Teams still spend lavishly on players, but wages and transfer fees are not rising as rapidly as they had done previously, which is in no small part thanks to FFP.
However, big spending has been far from eradicated as Manchester United are proving with figures of up to much as £200m being touted for their eventual summer spending. United will offload high earning players such as Rio Ferdinand and Nemanja Vidic, but unless they sell some of their star players, which they seem unlikely to do, then their net spend for this season could be astronomical.
It would be foolish to imagine, however, that United will fall foul of FFP regulations like their rivals Manchester City. United are in a league of their own in terms of their turnover and there are not many clubs in world football that would be able to spend as they are planning to and still have any semblance of balanced finances. As such, the results of the FFP rules immediately bring the issue of equality and fairness into the equation.
To delve further into this somewhat confusing matter, we shall take newly promoted Leicester City as an example, whose Thai owners have ambitious plans to spend £180m over the next three seasons with the intention of getting their club to within the top five of the Premier League. Of course, this would also bring European football along with it if Leicester were to achieve such a feat.
Playing in the Premier League will mean that Leicester's income will skyrocket, with promotion meaning as much as an injection of £150m in some cases. Even so, for a club that have recently made losses of £30m or more over recent years, the owner's grand spending plan could potentially come undone very quickly. Although rich businessmen have their ways and means of making the figures add up, from almost every standpoint it is difficult to see how a club already making significant losses can plan to spend a lot more and still take the right losses to comply with FFP.
One of the only ways that a club like Leicester can pave their own way to global stardom is to spend big and reap the rewards at a later date, while initially incurring punishing losses. It simply seems unfair that just because Manchester United, Man City and Chelsea etc are already a big name with significant incomes that they have the right to spend more money than their Premier League rivals. In this sense, FFP literally hands out the right to some clubs to buy and keep hordes of expensive players, while denying the same right to other clubs.
On the flip-side, however, it is not hard to see the sense of such regulations when looking at a side like QPR, who have made ridiculously damaging losses over the last few seasons. Their wage bill is even reported to be higher than that of La Liga champions and Champions League finalists Atletico Madrid. Whether sides with global aspirations like Leicester will strictly adhere to FFP or try to find loopholes is up to them, but one cannot deny the fact that FFP will help in preventing football clubs spending themselves into oblivion as has occurred in many cases in recent years.
Manchester City's punishment is a statement that FFP is finally upon us and is here to stay. Some, like Arsenal and many of the league's smaller sides, will heed UEFA's warnings, afraid of the punishments that could potentially be dished out. Others may try to get away with as much as possible, but as a whole it must be said that FFP has achieved it's initial goal of stopping football clubs from spending beyond their means.
The price of this though, is a league system in which the status quo is almost unbreakable. There must be another way of stopping football clubs from financially damaging themselves, one that champions fairness and allows healthy competition between those who are already rich and famous and those who aspire to be.