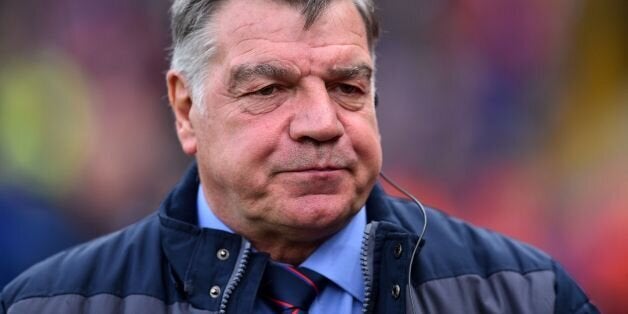 ​Only in the world of football could a man go full cycle of turning from hero to villain, and then back to hero again in just under a 12-month period.
Sam Allardyce has always been one of England's more charismatic managers and though there were some reservations regarding his style of football, his appointment as England boss last summer was welcomed by most on these shores.
This was, after all, a man who had long ​claimed to be good enough to manage a 'big team' and had spoken about addressing the many issues holding the national team back.
Whether Allardyce was good enough to resurrect England's fortunes will remain one of those unanswered questions, as sadly the only thing we truly learned about his ill-fated three-month spell was that he wasn't smart enough for the prestigious job.
A newspaper sting left 'Big Sam' wishing he had kept his big mouth shut, as his employers had no choice but to part company with him after just a single match in charge.
Off Allardyce went with his tail between his legs. A spell out of the country and limelight allowed him time to wallow in his own self-pity, not to mention sheer stupidity. It seemed that the 62-year-old's reputation would be forever tarnished and that any potential future employers would have trust issues with the former Sunderland man, who had somehow managed to talk himself out of his ​'dream job'.
Months passed by without so much of a squeak from the disgraced Allardyce. That was, until an early Christmas present served up by Crystal Palace owner Steve Parish came his way. Parish was left with few alternatives but to remove the hapless Alan Pardew and thus turn to one of the Premier League's best Harry Houdini impersonators.
Despite boasting an impressive record when it comes to avoiding relegation, Allardyce's tenure did not start particularly well and left some questioning whether his own confidence had been drained by the England debacle.
Indeed, his first Premier League win didn't arrive until late January - a 2-0 win at Bournemouth ended Palace's eight match winless run. He had to wait even longer for his maiden home victory in the league, but ever since that 1-0 win over Middlesbrough last month, they have begun to pull clear from the bottom three and are now one of the country's form sides.
Prior to their daunting trip to Stamford Bridge last Saturday, the Eagles had won three consecutive games in a row and in true Allardyce style, had done so without conceding a goal.
Not that this fact gave many people much hope of Palace getting anything against the league leaders, who had won their previous 13 matches on home turf. Despite everything pointing to an easy Chelsea win, the Eagles produced arguably the biggest shock of the season by becoming the first team outside of the top six to beat Antonio Conte's men.
A dogged defence was undoubtedly important for Allardyce's team, but what was more impressive was their play and speed on the counter attack, as Christian Benteke and Wilfried Zaha terrorised a Blues' defence that appears to have been on cruise control since September.
The Palace boss said after the match that the result would make people 'stand up and take notice' and considering he had just masterminded victory over the irrepressible Chelsea, it's hard to disagree.
Not only has the 2-1 result made the title race a little more interesting, but it has reaffirmed Allardyce's presence in the game. The Palace boss has a particularly good record against Chelsea and has shown in just a few months that he is no mug when it comes to management.
The man's no nonsense, straight-talking style has made him something of a loveable rogue over the years. It may well be have been his honesty and robust ways that talked him into the England job. How ironic then, that it would be that openness that would prove his downfall.
But regardless of the events that took place last year, Allardyce has proven his worth once again. He is transforming one of 2016's worst teams and beginning to make sense of the ​£85.26m the club have spent over the last year.
The cynics will never forgive the man who is arguably England's most infamous manager for his antics back in September. But fundamentally, the person the whole saga will have hurt the most is Allardyce, who will now know that he blew his one big chance.
Like so many things in life, football moves on, and it seems that on the evidence of the reaction to Palace's win over Chelsea, the game is willing to accept Allardyce once again.
He is showing that his big personality is infectious and that not only can he inspire any given group of players, but also find a way to win with the hand he is dealt. Palace are not yet safe, but their form suggests that relegation is no longer on the agenda.
The club will soon start to prepare for the summer and next season, as will Allardyce, who can now put his England sacking behind him and focus on what lies ahead as the memory of that very fiasco is put to one side and football learns to love the man from Dudley once again.