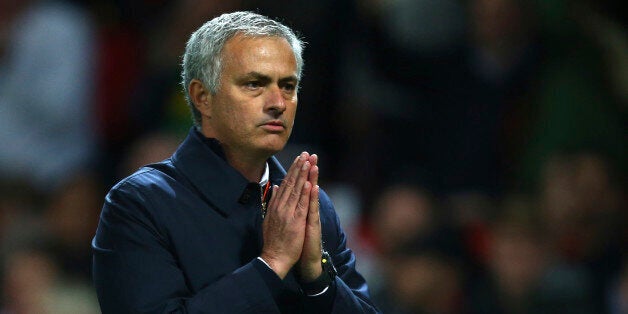 ​Replacing Sir Alex Ferguson was never going to be easy.
Three years on from the Scots departure from Old Trafford and it still feels like there is a gaping hole at Manchester United. The charismatic Jose Mourinho is the latest manager who appears to be drowning under the enormous weight of expectation.
To be fair, its not like the guys before him were much better. Louis van Gaal's attempt to make the players 'horny' wasn't quite what was required, whilst the Dutchman's predecessor David Moyes, was woefully exposed as his lack of experience saw him lose the job in under a year.
Jealous eyes at Old Trafford will being looking across the city of Manchester with envy. Local rivals Manchester City themselves appointed a new manager in the summer who is just as highly regarded as Mourinho.
Pep Guardiola has taken up the task of rebuilding a City team who themselves were floundering last season. But whilst they may not yet look the finished article, few can question the direction they are heading in, nor doubt Guardiola's plans for the future as he stamps his footprint on the Etihad.
United in contrast, look anything but organised and are lacking a long term vision. Their identity as a side has been missing since Ferguson's departure and if we can read anything into the touchline antics of Mourinho, the Portuguese is losing patience, not to mention control.
His masquerading up and down the touchline was cut short once again last weekend, as he was sent to the stands during United's 1-1 draw with West Ham.
It was yet more dropped points by the Red Devils who simply cannot get going this year, despite being four months into the campaign.
The magic fix of investing £145m in new players has failed to pay off and with the system clearly not working, the finger of blame must surely point towards the team's manager.
Mourinho is trying his best to mask the pain but he has started to display the petulance and madness we saw this time last year, when his second spell as Chelsea boss was about to be brought to an abrupt end.
The frustration and anguish is clear, but that may simply be because the 'Special One' isn't the right fit for such an enormous task.
He is undoubtedly a serial winner; two Champions Leagues and numerous domestic titles from around Europe's top leagues shows that Mourinho has the CV for the job.
But being a winner doesn't make someone a good coach - very rarely do those two come hand-in-hand.
In some ways, Mourinho is the equivalent of a super-sub. He can come in to make an impact and add that winning ingredient that takes his team to victory. But much like an impact sub, he is no good at setting a team up for glory or building towards something special.
There's a very good reason why the 53-year-old can only last a maximum of three years at any club.
All is well when Mourinho first comes in, he makes a team capable of winning into winners. But as time passes by, the style becomes bland and predictable. His lack of coaching instincts fail him and with little long term vision in place, the edges start to fray as the Portuguese begins to throw the proverbial toys out of his pram.
His shortcomings as a coach are highlighted by Antonio Conte's success at Chelsea. The Italian is still using the bulk of the same players that flopped under Mourinho's leadership last year. A simple change of formation and style, has transformed a supposedly creaking and ageing Chelsea team into serious title contenders.
Conte has done what Mourinho cannot; coached his team and made the necessary tactical tweaks to make them work like a well oiled machine.
That's not to say that the current United boss isn't a good manager. He is clearly a brilliant motivator and can push his players to glory when it is within reach.
But right now United are nowhere near capable of winning Champions Leagues or Premiership titles. They are still a team in transition that needs coaching and shaping before they can return to the glory days of old.
What they really need is a manager with a vision and style like Conte and Guardiola. Mourinho is not a man who has form when it comes to building and nurturing teams, so in some ways, he really is learning on the job.
Is it any surprise then, that he is also struggling to fill the void left by the legendary Sir Alex Ferguson?
For more fan views or to join the conversation visit www.90min.com