New figures show the number of children walking to school is on the up. According to this year's National Travel Survey, 53% of 5-10 years olds in England walk to school compared to 48% in 2015. This comes after years of decline, so for a charity like Living Streets that exists to promote walking, it's great news. As the new school year approaches in England and Wales - and is already underway in Scotland - we need to ensure this is an upward trend that continues and not just a one-off.
Walking to school makes children healthier, helps develop road safety skills, independence and opportunities to socialise. For a country with a child obesity crisis this is doubly important. Yet nearly a quarter of morning peak traffic comes from families on the school run; you can tell from the easing of traffic in the school holidays. Congested roads are an obvious side effect, as is poor air quality. And many parents and teachers tell us that cars converging all at once at the school gates causes road danger.
Are any of these car journeys avoidable? Well yes. We know that 95% of households are no further than a 20 minute walk from the nearest primary school.
The government has already done one good thing - using the proceeds from the 'sugar tax' on fizzy drinks to fund schools through the PE and Sport premium to promote healthy activity, including walking to school.
Air pollution has been dubbed 'the tobacco of the 21st century'. It's harmful to us all - but children are more at risk as they retain pollutants in the body for longer. Some parents may believe the myth that by being inside the car their children are more protected from air pollution; but this is simply not true. A range of research shows children sitting in the backseat of vehicles are likely to be exposed to even higher levels of air pollution than those on foot .
The government recently announced its ban on new diesel and petrol vehicles from 2040. This is all very well but 40,000 people each year are dying prematurely due to air pollution and the government itself says: 'Poor air quality is the biggest environmental risk to public health in the UK'. So we can't wait that long. We need action now. Reducing our reliance on the car is the key and walking our everyday journeys is an important part of the solution.
Living Streets' walk to school campaign each year reaches nearly a million children in 3,500 schools. WOW - our year-round walk to school programme - encourages children to walk to school, scoot or cycle regularly.
Schools which take part in WOW see walking rates increase by an average of 23% accompanied by a drop of 30% in cars arriving at the school gate. Programmes like WOW are having an incredibly positive effect - the numbers speak for themselves. It's vital that these interventions continue to be supported so we can enable and encourage even more families to walk to school.
If time is too big an issue, then consider Park and Stride - park at least ten minutes away from the school and walk the rest of the way. It's better to spend the last 10 minutes walking than stuck in traffic. And even if it does end up quicker in the car, those 5 or 10 minutes extra a day will add up to a lifetime of memories made walking and talking with your child. Many parents and children tell us that the walk to school provides quality family time.
So if you're thinking about how you're going to do the school run next week, I urge you to try walking. It's free, an easy way for children to get more active and it helps improve air quality around the school. That's benefiting your child not just for now but for the rest of their life.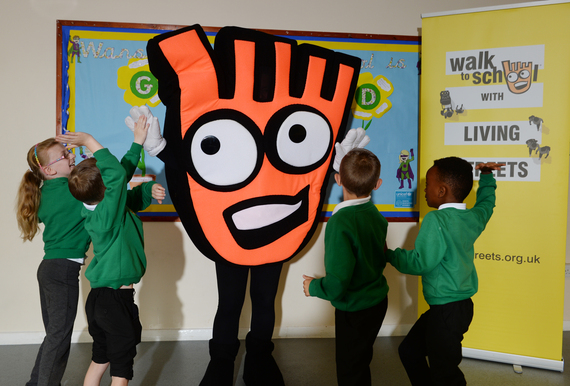 Image of Wansdyke Primary School, Bristol by Michael Lloyd Photography. Image owned by Living Streets.