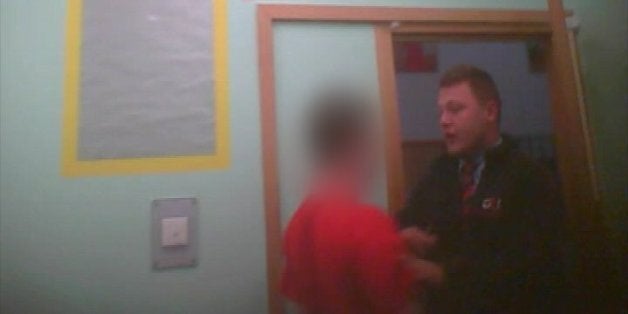 I was the undercover producer of Panorama's film uncovering the abuse of people with learning disabilities or autism at Winterbourne View private hospital outside Bristol. Before that, I managed undercover investigations and wore secret cameras myself for around a decade.
But the secret camera footage that Panorama's reporter Robert Charles brought back from Medway Secure Training Centre near Kent made even me pause.
A young boy - a 14 year old - lay sobbing in his bed. For eight minutes he had been dragged, marched and restrained across the prison. Worse, as we examined the footage of the restraint we saw the fingers of a duty operations manager - one of the most senior floor staff at the prison - close around the windpipe of a 14-year-old, of a child.
The boy was crying out "I can't breathe".
There were horrifying echoes of the death of Gareth Myatt in those words. Gareth was the first child to die while being restrained in custody. He died in April 2004 at Rainsbrook Secure Training Centre in Northamptonshire from "positional asphyxia" after choking on his own vomit as he was held down.
Here now in 2015 we were filming another boy almost the same age calling out almost the same words. Thankfully no one has died this time.
BBC Panorama went undercover to expose harrowing evidence of mistreatment of young people being hurt and threatened by custody officers who were supposed to protect them. Secret filming in Medway Secure Training Centre near Kent revealed some officers mistreating their charges and many more tolerating the behaviour or even helping to cover it up.
One team leader bragged to our undercover reporter that he had mistreated another young person with a group of other guards.
He said that of another boy - who he named - that, "we just destroyed him, absolutely destroyed him".
This team leader said he and his colleagues were, "just folding him up in the wrong places, like, ah I just got to adjust my holds kind of thing - and then he made a crunching noise like something was being broken, twisted or damaged."
Over two months wearing secret cameras, our undercover reporter Robert Charles gathered evidence against seven members of staff. Some, he witnessed behaving inappropriately, others told him they had mistreated young people. The wider culture of tolerating, turning a blind eye or even covering up that behaviour was even more staggering.
Robert told me, "the problem is in the walls, it is in the centre. It is not about taking one person out, it won't change anything. It is to the point now where even these kids are institutionalised with this aggression with this violence".
The management of Medway Secure Training Centre, a publicly funded but privately run youth prison, was paid more than £10million last year by the government to provide high quality education and to rehabilitate some of the most vulnerable youngsters in the prison system.
One team leader was particularly blunt, he told our reporter openly in front of other staff and once even a duty operations manager things like, "I've done some savage sh*t in here. I have smashed up kitchens I have done all sorts yeah. F**k it I am a c*** I do have a nice side it's very rare".
During the time we were filming, one guard who had bragged about using excessive force was effectively promoted - he went from being an ordinary guard or "training centre assistant" to being a team leader on our undercover reporter's block. He was guiding the other guards. Leading them.
What we filmed in Medway Secure Training Centre was shocking. That a company paid £140,000 per child per year has failed to prevent this misconduct and violence in the first place is staggering.
There are good staff at Medway Secure Training Centre - Robert met a number of people who had joined for the right reasons, who wanted to see if they could change the behaviour of this critically important group of young people.
The question is whether the institution we filmed is making that long term reoffending more or less likely.
G4S, the multibillion pound company that runs Medway Secure Training Centre in Kent did not reply to Panorama directly about our allegations, but they did tell BBC News that they thoroughly vet their staff and that external monitors had not raised any concerns. Since we informed G4S of our evidence, it has suspended seven custody officers and Kent Police have launched an investigation.
But G4S still has questions to answer - not least about how the managers have allocated resources and supported their staff on such an expensive public contract.