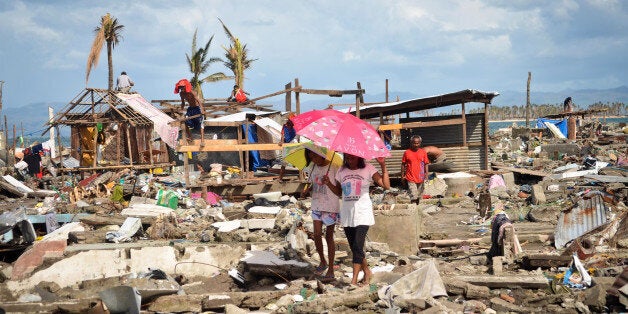 Delegates from more than 190 countries meet in Morocco's capital Marrakesh next week for the first time since last year's landmark Paris Agreement to tackle climate change. And while delegates deserve congratulations for the Paris Agreement, ratified in record time this Friday, there is still so much to be done to ensure that the poorest people on the front lines of the climate crisis get the support they need. Our research shows we have an awfully long way to go.
As someone who has pushed for climate action for more than 25 years I thought I was hardened to the disappointments of the process but I was genuinely shocked to find that only a fifth of the money to help countries fight climate change was going to the poorest countries. It is staggering that the people of the most fragile countries who are already suffering the impacts of extreme weather have so far received less than middle income countries.
Oxfam estimates only $4 - $8bn has been allocated to help communities adapt and protect themselves from the effects of climate change, far less than what Oxfam and many developing countries call for - and a long way from the balanced allocation between funding to help countries adapt and funding to help them reduce emissions agreed to by all governments in Paris.
Last December, Oxfam warned that poor people had been flung a 'frayed life-line' in Paris, and little has happened to strengthen that safety rope. While the world's richest countries celebrate their progress poor countries are still facing the wrath of climate change at their doors.
Some governments that are trying to help all their people escape poverty, like the Philippines - a country that is extremely vulnerable to natural disasters - have assessed how they can stretch their limited national budgets to protect their most vulnerable communities from increasingly frequent and extreme weather. For the Philippines, this is to the detriment of things like education and healthcare. For other developing countries, who are the least responsible for climate change, this option does not exist.
The promise of $100bn was made seven years ago at Copenhagen, specifically to help developing countries. In that time, we've seen a terrible drought in East Africa, and Typhoon Haiyan battering the Philippines two years later in 2013. Today, an additional 60 million people are facing a severe food crisis as a result of the combined effects of climate change and El Nino, made worse by our failure to invest in helping communities adapt to climate change.
Through Oxfam's work with communities affected by climate change around the world we see the transformation that investment can bring; female farmers are using innovative irrigation techniques to grow tomatoes in Malawi after years of ruined yields, families in Bangladesh now plant rows of floating vegetable gardens to save crops from floods and in Uganda, whole communities grow cassava and bananas from drought resistant seeds.
Two weeks ago rich countries published a roadmap showing how they will deliver the $100bn to help developing countries tackle climate change. While a welcome step forward, the roadmap's projection to double the financial support to help countries adapt to climate change is nowhere near enough to ensure that the needs of the most vulnerable are met.
The Paris Agreement was designed to withstand the test of time, providing a basis from which to show stronger resolve. It has been ratified by the big players, the US and China. Closer to home, the UK signed the Paris Agreement in April and the Prime Minister has assured us of plans to ratify by the end of the year. The UK has also committed to increasing its climate funding up to 2020 and shown leadership by committing that half the money will help countries adapt to climate change.
But for this Paris Agreement to make the impact we need to avoid climate change spiralling out of control, we need it to build from strength to strength, and that means placing poor people at its beating heart. This must be the next chapter in the global fight against climate change, and - with little time to lose - it needs to start in Marrakech.
Popular in the Community