In 1897, the Tate gallery opened at Millbank, London, on the site of a former prison from where convicts were shipped down the Thames to Australia. Britain has been transformed since then (although we didn't stop sending delinquent and illegitimate children to Australia until 1970) and Tate has become one of the world's most popular museums with over 21million visitors a year, 14 million of them online. This week, Tate's original building re-opens after a £45million face-lift. Tate Britain is glamorous once more, a temple of cool and contemplation.
Tate was a gift to the public from Henry Tate, a sugar baron. He donated his great collection of British art to the nation as well as £110,000 to pay for a new gallery on condition that the state would look after it. Governments failed to keep their side of the bargain and 95% of the £45m cost of restoration has come from private pockets, including one million pounds from Tate's 100,000 members.
Tate has become a global brand over the last 25 years; visitors have more than trebled, Tate Modern has become the world's most popular gallery of modern and contemporary art yet Tate's grant from the taxpayer has declined from being 80% to 35% of budget, the balance coming from earnings and the private sector. In this century alone, there have been 80 million visits to Tate's four galleries but how many people know how much they owe to corporate and personal generosity?
Whilst public money continues to play an important role in funding Tate, the investment that has transformed Tate Britain's offer to the public had to come from the private sector. Lord Browne, Tate's chairman, said last week:
"The great rejuvenation of Tate Britain is a milestone for Britain. It represents one important step towards a new age of philanthropy, an age in which everyone once again contributes their fair share to the pursuit of human progress".
I agree that more philanthropy is self evidently a benefit to the public but not if governments use more charitable giving as an excuse to reduce spending which is also fundamentally in the public interest. Most philanthropists I know also pay tax and wish to be partners with government rather than replacing it. Nick Jenkins, founder of Moonpig, the online greetings card company, and philanthropist told me when I interviewed him for Giving Is Good For You:
" Any notion that that the amount of philanthropic giving is going to expand to compensate for lower public spending on welfare is ludicrous...it infuriates me when politicians imply that could happen...I don't know whether it is ignorance or not but some politicians are beginning to hint at the notion that the state should pull back and the Big Society should fill the gaps. This is an incredibly dangerous point of view. Taxation is a much more efficient and cost-effective way of dealing with problems".
I agree. Modern civil society depends on all of us recognizing that we have to pay for the common good via tax. We require a degree of honesty and clarity from our politicians. It doesn't help, for example, when they tell us "the NHS is safe in our hands" and then demand "savings" of £20 billion. Donors are disinclined to fill the gap. Lord Browne also said:
"Fundraising efforts are most successful when donors know the difference that their contribution will make... As the demand for private philanthropy continues, Britain must be clear what the state does and does not pay for".
Both government and opposition are silent on this matter. Until we have an answer, agree a new social contract and forge an alliance between the public and private sectors, we are unlikely to see the growth in philanthropy that is needed to help underpin our civil society as well as to express and fufil our humanity.
Many people think philanthropy has little to do with them, particularly outside London. Without philanthropy, there would be no Tate. Think about that.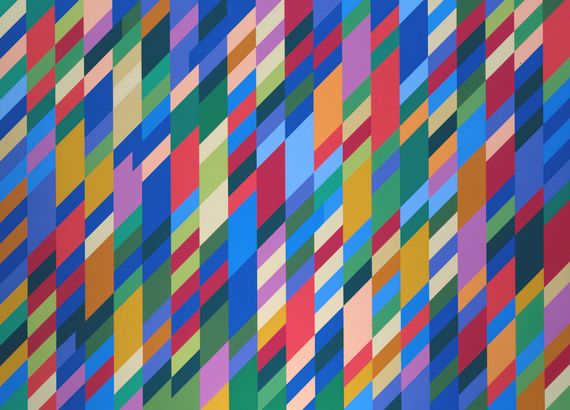 Image: Bridget Riley Nataraja 1993 © Bridget Riley 2013. All rights reserved, courtesy Karsten Schubert, London. Part of BP Walk Through British Art, Open every day, Tate Britain, Millbank