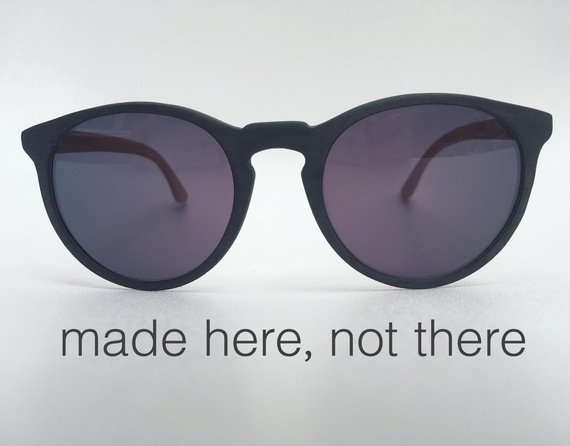 A new exhibition at The Building Centre in London explores a radical new way of living and making things
As you read this you might be listening to music on your Spotify or Apple Music -- it turns out Adele's Hello sounds as lovelorn whether you own or rent it. Take this streaming idea one step further, why not rent some high quality headphones that really amplify the heartbreak? And those jeans you're wearing? Just how much would your bulging wardrobe of unworn clothes benefit from the stylish minimalism of rented fashion?
Rented jeans, rented headphones and 3d printed sunglasses from recycled plastic are just a few of the exhibits in the Circular Living show just opened at The Building Centre, a collaboration by The Built Environment Trust with engineering company Arup. On 21st September, to coincide with London Design Festival, Arup and the Trust will open the Circular Building, a structure outside The Building Centre that explores how architecture can be put together in ways that allow the materials to be easily taken apart and be fully re-used, endlessly.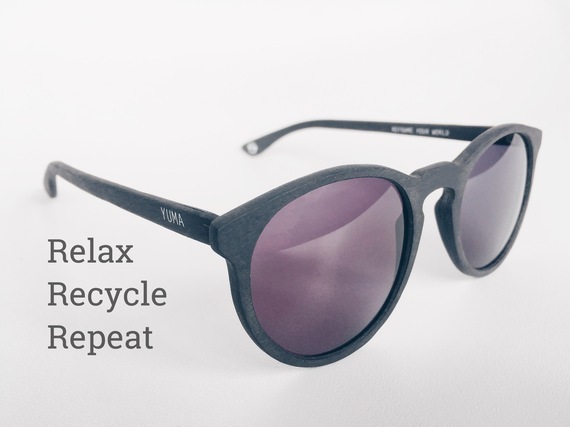 (3D printed in local facilities avoiding unnecessary transport while creating zero material waste in the process, using cars, soda bottles and bamboo. Courtesy of Weareyuma sunglasses)
The building and the exhibition showcase design and entrepreneurial pioneers of what's called the circular economy. It's a phrase that contrasts with our current linear economy and its industrial logic of 'take, make, dispose', which extracts resources from the earth for consumer goods and when we are finished with them recycles or incinerates or returns them to landfill, downcycling them. It's an idea that's been popularised in recent years by Ellen MacArthur and her foundation.
The designers and business people working with the model of circular economy aim to upcycle all the materials used in making their products. Upcycling at a scale that adds value to materials so they can be constantly re-used. Take for instance jeans.
"Jeans," Giorgio Armani once said, "represent democracy in fashion." But jeans also represent the immense waste in our current way of living. To produce one single pair of jeans takes 7,000 litres of water. Then there's the ecological cost of cotton fibre production, of cotton manufacturing.
That's why in 2012 Bert van Son set up Mud Jeans, having worked in the textile industry for 30 years. For a €25 subscription fee, and €7.50 a month you can rent a pair of jeans for a year. At the end of the year you can keep the jeans, but if you give them back, you get back your subscription and the yarn can go back into jeans.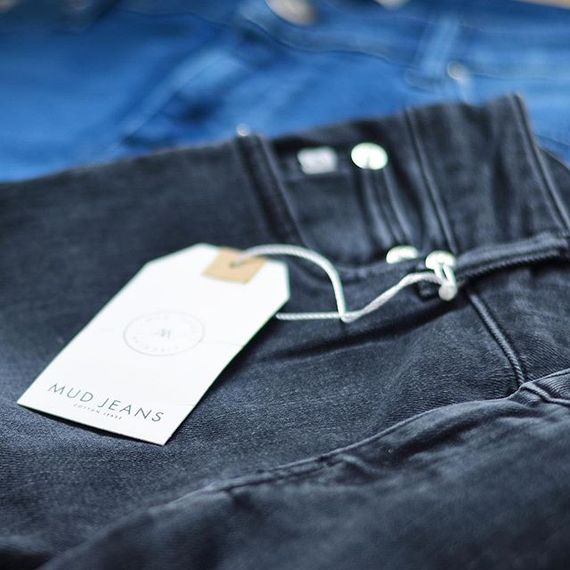 (Courtesy of Mud Jeans)
In commercial terms new cotton is still cheaper - that's if you don't include the ecological and economic costs (and the human cost of factory conditions) of using up natural resources. In the slightly indigestible language of economists these costs are called 'negative externalities', basically all the bad stuff that happens that we end up paying for in any case, such as the health costs deriving from air pollution.
The circular economy makes designers ask more interesting questions that produces more creative solutions for living. So a designer or business person such as Bert van Son turned jeans-as-product, into jeans-as-service, in the same way that technology company Phillips instead of providing one-off fittings, have started providing light as a service to business people - in this ways they can design products for re-use and upgrades, designing our waste.
Back in his influential 1993 book, The Ecology of Commerce, activist and entrepreneur Paul Hawken coined the phrase 'de-shopping' to describe an economy where if you bought a fridge for example, you would buy a licence that might be transferable to friend but couldn't be thrown away, "retailers of consumer products would become 'de-shopping' centers where we would drop off the products we no longer needed and obtain newer ones." It's taken a while for us to catch-on to de-shopping.
The Circular Living exhibition highlights the idea that the circular economy moves on from the well-meaning appeal of being 'less bad' at the heart of conventional ideas of sustainability - it's about making use of the abundance of materials already out there in circulation. One of the most elegant pieces in the show is from designers Elvis & Kresse, whose design interest in upcycling began with rescuing decommissioned fire hoses from the London Fire Brigade to create luxury bags.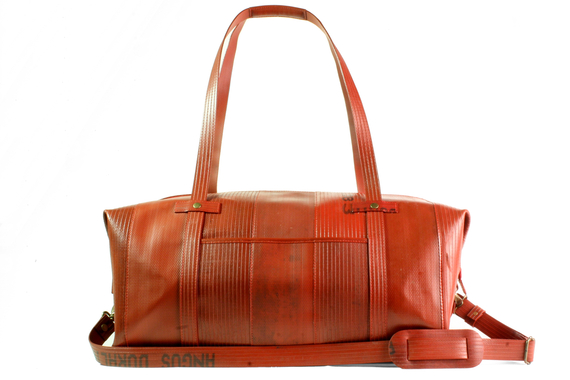 (Luxury luggage created from the London Fire Brigade's decommissioned fire hoses, by Elvis&Kresse. 50 percent of the profit goes to the Fire Fighter's Charity. Images courtesy Elvis&Kresse).
But Kresse Wesling MBE, one half of the design duo wanted to go further.
"We started thinking about solutions for the 800,000 tonne global annual leather scrap problem about 5 years ago. Our first design principle was to 'design for deconstruction'. We didn't want to make products, we wanted to make pieces, something that could be reinvented and re-engineered through time. The first three pieces we have employed here, in this rug and chair, are just the beginning of a new business model for us."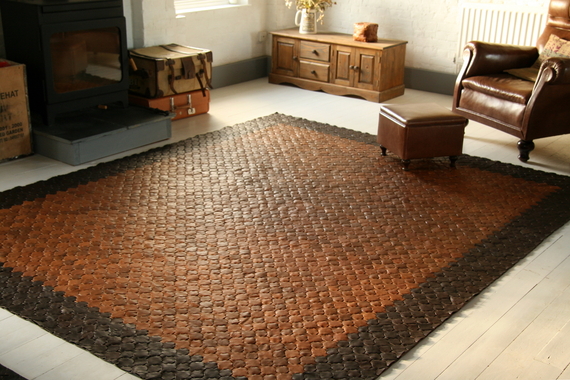 (This rug, designed with recycled leather, can be dis-assembled and used asa chair covering or lampshade. Courtesy of Elvis & Kresse)
Designing for circular economy means designing not just for the present but for the future. As Wesling explains,
"we call ourselves 'backwards designers'. We don't start with 'a thing' that we want to make and then acquire the materials to make it. We start with a problem, a niche waste, an undervalued resource, and then work out the best possible way to save it. We want to maximise its value, its future."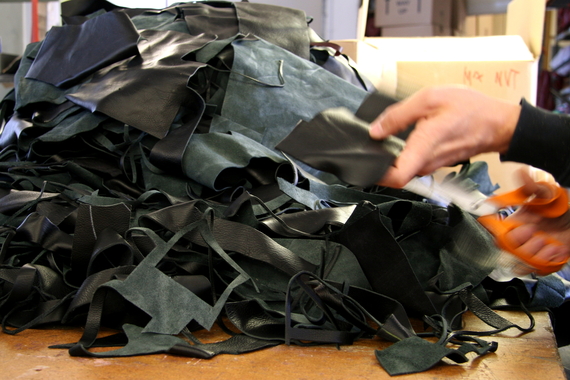 (Sorting the leather. Couretesy Elvis & Kresse)
This new kind of thinking requires thinking about dis-assembly at the same time as assembly. But most of all, what's so compelling about the idea of the circular economy, and circular living is that it connects us to the world rather than detaching us like the linear economy. The best image of this in the show is a brick - made from mushrooms.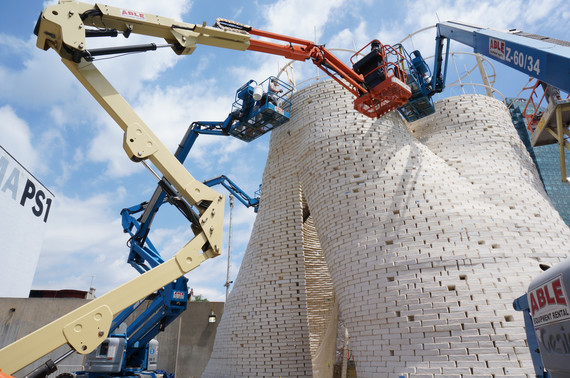 (The Hy-Fi installation, designed by David Benjamin of studio The Living, engineered by Arup and brick construction by Ecovative. It was the 2014 winner of the annual Young Architects Program (YAP) at The Museum of Modern Art and MoMA PS1.)
The brick was used in the award-winning Hy-Fi installation a collaboration between Ecovative mushroom materials company, New York design studio The Living, and Arup engineers. CEO of Ecovative Eben Bayer explained that the project shows that a structure built from,
"100% biofabricated materials, was possible. The MycoFoam™ bricks were literally grown within 100 miles of the tower, and the tower was composted within the city at the end of its useful life."
The bricks are made by using mycelium, the vegetative fungus, to digest agricultural waste, which through the Ecovative bio-production process are then formed as bricks. The lowly mushroom is wonderfully powerful, not just materially but symbolically.
Anthropologist Professor Tim Ingold writes in his book Being Alive: Essays on Movement Knowledge and Description that, "as the mycologist Alan Rayner has suggested, the whole of biology would be different had it taken the mycelium as the prototypical exemplar of the living organism. For it could not, then, have been built upon the presumption that life is contained within the absolute bounds of fixed forms."
Unlike the separation of humans and our economy from the natural world in the linear economy, the circular economy enables us to be part of the flow of materials and abundance. The objects created by the wonderful designers and engineers in the Circular Living exhibition testify to this. As circular economy pioneers William McDonough and Michael Braungart write in their book The Upcycle, the circular economy doesn't restrict us, it enhances our capabilities.
"We can be overtly good.

We can, in fact, enjoy our full human dignity. We can celebrate the unique and fruitful role we possess in perpetuating the biological system. We can proliferate.

We can create more magical objects.

And we can, in fact, enjoy the satisfaction that a tree, a bee, the sun enjoys. While I exist, I make this world more fruitful."
John O'Reilly assisted in curating Circular Living, a collaboration between The Built Environment Trust and Arup. Circular Living is open now at The Building Centre, Store Street London. The Circular Building will be open on 21 September.
This September The Huffington Post UK Style is focusing on all things sustainable, for the second year running. Our thirst for fast fashion is dramatically impacting the environment and the lives of thousands of workers in a negative way. Our aim is to raise awareness of this zeitgeist issue and champion brands and people working to make the fashion industry a more ethical place.
We'll be sharing stories and blogs with the hashtag #SustainableFashion and we'd like you to do the same. If you'd like to use our blogging platform to share your story, email ukblogteam@huffingtonpost.com