Our oceans are choking on plastic. A truckload of plastic enters the ocean every single minute, with drinks bottles, food wrappers and other plastic packaging flowing into our seas and breaking down over hundreds of years. The vibrant biodiversity that calls the ocean home is becoming entangled in plastic and mistaking tiny pieces for food - where it travels up the food chain and risks travelling back to our plates in seafood.
How has it happened that a vital life-support system for our planet has become a major dumping ground?
Answering that question means tracing the problem to its source. While you might be tempted to point the finger at fisheries and shipping for marine pollution, up to 80% of the plastic in the ocean actually comes from land-based sources.
The largest litterer in the world?
That's where Coca-Cola comes in. Just one look at a beach pretty much anywhere on earth and it's not surprising that plastic bottles are consistently found to be a major source of ocean pollution. The soft drinks industry is responsible for selling over a million plastic bottles every minute. These bottles are designed to be discarded after a single use. Collection and recycling systems worldwide cannot keep up with this endless flow, meaning nearly half of the 600 billion plastic bottles sold each year are ending up in our environment.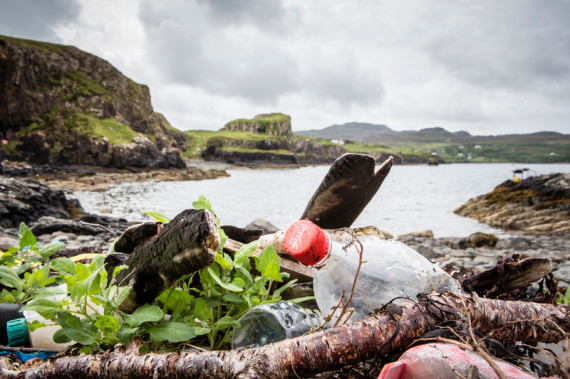 Coca-Cola alone sells over 100 billion single-use plastic bottles every year.
With plastic bottle production set to surge by another 20% in the next five years, we need to turn this problem around. As the world's largest soft drinks company, Coca-Cola alone sells over 100 billion single-use plastic bottles every year. That's well over 3,000 a second. Greenpeace revealed earlier this year that Coke has no target to decrease its use of throwaway packaging and that its use of single-use packaging has actually increased over the past decade - to the detriment of refillable bottles. As a result, billions of Coke bottles are ending up on our beaches, streets and in the ocean.
Greenpeace's campaign against Coke in the UK has put the company on notice. Coke know they can no longer avoid taking responsibility for the fact that their plastic bottles are polluting our environment. But a global problem needs global action and that requires global leadership.
Of course it's not 'Always Coca-Cola'. Greenpeace has revealed the gigantic plastic footprints of other companies in the soft drinks industry, while UN studies have called out the snappily titled 'fast-moving consumer goods sector' overall. But as a leading brand, Coke has the means and influence to shift the whole sector away from single-use plastic, and effect a wholesale reduction in the amount of plastic flowing into our oceans.
Coca-Cola has a responsibility to lead
Coca-Cola has stepped up to this leadership mantle on sustainability before. In the early 2000s, following a campaign by Greenpeace, Coke used its dominant position to lead in the development and use of new technologies to tackle super greenhouse gases (HFCs) in refrigerators - a major driver of ozone depletion and climate change. Using their financial muscle to bring more environmental friendly alternatives to market, Coca-Cola and Unilever spearheaded the 'Refrigerants, Naturally!' initiative and gained sign-on from PepsiCo and Red Bull. This scheme, backed by Greenpeace and the United Nations, has ultimately helped to save emissions equivalent to the annual carbon footprint of 6.7million passenger cars.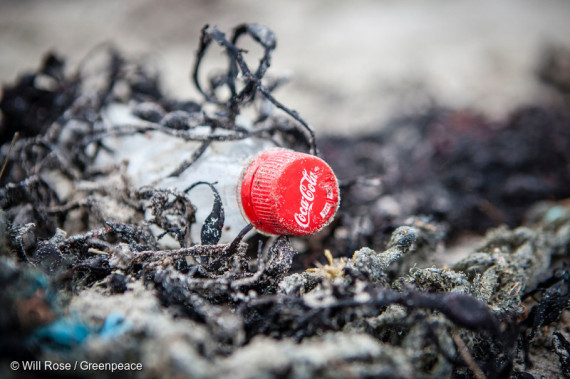 Along with climate change, plastic pollution is one of the greatest threats facing our oceans. Governments are starting to wake up to this threat, and introduce important regulations like bans on microbeads, incentives to phase-out plastic bags and deposit schemes for plastic bottles. But given the current scale of corporate plastic footprints, business innovation is key to developing alternative delivery systems that can replace single-use plastic.
Coca-Cola stands on the verge of becoming the villain in the story of ocean plastics.
With plastic pollution an eminently more visible problem than greenhouse gases in the atmosphere, the social licence to produce harmful plastic packaging will erode even quicker than it did for companies pumping out fossil fuels. Coca-Cola needs to turn this story around, fast, or risk becoming tarred with the same brush as Big Oil. Just as ExxonMobil became 'the face' of climate change, Coca-Cola stands on the verge of becoming the villain in the story of ocean plastics. Those distinctively contoured bottles with iconic branding aren't such a marketing gift when they're washing up on beaches worldwide.
Just a few years ago, fossil fuel giants wouldn't have dreamed that they'd face lawsuits for their operations, let alone shareholder pressure to act on climate change. A wide range of groups already have strong interests in eliminating plastic from our seas and coastlines, from the fishing industry to tourist operators - not to mention the growing anger from individuals across the world who are committed to defend our oceans. It pays to be ahead of the curve.
Now is the time to act. Coca-Cola has demonstrated in the past that it is capable of listening to scientists and environmentalists, and putting its weight behind solutions to the world's greatest environmental challenges. Today, Coca-Cola needs to face up to its plastic problem and lead the way in ending the age of throwaway plastic.