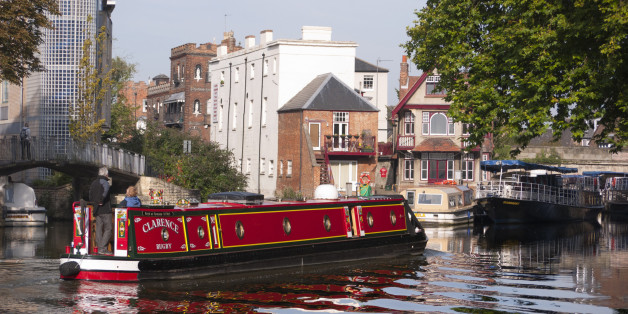 Jon Bower at Apexphotos via Getty Images
I will say straight off the bat, barring a sinking or crash; Oxford University Men's first team will win the 2017 Boat Race. I didn't go to either university, so I have no bias here.
The Boat Race is the annual 6.8 km rowing race between Oxford and Cambridge University on the River Thames, sometimes known and the dark and light blues respectively, with crews filled entirely by students who fit training alongside their intense studies. It's a long distance row compared to the usual distance of 2km, with rowing competitions known as regattas. Both men and woman compete, and while this commentary is focused on the men's competition, I reckon the Oxford Women's crew will dominate their Cambridge counterparts too.
Lots of observers will dive straight into the reams of data to determine potential winners. For example, Cambridge won last year and they lead overall with 82 wins against 79 Oxford wins. But those are meaningless stats, every year is a reset, with Cambridge's 2016 winning crew retaining only two blues in the 2017 line up.
Rowing is a biomechanical sport, so would weight and height be a good indicator of victory? Commentators have been murmuring that the total Cambridge Crew is heavier by a solid 25kg. They are also two inches taller than the average Oxford crewmate at six foot five.
Pretty impressive until you delve deeper into the reason why. The Oxford crew have Matthew O'Leary in the second seat, which is the second from the back, a position I used to sit on when I rowed competitively. He scales a mere 74.8kg, a feather compared to some who weigh over 100kg. He is also less than six foot tall, several inches shorter than most. His inclusion has dragged the averages down. How the heck did he make it into the team, let alone the top boat?
Simple. He's a world class lightweight rower.
Rowing has two weight categories, lightweights, and openweights. The former, which I rowed in, is torture, having to squeeze below 75kg for winter weight and having a crew average of no more than 72.5kg in the water season in summer. Yet they have phenomenal power to weight ratios, and Matthew's racing credentials are top tier, being a two-time finalist in the senior World Championships. Lightweights, like marathon runners, do well in long distances, so the Boat Race amplifies their endurance related strengths. It's easy to see Matthew wipe the floor of most domestic heavyweight, if not on an ergo (an indoor rowing machine) then on the water.
The talent extends far into the other Oxford rowing crewmates. You have Oliver Cook, the spare of the 2016 Olympic GB Team and coming 7th in the ultra-competitive World Men's Pair. He is joined with Olivier Siegelaar, the 2016 Olympic Bronze Medallists in the Dutch Eight. These guys are in a completely different tier to the Cambridge crew. The rest of the Oxford crew are ably covered with University World Champions, U23 and Junior International athletes.
To be fair to Cambridge, their crew is no slouch. On raw power alone, they might have it. James Letten is a former World Record Holder on the rowing machine for 10k, a useful distance. However, on pedigree, it's mainly domestic level champions rather than Olympic competitors in the light blue crew, with a scattering of U23 and Junior International athletes. They also lost by two lengths to a strong Oxford Brookes University eight in January, an ominous sign.
Finally, it's the setup, Oxford has Sean Bowden as their top coach, his long experience, with 11 wins out of 17 is reassuring. He even coached Cambridge in the 90's, setting up a future seven-win streak in the process.
On regatta day, if conditions are reasonable, expect a solid start from Cambridge, attempting to hold off Oxford for several minutes, especially if they get a favourable bend. Cambridge would hope for a strong headwind, which favours heavy crews. Even then, Oxford's superior endurance would gradually reel them in and pull off a comfortable victory of a few lengths in the end.
Of course - the beauty of any competition, especially the Boat Race, is that we will never truly know till it happens. Crazier things have happened recently.