December retail sales have disappointed.
British music industry loses the high street presence of HMV.
Another few bite the dust.
Britain gets a chilly welcome to 2013.
If you still need more evidence that the internet has necessitated a rethink of customer engagement strategies, then you may as well shut shop and protect the few assets and cash-in-hand available to you. The onset of the Great Reinvention (as we'd like to refer to the economic depression that started in 2008) marked the beginnings of the evolutionary process that would be driven by the Internet and the shift to online business and shopping. To feign ignorance to the fact that we're through the evolution phase (of four years) and are now stood at the chasm, would demonstrate poor judgement and a clear lack of understanding of the stark reality that faces us.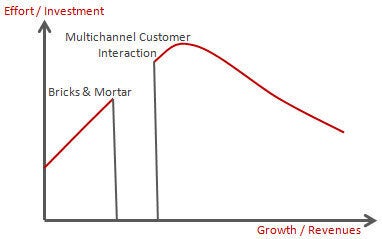 The jump across the chasm will require a rethink of customer interaction and engagement strategies - and, an in-depth understanding of how consumers think, shop around and buy.
Blockbuster, Jessops, Morrisons and Comet have taught us that speed and agility are important considerations when adopting a multichannel retail strategy. For those who'd like to argue that online shopping reduces the lucrative profit margins (that retailers have enjoyed in-store), should be inspired by the 44% y-o-y growth in web sales at John Lewis - a major contribution to the 13% growth in revenues in December 2012.
British high streets will get a face lift in 2013. An experiential high street will start to emerge - one that caters to niche brands and customers and provides a face to virtual shopping experience. Brick-and-mortar shops will adopt a lean presence as they rapidly embrace a multichannel environment. Online only retailers will bring pop-up shops and digital windows to the high street - using tools such as augmented reality, QR codes and mobile apps to bring in customers. eBay has already put this into practice by testing pop-up shops in 2012.
This experiential high street, with its multichannel infrastructure, will be driven by actionable insights - the ability to capture, combine and analyse customer interaction data to deliver personalised, value-add engagement to customers.
So, if you haven't already, it's time to embrace the Great Reinvention.
Popular in the Community