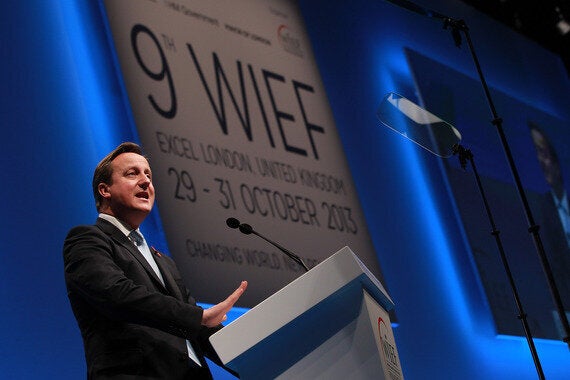 The 9th World Islamic Economic Forum (WIEF), held for the first time outside of the Muslim World, is finally here. The Mozlumms [sic] have arrived for what in many ways seems like a friendly cricket test match. No sledging allowed - although Hamid Karzai, President of the Islamic Republic of Afghanistan was able to slip in a quip about Afghanis not tapping phones. Debates about niqabs, the place of religious schools, immigration, race, and beer at football tournaments have been put on hold. This is about how UK plc can pull off their claims of being the host with the most.
Test match captain Prime Minister David Cameron, supported by all-rounder Mayor of London Boris 'Beefy Botham' Johnson, have declared London open for business. We're off the mark and what could go wrong? We have our best buddies Malaysia in the pavilion, the event is being held at the London ExCel Exhibition Centre [owned by Abu Dhabi National Exhibitions Company (ADNEC)], overlooking the Emirates Royal Docks. So Londonistan is no longer a moniker for kebabs and niqabs - now witness the anointing of Londonistan as a hub for the Muslim world - attractive for is agile secular shari'ah friendly law, financial services, and academic institutions.
So there you have it: an event and a meeting of minds drawn together in what could be grouped into three reasons.
The economic argument - where data is being presented to demonstrate the market potential through financial value, and future sustainability through population figures
The consumer-based perspective - where beyond market value and size, there exists a consumer-based religious obligation to develop the sector. But along the way, profiting from Prophethood [Muhammad, peace be upon him] is okay too.
The geopolitical imperative - where commerce linked with Islam is influenced by geopolitics, and is crucial to international relations, political stability and national brand equities.
The ceremony was opened by a recitation of the Qur'an [Chapter 4, verse 29], which when translated read:
O you who have believed, do not consumer one another's wealth unjustly, instead only engage [in lawful] business by mutual consent. And do not kill yourselves [or one another]. Indeed, Allah is to you ever merciful.
Opening batsmen, Hon. Tun Musa Hitam Chairman of WIEF, and Malaysian Prime Minister H.E. Dato' Sri Mohd Najib Tun Abdul Razak, built a solid foundation - setting the tone for the forum by scoring runs highlighting four key areas of interest: women, youth, education, and SMEs (small and medium enterprises).
Dato' Sri Mohd Najib dedicated a large part of his keynote to the importance of women (to a largely male and applauding audience). He was pleased to announce that two thirds of students in tertiary education are women in Malaysia. Islam was presented as offering encouragement towards legal and financial independence. He also relayed the story of Khadijah, the first convert to Islam.
"Of all the merchants in Mecca, she was the most successful; an entrepreneur who managed an international trading empire. One day, she hired a young man by the name of Muhammad (peace be upon him), who she would eventually marry."
Muhammad was later to become that Prophet Muhammad whom we are familiar with.
The batting line-up of distinguished leaders opened up discussions further - with Prime Ministers, Presidents and Royalty from: Bahrain, Bangladesh, Bermuda, Bosnia and Herzegovina, Brunei, Indonesia, Iraq, Jordan, Kazakhstan, Kosovo, Kuwait, Morocco, Pakistan, and Turkey.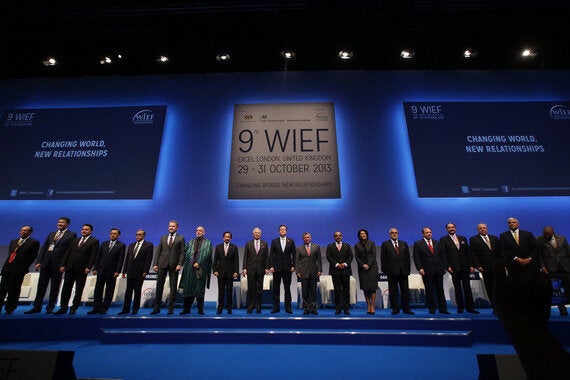 Craig Cannonier, Premier of Bermuda used his slot to throw Cameron a googly, by championing Bermuda as a safe haven for Islamic finance - as the Island currently occupies 36% of the global reinsurance market, with 1,200 international companies having licenses valued at US$450 billion.
The ascendance of English language is also interesting. Of course English is the worldwide language of business and Arabic is the language of Islam. Arabic and English are not the mother tongue of the majority of Muslims, but English has moved into pole position as being the language of choice to communicate across nations. So, English has grown in its importance in connection with Islam - with only leaders from Morocco and Kuwait choosing to deliver their speeches in Arabic.
Cameron came into the auditorium just before lunch with a spring in his step. When over three hours of speeches was making stomachs rumble - David took the crease, unbuttoned his jacket and threw the audience the sizzling Halal meat they were waiting for. David said,
"I don't just want London to be a great capital of Islamic finance in the Western world, I want London to stand alongside Dubai and Kuala Lumpur as one of the great capitals of Islamic Finance anywhere in the World...Today we have more banks compliant with the principles of Islamic finance than any other Western country...and just last week we made new commitments to open up new forms of student loans and business start-up loans for Islamic students and entrepreneurs."
And with that a confident Cameron buttoned his jacket and like Elvis left the podium.
So London is a place the Muslim world wants to make its home. Women are seen as being central to economic growth which is grounded in a stronger code of ethics - or as HRH Prince Charles called Islamic finance at the gala dinner, Alternative finance. Or maybe it's the fact that my computer keeps correcting my text every time I type WIEF, with WIFE, that women managed to get so many mentions in speeches. ^_^
Popular in the Community