I'm delighted that this week we announced that Mosaic, HRH The Prince of Wales's mentoring initiative, will move home from Business in the Community to sister charity The Prince's Trust from 1st July 2016.
With both Mosaic and The Prince's Trust sharing a very similar purpose - to help disadvantaged young people to overcome their barriers and move towards education, employment and training - it was agreed earlier this year that Mosaic and The Prince's Trust would move towards integration.
The infrastructure within The Prince's Trust is well-suited to Mosaic's operations and will enable us to grow in scale and impact with improved efficiency and effectiveness.
We are forever grateful for the warmth and generosity of colleagues and friends at Business in the Community, who have made the last seven years such a memorable experience, and helped facilitate the wonderful growth Mosaic has experienced.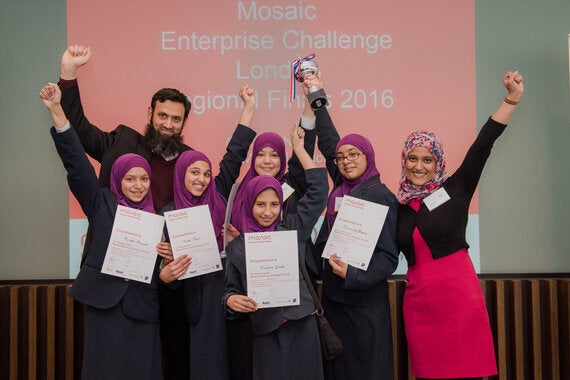 This news comes after March passed in something of a whirlwind for all the team at Mosaic. Not only have we delivered an inspiring and enlivening event for a cohort of young leaders in Jordan (you can read more about this event here), but our UK team has been traversing the country to witness the Regional Finals our of ever-expanding Enterprise Challenge secondary school competition.
The Enterprise Challenge gets to the heart of what we represent as a charity and is a source of both excitement and pride for all us of at Mosaic. Talking of excitement, the brilliant thing about the 2016 edition of the competition is that the standard of both the business ideas and the manner of their presentations has been better than ever before. Seeing the looks on the faces of significant business leaders as students as young as 12 deliver stunning business pitches has been a real treat!
The feedback from our judging panels at each of the Regional Finals was universally positive and is testament to the nuanced and skilful job that our volunteer mentors have done in guiding young people from a wide range of backgrounds, faiths and cultures to success.
Let me illustrate my enthusiasm by leading you on a tour of each of our regional winners and their innovative business ideas. The first event took place in Birmingham and was won by 'Team Fruit Cycle' from St Thomas Aquinas Catholic School.They proposed building relationships with local retailers in order to source cheap fruit close to its sell-by date. This fruit would then be sold in their school to promote healthy eating with any profits being spent on sports equipment.
Next up was the Yorkshire final and a very stiff competition concluded with victory for 'Team Hand-Up' from Dixon Kings Academy in Bradford. This group of entrepreneurs impressed with their idea for recycling school stationery and electrical products to sell to pupils at their school.
The North West final featured an incredibly close contest that ended in a win for the girls of Altrincham Grammar School. 'Team Elevate' proposed a scheme to alleviate loneliness for elderly members of the local community.
It was another all-female victory in the London final as 'Team S-MART' from Eden Girls' School claimed victory with their idea for a secure online portal which, for a small charge, enables pupils to easily exchange useful items such as school books, notes and equipment with each other. Team S-MART's win was also notable for being the youngest ever team to be victorious at a Regional Final.
Our South East final was won by 'Team Eazo Peazo' from Rivers Academy in Feltham, with an ingenious idea for installing piezoelectric pads (don't worry, I had to look this up too!) in their school corridors to generate energy from the regular heavy footfall to reduce the school's carbon footprint.
The month ended with our first ever Scottish Regional Final, which took place in Glasgow and witnessed a victory for Hollybrook Academy. 'Team Jamboree' proposed a scheme to source unwanted fruit and vegetables and turn them into jams and chutneys which would then be sold to raise money to buy more ingredients.
What strikes me about all of the winning ideas is that, diverse as they are, they share a determinedly ethical element. These young people are motivated by the best possible intentions; to help and support others, to make the world a better place to be, both environmentally and socially. I find this in equal measure both inspiring and humbling, and proof that great entrepreneurship is not simply about making money but can be a genuine force for good.
I can't end this post without thanking the many people that help to make the Enterprise Challenge the success it undoubtedly is. The staff at Mosaic are impassioned and relentless, our regional teams are resourceful and ever-positive, our volunteer mentors are selfless and inspiring, our sponsors Apax Foundation and Qatar Charity UK, supported by Totem Learning, are generous and trusting.
All winning teams will now head to London for the Enterprise Challenge Grand Final on May 4th. I can't wait to see them all again.
For more information on becoming a Mosaic mentor, call 020 7566 8734, email mosaic@bitc.org.uk or visit www.mosaicnetwork.co.uk.
Popular in the Community