I'm not a big believer in nostalgia; I am usually a believer of looking forward rather than dwelling on the past. However, given that I am writing this post at a time when Mosaic has now officially become part of The Prince's Trust, it seems like an excellent opportunity to pause and remember all the wonderful things that have happened in the life of our charity over the past twelve months. This is going to be something of a whistle-stop tour, so please visit the Mosaic website for a more comprehensive record.
Last September, I was very pleased to have the opportunity to accompany our founder HRH The Prince of Wales on a visit to HMP Leeds to see at first-hand the vital contribution Mosaic's Ex-Offender programme is making to prisoner rehabilitation. It was a particular pleasure that we were joined by His Excellency Sheikh Faisal bin Qassim al Thani, whose Al Faisal Without Borders Foundation, provides the generous financial support for this vital programme.
His Royal Highness was, as ever, knowledgeable and passionate and he spent time talking to both mentors and some of the ex-offenders who have gone on to start successful businesses after completing the programme. We operate in many prisons around the UK and would like to extend the programme still further. We're talking to various agencies to try and make this happen.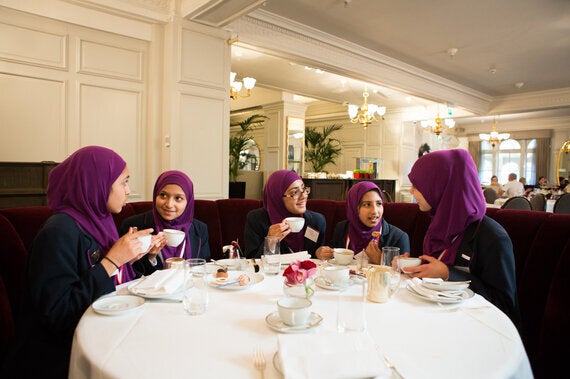 Team S-MART enjoy a celebratory cup of tea at Harrods / Image copyright held by the author.
Also last Autumn, we launched the latest edition of our Enterprise Challenge competition, generously supported by the Apax Foundation and Qatar Charity UK, at a special event in London, attended by some of the UK's leading entrepreneurs as well as the 2015 winners, 'Team i-RoundUp' from Skinners' Academy in Hackney. Entrepreneur and former star of BBC's Dragons' Den, James Caan CBE was also in attendance and urged business professionals from around the UK to volunteer as mentors for the competition.
HRH The Prince of Wales recorded a message of thanks to all of our supporters that we shared with the world last November, with the final of the international version of the Enterprise Challenge taking place in Doha, with impressive contributions made by schools from around Qatar.
As 2015 drew to a close, we began to celebrate the achievements of pupils from around the UK who had successfully completed our Primary School programme with a series of special graduation events. These were pleasing as always and it's always a joy to see the young people in their red Mosaic robes and hear them talk so passionately about their plans for the future. We had some great guest speakers too, including Shami Chakrabarti CBE. We were very glad to be able to announce Human Appeal as the generous new headline partners for this programme earlier this year.
The new year began and the Enterprise Challenge commenced in earnest in schools up and down the UK, including in Scotland for the very first time. We also held several events in all of our regions to celebrate the invaluable job that our mentors do for us across our various programmes.
We were also pleased to organise a number of 'World of Work' (WoW) visits that gave young people the opportunity to visit work places, talk to employees and be inspired to dedicate themselves fully to their studies in order to access the wonderful, exiting opportunities there are in the professional world.
The Enterprise Challenge Grand Final took place in May and was as inspiring and entertaining as ever. Rarely do you have the chance to sit in a room filled with such positivity and talent and it was a privilege to hear the business pitches our finalists; guest of honour James Caan CBE even commented that the standard was much higher than he'd seen on Dragons' Den! The young people competing also took heart from our other guest speaker, 18-year-old entrepreneur Solomon Ian-Sangala, whose amazingly successful business career against the odds made a big impression. The competition was won by the delightful 'Team S-MART' from Eden Girls' school who had parties thrown in their honour by their very proud school and were even spotted taking selfies outside Number 10 Downing Street!
Later in May, our International Leadership Programme for 2016 was launched at an event in Jordan and once again a cohort of talented, caring young leaders from many different countries were able to spend time together and share their ideas. I can't wait to see their projects move towards fruition under the leadership of Prince's Trust International.
Summer arrived, although you wouldn't know that from the weather, and we enjoyed another round of Primary School Programme graduations and we began preparing for our big move to The Prince's Trust.
I must also gratefully acknowledge five patrons that have joined us in the past year: ParentPay, Human Appeal, Rumi Foundation, DCD Family Trust and Gatehouse Bank have all made generous financial commitments to the charity that will enable us to extend our work still further.
A fleeting review such as this will always omit many details so I urge you to follow the links in this piece to discover more about all of the above. I couldn't be prouder of the work that Mosaic does; I know that we're helping young people in some of the UK's most deprived areas feel that there's nothing than can hold them back from achieving great things in life.
I am indebted to my wonderful, hard-working, good-humoured team who deliver our programmes up and down the country with incredible skill and dedication. I am endlessly grateful to our many mentors who give up their time for free to inspire a new generation. Especially in this last year, we are indebted to our Chairman Shabir Randeree CBE, all of the members of Mosaic's Advisory Board and all of our Regional Leadership Group members who provided us with the leadership and support to ensure we are focussed on our priorities.
It's a time of change for the UK and for Mosaic as we settle into our new home. However, there's one thing I am certain about: the next twelve months are going to be our most successful yet!