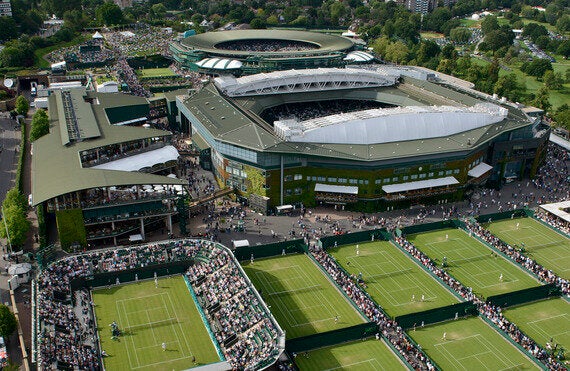 ©Wimbledon Lawn Tennis Museum
With Wimbledon coming up, the strawberries being picked and the grass being trimmed, the question remains... why Love? Why not 'Nought' or 'Zero' or good old fashioned 'Nil'? There are a lot of theories about what Love means, ranging from French eggs (don't ask...) to an old English expression which is 'to play for love', meaning to play for nothing or to play without betting any money on the game. We could go on, but when it comes to Wimbledon - the suburban superstar of world tennis - real love also holds court.
For some reason, Wimbledon seems to have served up some of the world's highest profile sporting relationships in a way that simply doesn't occur in other world sports. Stepping back in time to the wooden rackets and furry headbands of the 1970s, who can forget the Swedish heartthrob Bjorn Borg being chased around SW19 by hordes of teens before getting hitched to Romanian tennis star Mariana Simionescu? At about the same time, Jimmy Connors, the original double-handed scrapper fell head over heels with 70s sweetheart Chris Evert. And what about one of the biggest romances of them all; Andre Agassi, champ in 1992, and Steffi Graff, seven times Wimbledon Singles Champion?
Wimbledon's tradition of having the Gentlemen's singles winner dance with the Ladies' singles winner at the end of tournament Ball ensured a certain amount of romance was always likely to be on the cards. Of course, since 1976 the winners' dance has been dropped in favour of a dinner, but it was nice while it lasted. And yet, still the love game goes on. The great Roger Federer, owner of the most Grand Slam titles, met his wife, Mirka, when the pair represented Switzerland at the Sydney Olympics in 2000. World number one tennis players such as Lleyton Hewitt and Kim Clijsters were romantically attached, as were Martina Hingis and Radek Štěpánek. And let's not forget that humdinger of a romance at Wimbledon in 2004 between the lovable Kirsten Dunst and Paul Bettany. Yes it was a film, but, amazingly, it was one of the only times in Wimbledon's history that filming took place during The Championships.
Is it Wimbledon's traditional adherence to crisp, white tennis kit, begun way back in 1880s that sets pulses racing? Whites were originally deemed most appropriate to disguise any unladylike signs of perspiration - and remember, back then a Victorian Lady's tennis outfit consisted of an undergarment, a corset, a petticoat to go over the undergarment, a second petticoat to go over the first petticoat, a dress made of wool and finally an apron. Phew!
Playing tennis, at least to the British, was always a social as well as sporting event, and the Victorians absolutely fell in love with the game. The beauty and variety of the Victorian tennis artefacts and memorabilia displayed in the Wimbledon Lawn Tennis Museum tells us that underneath all those top hats, stiff collars and whalebone corsets, lawn tennis set Victorian hearts beating like nothing else. Meeting members of the opposite sex and socialising - not to mention being able to play games together in the open air, was quite the thing - and probably a lot more racy than Croquet.
Of course, the main reason why love is always in the air at Wimbledon, and throughout the world of tennis generally, is because tennis is one of the rare pastimes when men and women actually get the chance to compete against one another on equal terms. Mixed doubles is a full-on competition where male and female players compete under the same rules and using the same court and balls. That's pretty unique in any sport. For example it's rare for men and women's rugby teams to compete, or men and women to box against each other - it's hard to see romance blossoming under those conditions. Wimbledon opened the courts to female tennis players way back in 1884 when the Ladies' Singles Championships begun. Yet with no prize money until 1968, all the players, both men and women, really were 'playing for love'.
Related