Blog 5: Sleeping on Antarctica
On the 100th anniversary of Shackleton's famous Endurance expedition, British writer Jonathan Thompson and photographer Mark Chilvers travel down to Antarctica to discover the Great White Continent for themselves
It barely gets dark in Antarctica during the Austral Summer. Which means our night spent camping on the ice - a rare treat when location, expedition itinerary and weather all align - isn't really a 'night' at all. Instead, huddled inside our bivvy bags, it's more a case of watching golden twilight settle around 2am, before seamlessly blurring into a crimson dawn.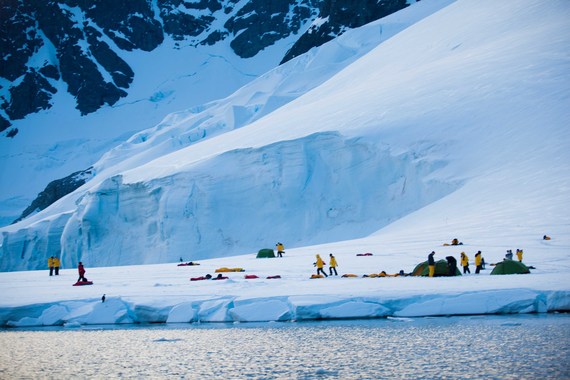 Setting up camp on the Antarctic mainland Photo by Mark Chilvers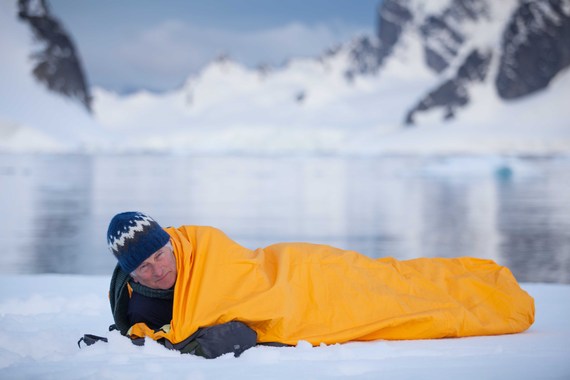 Quark Expeditions guide Jonathan Shackleton, a distant cousin of the legendary explorer himself, beds down for a night on the ice. Photo by Mark Chilvers
This excursion, above all others, brings us closest to the conditions that Shackleton and his men would have experienced here exactly 100 years ago.
On their desperate trek towards the open ocean up this selfsame Antarctic Peninsula, dragging three tiny wooden lifeboats behind them, the men of the Endurance spent months on the ice - often waking when it cracked beneath their tents.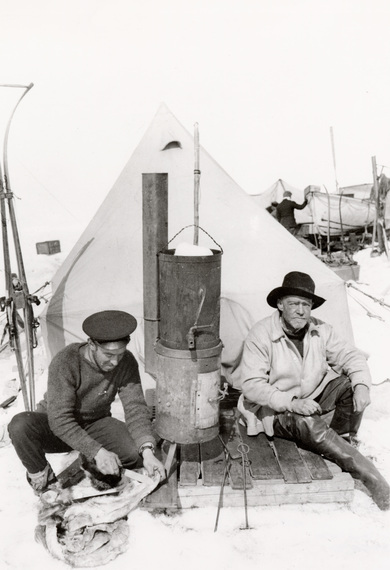 Expedition photographer Frank Hurley and Sir Ernest Shackleton (right), camping on the ice during their great escape from Antarctica in 1915. Photo by Royal Geographic Society
It's humbling to be out here - lying on this pristine white continent that so enthralled the world during the Heroic Age of Exploration. One of Shackleton's contemporaries, the great Norwegian explorer Roald Amundsen, said of the Antarctic: "in the sun, the land looks like a fairy tale." That magic is just as bewitching today.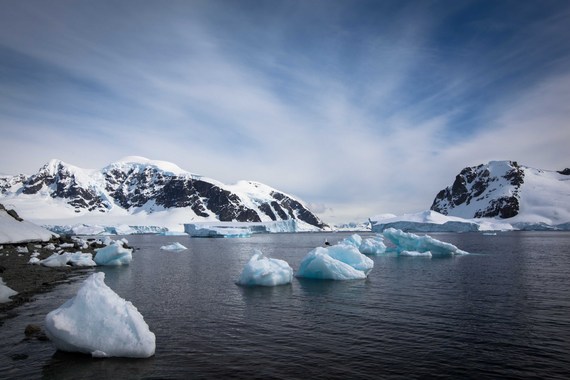 The magic that is Antarctica. Photo by Mark Chilvers
Unlike Shackleton's party, we're unwilling to leave. But a stop at rugged Deception Island, just off the Peninsula, softens the blow. Considered a possible escape route by Shackleton's trusted lieutenant Frank Wild 100 years ago, the island is actually a sunken volcano, and visitors to its black sand beaches (penguin and human alike) are treated to smoking, geothermic waters.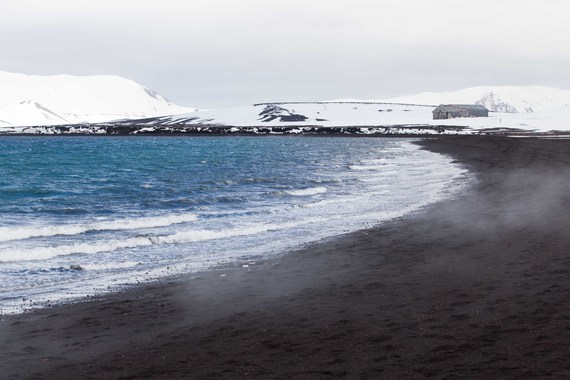 Steam rises over Deception bay at the end of which a former airplane hanger. Deception Island was the base of an early Aerial Survey Expedition (1955-57). Photo by Mark Chilvers
We hike past the splintered skeletons of wooden whaling boats - left by the tiny fishing community Wild hoped to turn to a century ago - before climbing to 'Neptune's Window', a break in the caldera wall from which early explorers first sighted continental Antarctica, way back in 1820.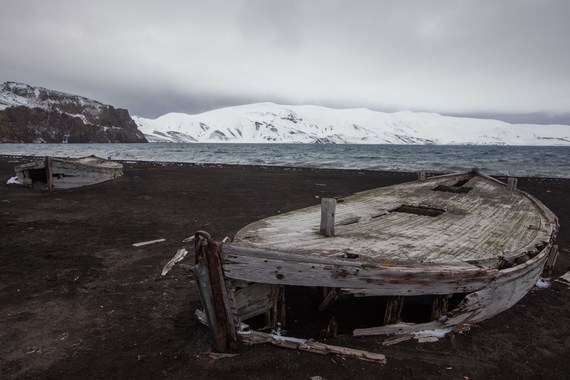 Small boats left by former whalers on Deception island. Photo by Mark Chilvers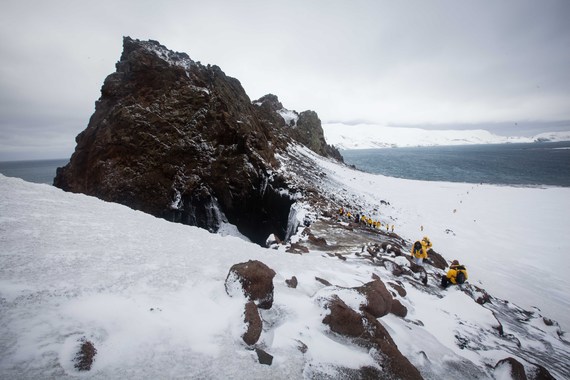 Climbing up to 'Neptunes Window' on Deception Island. Photo by Mark Chilvers
All too soon, it's time to re-board the Ocean Diamond for our passage back to the southern tip of Argentina.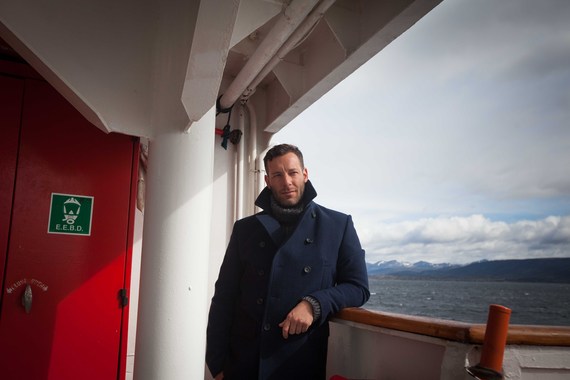 Striking his best 'Shackleton' pose, Jonathan Thompson in reflective mood during the return journey to South America aboard the Ocean Diamond. Photo by Mark Chilvers
It's easy to see why Shackleton kept returning to Antarctica. There's something queerly addictive about its rugged, ethereal white beauty. Despite very nearly losing his his own life and those of his men during the Endurance Expedition, the Boss was back again five years later on yet another mission.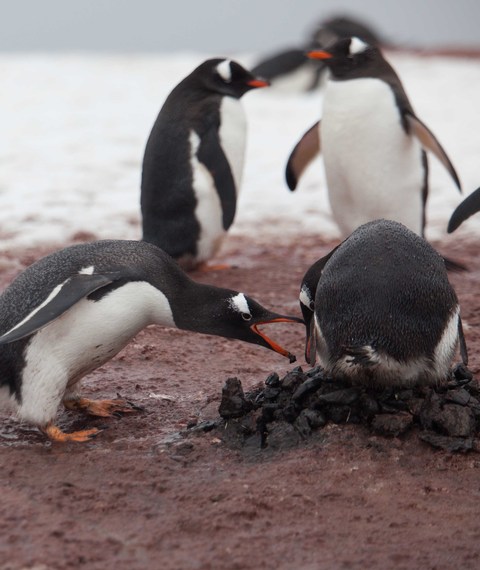 Penguins build their pebble nests in one of the many colonies we observed. Photo by Mark Chilvers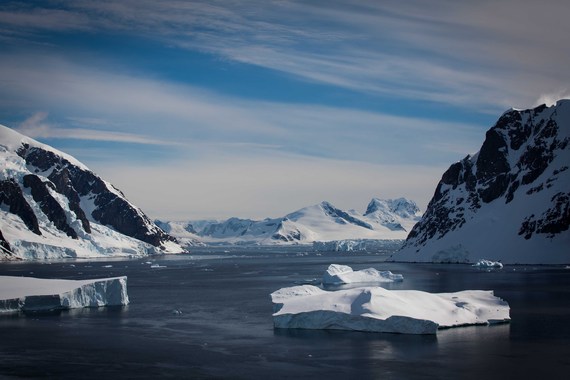 Breathtaking views of Antarctic landscapes are visible at almost every turn. Photo by Mark Chilvers
It's an example that everybody should consider following before it's too late. Mankind has been aware of Antarctica for less than 200 years, but in the same time again, it could be nearly gone. "Trip of a lifetime" is a threadbare adage, but this is one place it applies to in full. And this is the lifetime to see it, before global warming breaks the spell for good.