Blog 2: Photography in Antarctica
On the 100th anniversary of Shackleton's famous Endurance expedition, British writer Jonathan Thompson and photographer Mark Chilvers head to Antarctica to discover the Great White Continent themselves
The Drake Passage is a 600-mile wide channel separating South America from Antarctica.
It also happens to be the most storm torn stretch of water on the planet.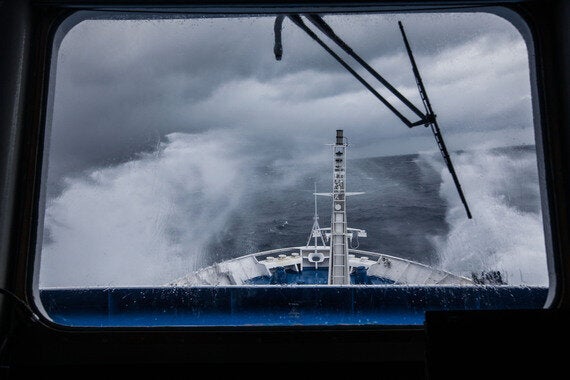 Waves crash over the ship during the Drake Passage crossing. Photo by Mark Chilvers
Here three of the world's great oceans - the Atlantic, Southern and Pacific - all clash head on, squabbling for supremacy. One of Shackleton's companions, a young Irishman named Felix Rooney, described it as "so rough, the ship would roll the milk out of your tea."
The bad news is that, like Shackleton, almost every Antarctic explorer must still tackle the Drake today. And you never know until you roll that dice whether you're going to get the 'Drake Lake' or the 'Drake Shake' for your two day crossing.
Aboard the Ocean Diamond, our ice-reinforced Quark Expeditions vessel, it was something between the two. (Although we were warned to avoid doing anything stupid, like ordering soup or attempting to shave.)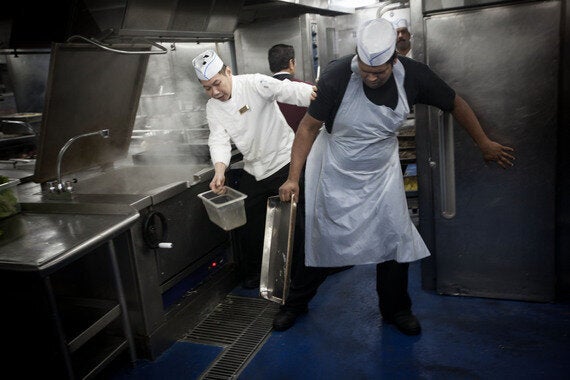 Galley staff contend with the rocky seas in the Drake Passage. Photo by Mark Chilvers
Luckily we had plenty to keep us occupied during our crossing, including a lecture on the finer points of Antarctic photography from the ship's official snapper, Dave Merron.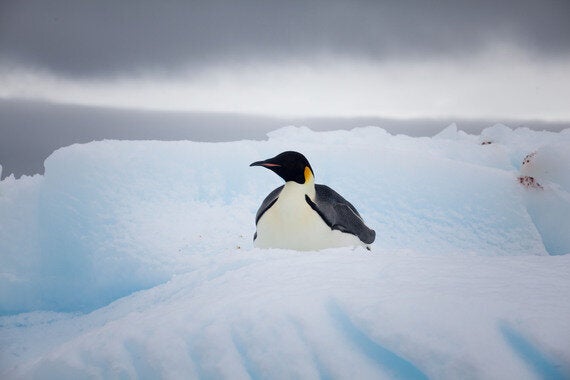 A lone Emperor penguin chills on some sea ice. Photo by Mark Chilvers
Traversing this notorious passage 100 winters ago, Shackleton too was very aware of the power of photography when it came to the vast, alien beauty of the Seventh Continent. That's why one of the men in his team was the greatest polar photographer of his generation: Frank Hurley.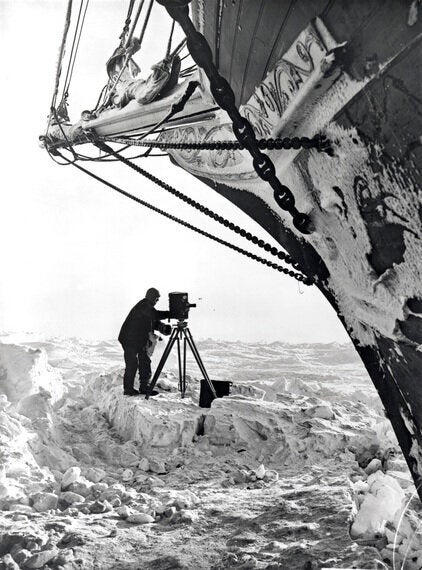 Frank Hurley with his film camera under the bow of the Endurance. Photo by /Royal Geographic Society
Shackleton's legend owes a major debt to Hurley - and the fact that much of what took place after they reached Antarctica was caught on film by the Australian, who returned with some extraordinary images.
Today, many of the challenges of photography in Antarctica are the same as those that Hurley faced: unpredictable weather conditions, contentious wildlife, extreme cold. But the results can be just as spectacular.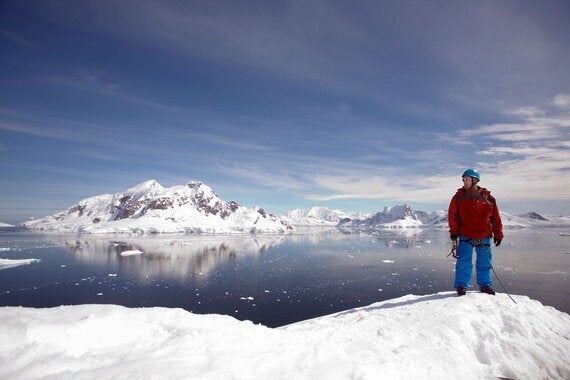 Jonathan Thompson surveys the breathtaking panarama. Photo by Mark Chilvers
Plus, thanks to 21st Century technology, we're at a distinct advantage. While Hurley layered up in his woolen expedition kit from Jaeger and spent hours setting up his flash guns, we have the benefits of gore-tex jackets and self-warming gloves. And in a stroke of genius, we can even take perfectly exposed pictures on our Samsung Galaxy phones without removing those gloves, thanks to the frostbite saving stylus.
On a phablet screen or through the lens of a DSLR, Antarctica is still as rich and fascinating as it seemed on Hurley's now infamous glass plates.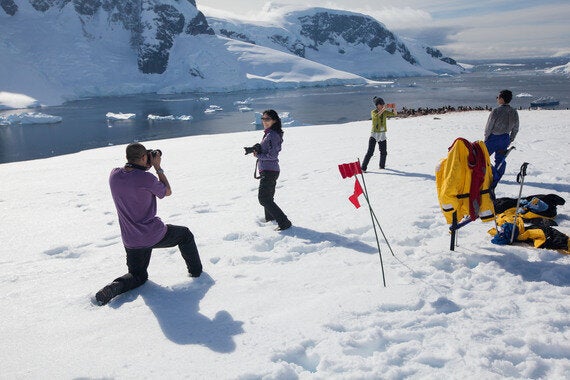 Adventure tourists use a combination of DSLR cameras and phones to record their Antarctic memories on a surprisingly warm day. Photo by Mark Chilvers
However the Drake tosses you out the other side, within minutes of laying eyes on the White Continent, you'll realise it was monumentally worth it. And you'd have to be an idiot to travel here without some digital means of storing the memories forever.
As Shackleton himself wrote: "The Antarctic is a wonderful place and deserves every effort it takes to get there."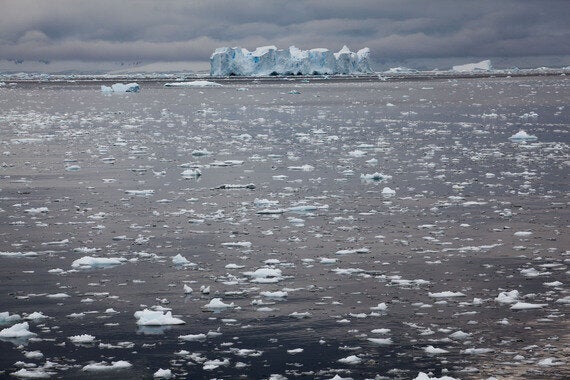 Icebergs and sea ice decorate the calm coastal water. Photo by Mark Chilvers