It's that time of year again, Shrove Tuesday has arrived and it is time to honour good old Pancake Day, by baking up a culinary storm!
So, feast on this: a perfect pancake treat, free of all the bad stuff, using naturally healthy alternatives to make a really delicious lacy crepe, that no one will ever guess is guilt free!
There are 2 options, one is made with spelt flour, which has far less gluten then regular flour and is less processed, and there is also a wheat/gluten free option for those of you who want to avoid it entirely.
So now you can gorge on pancakes all day - guilt free!
For more delicious recipes from chef and best selling naturally healthy cookbook author Jordan Bourke, check out http://www.jordanbourke.com/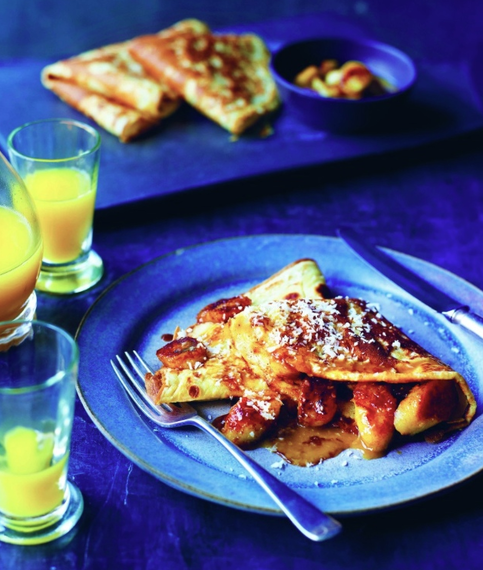 Pancakes with fried bananas
sunflower oil, to fry
Spelt or Wheat-free Pancakes
100 g/3⁄4 cup fine-grind spelt flour OR
100 g/ 3⁄4 cup gluten-free multi-purpose flour
OR to make your own gluten-free blend, mix 50 g/ 6 tablespoons rice flour,30 g/1⁄4 cup tapioca flour, and 3 tablespoons gram flour 1⁄2 teaspoon baking powder pinch of sea salt
2 eggs 200 ml/3⁄4 cup rice milk
Fried Bananas 2 bananas
juice of 1 orange
2 teaspoons agave syrup
1 teaspoon ground cinnamon
1 teaspoon desiccated coconut, plus extra to serve
20-22cm/8-10-inch
non-stick flying pan
To make either the spelt or wheat-free pancakes, sift the flour, baking powder and salt into a large mixing bowl and make a well in the middle. In a separate bowl, whisk together the eggs and milk. Gradually pour into the well in the flour mixture, mixing all the time until you get a smooth batter. Allow the batter to rest for at least 30 minutes. You can also make it the night before if you are very organized. When ready, heat a little oil in the non-stick frying pan until hot. Stir the batter and pour a small ladleful into the pan, swirling so that the mixture spreads to the edges. Cook until the top of the pancake starts to bubble - less than 1 minute - then flip it over and cook until golden. Repeat until all the batter has been used up, wrapping the pancakes in parchment paper and keeping warm in a low oven. To make the fried bananas, heat a little oil in a frying pan over high heat. Slice the bananas and add to the hot pan. Fry until golden, then flip over and fry for another minute or so. Add the orange juice and agave syrup and dust the cinnamon and desiccated coconut over the top. Let the liquid bubble away for 30 seconds, then remove from the heat and transfer to a bowl.
Add some of the fried bananas to each pancake and fold it over into a parcel. Sprinkle over a little more coconut and enjoy immediately.
Guilt-free because... Banana is widely known for its potential to reduce hypertension due to the high amounts of potassium it contains, coupled with negligible sodium levels. It is not only the potassium but also the fibre that contributes to the cardio-protective effect.
Makes about 5