As campaigners, there comes a point when we have to decide whether or not what we are doing is affecting any real change.
No matter what the ultimate aim is - whether to persuade an electorate to vote a particular way, to raise awareness to a certain cause or to provoke direct action - there will always be an evaluation period. Are we making any difference? Are people listening? Are we changing lives? Are we seeing results?
In the short time that I have been involved in grassroots campaigning, I have seen incentives emerge, grow and then shortly disappear after failing to achieve their aim. With the campaign that I cofounded, TIE (Time for Inclusive Education), it was not long until we suffered our own setback; a petition that we had filed with the Scottish Parliament, calling for an LGBT+ inclusive education to be common practice across every school in the country in an effort to tackle homophobic, biphobic and transphobic (HBT) bullying, was unexpectedly closed.
We had the weight of a parliamentary committee behind our cause and then, seemingly as quick as the support had come, it was suddenly gone.
The timeline of TIE has, thus far, been short yet very eventful. Liam Stevenson and I cofounded the campaign, each of us driven by the passion to change the lived experiences of LGBT+ school pupils. As it stands; every statistic and report that covers LGBT+ within the Scottish education system is as heartbreaking as the last. The last national school report, commissioned by Stonewall Scotland, found that a quarter of LGBT+ youth had attempted suicide as a result of bullying and that over half were regularly self harming.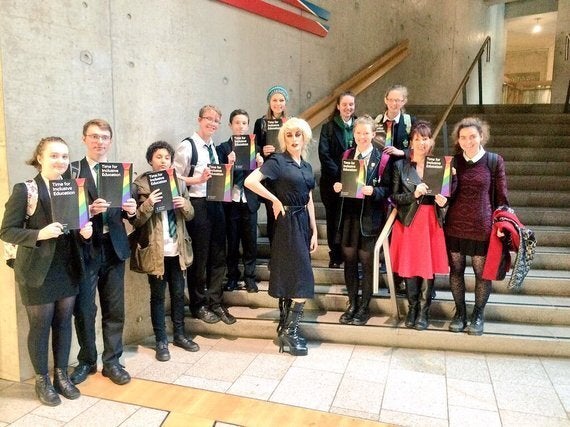 From the beginning of our campaign, we felt that it was crucially important that we offer solutions to the social ills that we would be highlighting; in our case, we have focussed very heavily on teacher training. Not long after we officially launched last June, we were joined by John Naples-Campbell - a secondary school teacher in Glasgow and human rights campaigner - who told us, quite simply, that most teachers do not have the confidence to effectively tackle HBT bullying and support their LGBT+ pupils, never mind begin to incorporate LGBT+ issues into their lessons.
Quite quickly, our campaign picked up pace and we caught the attention of the mainstream media; fast forward almost a year later and it is undeniable that the issue of LGBT+ education has irreversibly entered the narrative of national debate. When our petition was closed, we were particularly let down - just a few days before the parliamentary committee had made the decision, we had to refer a young trans school pupil onto specialised counselling amid fears that a second suicide attempt was on the horizon.
Parliamentarians and ministers absolutely do not do enough in this area; the national strategy to tackle HBT bullying does not go far enough and it seems that there is a prevailing reluctance to properly have the strategic conversations within the halls of power that are so desperately required.
The statistics are shocking, that's a given, but it is not until you head back into schools to speak to the kids affected that you see how bad the situation can really be. Liam and I deliver assemblies on HBT bullying, and we have been visiting schools across the country speaking to teaching staff, pastoral care teams and pupils.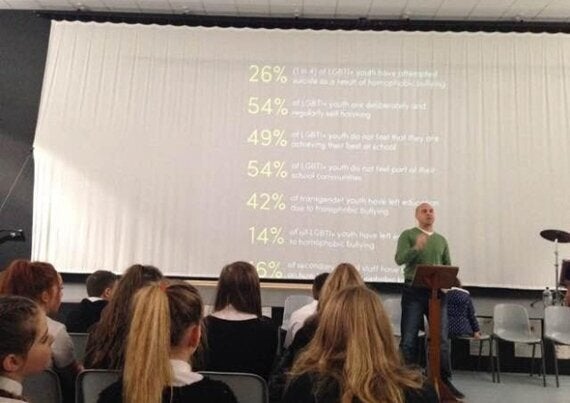 What quickly emerged as a key problem was that not only are most teachers untrained on LGBT+ issues, but that the majority of educational establishments - as a result of cuts - do not have the funding available in their budgets to actually send their staff to the courses that are available.
In fact, only a few days ago, we were told about a school in Glasgow where the pupils themselves were planning to fundraise money so that one of their teachers could be trained.
Personally, I am at the point where rhetoric and lobbying - whilst proving effective - is no longer strong enough on its own. I have listened to far too many kids speak about their identity struggles and suicide attempts. I have seen too many kids with lacerations covering their arms, too many kids who have retreated into themselves because they are scared of being open about who they are, too many kids who dread going to school because of bullies.
When we were in parliament last year, I described this situation as a national disgrace - and I absolutely stand by that today. As a young gay man, I'm increasingly appalled by the fact that much of what I went through as a teenager is still happening now, almost eight years later.
I spoke at an event last week, where I discussed our campaign. A middle aged man stood up and spoke from the crowd, and wept tears as he shared the story of his friend's son who had hanged himself in a Glasgow park because he was being bullied for being gay.
Honestly, enough is enough.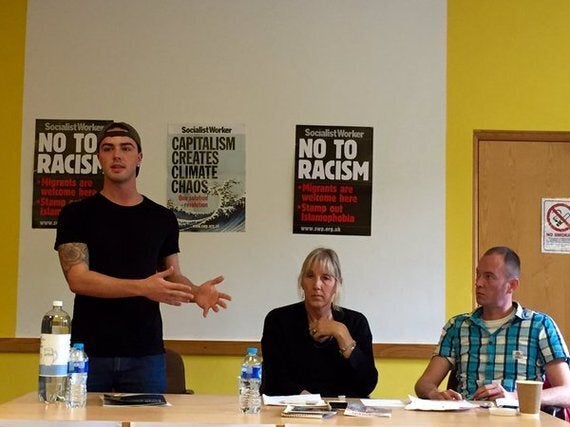 Following our petition closure, we have decided to launch a national crowdfunding appeal. We're attempting to raise funds through pledged donations, which can then be put directly towards training teaching staff to empower them to discuss LGBT+ issues within their classrooms.
So far we have agreed to fund training for around five different schools - we can and will reach more.
The issues that our LGBT+ youth are facing are so easily solved that it often boggles my mind as to why we are still sitting in this situation in 2016. The response to our aforementioned school assemblies is always moving and it is clear that, in leading the way with some open, honest and very real discussions; we are leaving an impact on the climate of those schools that we visit. One young pupil recently emailed us following an assembly, and her words speak volumes:
"You wouldn't have seen the aftermath of the assembly but it was amazing...you gave me the courage to talk about my gender identity to my friends. It was like a tidal wave. You guys spoke about it and everyone else followed. I guess I just wanted to say thanks and to let you know that it is quite possible that you saved lives today - and opened the eyes of others."
We have to train teachers to have honest dialogue with their pupils, to tackle HBT bullying and LGBT-phobia when they see it. Unfortunately, that requires funding. As far as I am concerned - our nation can, and should, find the money to cover this; but, in the meantime, it's on us - all of us - to step up to the task and ensure that the LGBT+ youth of tomorrow do not face the same tribulations that they do today.
So, there comes a point in every campaign where you have to decide whether or not what you are doing is making an impact. Our moment came, and we have decided that there is no time to wait for motions to be debated and amended; for our decision makers to open their eyes to the situation in front of them; for educational bodies to finally, once and for all, rock the boat of societal complacency with this issue.
We have the plight of so many young people behind us; and that is why we will continue, unapologetically, to campaign heavily for an education system that is inclusive of LGBT+ young people and takes a firm stance against homophobic, biphobic and transphobic attitudes.
Popular in the Community