Where do you go when you are a single mum with a lively 13-year-old son? It is not easy as everything holidaywise is set up for more conventional families. You need somewhere safe for the young to feel free, when there aren't two of you to keep an eye out; where there is plenty of everything to do and the atmosphere is kindly and relaxed. The pristine Soma Bay, on Egypt's Red Sea Riviera, is an excellent and affordable solution. The only thing missing is the other kind of mummies, but that can wait for our next visit to Egypt, and meanwhile there's always the British Museum...
It is dark up here in the Eagle's Nest bar, at La Residence des Cascades, Soma Bay on Egypt's Red Sea Riviera. We gaze out out over desert dotted with multicoloured sparks, and up at stars undimmed by light pollution. A pigeon pair of singers regale us with evergreen hits, including 'Perhaps, Perhaps, Perhaps' in husky French accents, and the lovely 'Crazy'. My son, aged 13, cannot believe they are not lip-syncing they are so good.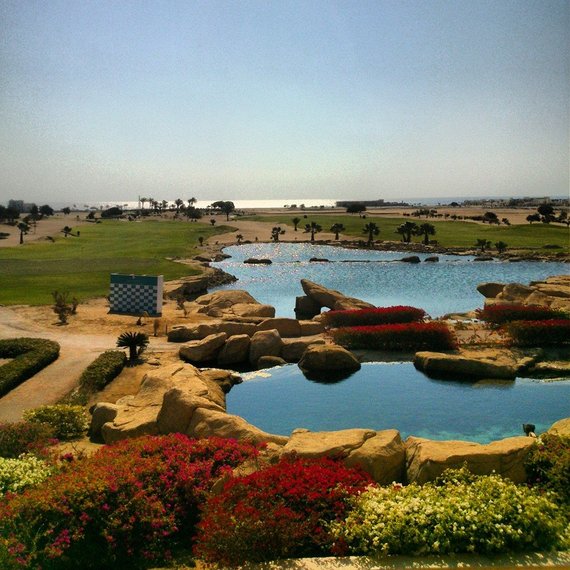 The golf course view at La Residence des Cascades, Soma Bay
We have rolled up here to the rooftop bar to catch the wifi, after an excellent dinner. In fact we are right now in the perfect place for a middle-aged single mother and her unfeasibly young son to find themselves for half term. There's no possibility of him getting bored and I can relax. This is an alien sensation that feels like anxiety for at least 12 hours - before my brain works out that I am not meant to be doing anything in particular.
First thing you need to know about Soma Bay is that it is the opposite of a bay - it is in fact a peninsular sticking out into the Red Sea about 45 kilometres south of Hurghada. Until recently it was a bleak unpopulated desert of interest only to the military. Now it is a sleek, clean and peaceful resort, consisting of a pleasing variety of hotels spread across a wide area. Its geography means that it is gated, and can only be reached by a seven kilometre private road. The atmosphere is a world away from the lively identikit experience of other Red Sea resorts.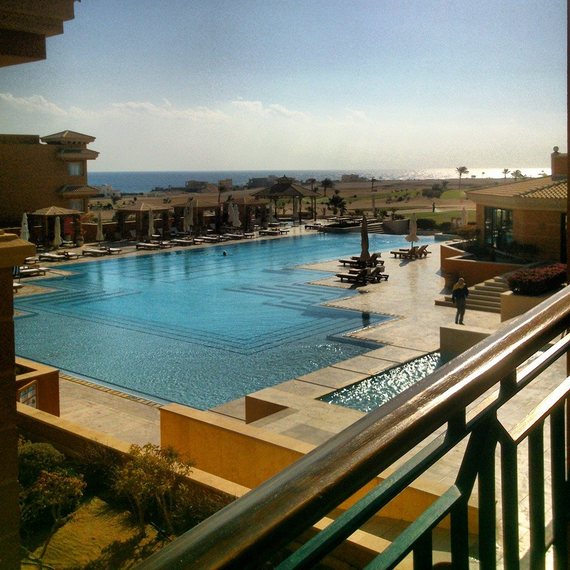 The view from a balcony near our room at La Residence des Cascades
The idea here was very different to other Red Sea resorts due to considered planning. The idea was to provide a buffet of differentiated resort hotels within easy reach of each other, between which visitors could ebb and flow at will. It is not really an option to stay put where you are, the possibilities are too tempting. From the Breakers, with its young informal style and bean bags on the terrace, to the deluxe Kempinski, all tastes are catered for. Wherever you are you can charge activities and food to your origin hotel bill so you need carry nothing - not even a towel.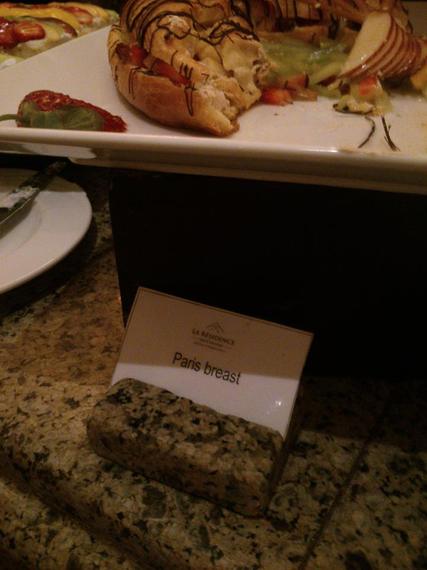 The pudding buffet - you can imagine how much this amused the 13-year-old son
It is mid-February and the weather is that of a perfect English summer day. A breeze comes in off the sea to temper the sun's power. Eager minibuses leap to your bidding if you express the slightest wish to move so there is no need to hold back on having a really good nose around.
La Residence is the golf flavoured dish in a varied buffet of hotels, with a gorgeous huge thalassotherapy spa thrown in - an ideal combination for some couples. The whole place is seething with fit looking middle-aged Europeans looking keen in coloured trousers, eagerly playing on the Gary Player designed course spread out between us and the gently purling sea. We have been invited to the wrap party for the tournament tomorrow night.
Our room is comfortable, with a balcony looking out over the pool. For my son the best thing is the pillow menu, from which he ordered 'Isis' 'Horus' and 'Ra' - all of different textures, and designed for 'people with broad shoulders' or 'side sleepers'. The breakfast and dinner buffets are comprehensive and delicious. Highlights for me included roast pink veal and wonderful yoghurt and juices, for him - well everything really. 13-year-old boys and buffets - marriage made in foodie heaven. I tried the Egyptian wine - a beverage dating back 5000 years in this territory, which never reaches the UK. Both rose and white had a refreshing flintiness, dry and rather austere, which I very much enjoyed. Egyptian food is not ignored either, and the breakfast included ful medames, a bean dish that surely fuelled the building of the pyramids.
Venturing out for lunch, we find the Al Mar at the Kempinski housed in delightful wooden pavilions by the main pool. There are plenty of other lunch spots dotted throughout Soma Bay, including oriental food and a proper pizza oven for the likes of my son.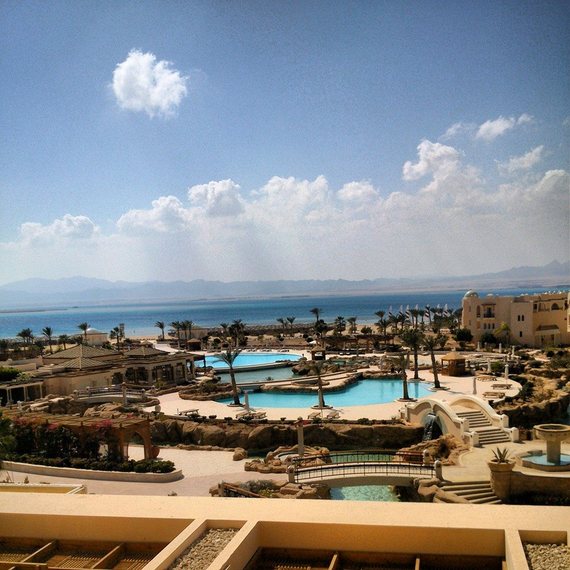 The view over the Kempinski's incredible grounds, with the lazy river weaving through it.
For families a good choice is the Sheraton - not the usual anonymous block: a full scale reproduction of the ram-headed sphinxes avenue at Luxor leads up to the door. Incidentally, it is possible to do a day trip to Luxor from here for the real thing if you are staying for longer. Inside, lotus styled pillars hold up the reception hall, and the air smells of mangos.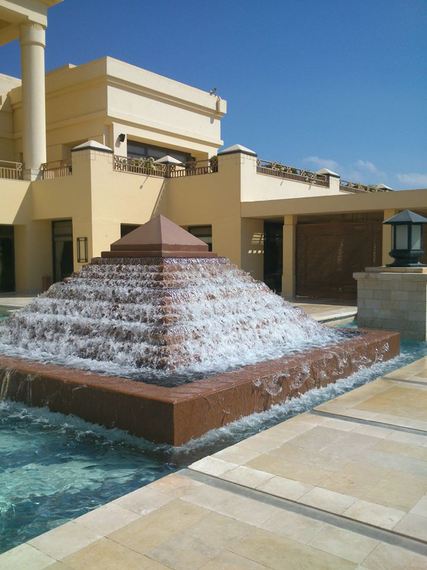 The pyramid fountain at the Sheraton
The Robinson is the busiest by far with the most delicious smelling buffet lunch. It is graced with a lovely indoor amphitheatre where they put on amazing shows. When I asked whether Egypt's Greek heritage was celebrated in this traditional space with a bit of Sophocles and Aeschylus, it appeared not. I could totally dig the Medea in that space though. Perhaps someone should organise a Greek theatre festival there.
A steady offshore breeze makes this the perfect destination for sail and kite based activity, and we went out into the desert to the groovy Kite House, where a solitary kiter was swooping and bounding at the will of the wind over the waves. The most graceful of sports, and the perfect place to perform its ballet with the elements.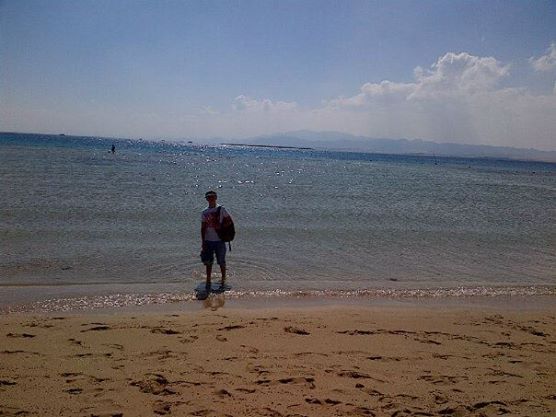 The boy is happy to be in the sea in February
Least developed at the time of writing is the Marina, where a flotilla of those smart white multi-tiered yachts are moored. This is where you can buy an apartment or a whole villa, and the place is ripe with promise as an investment. The people here talk openly about the revolution, and are clearly longing to get on with the business of getting this area sorted out. There is no doubt that political uncertainty has caused problems, probably less here than elsewhere, but some hotels did have to close down for a short while in 2011. The Foreign Office advises that it is perfectly OK to visit the Red Sea resorts now, there is private security and dedicated generators as well as a large and effective desalination plant for water.
You cannot visit the Red Sea without having a look at the coral reef, so we borrowed some fins and masks and walked out along the wooden jetty outside the Breakers hotel, dropping down into cool crystal clear water and floating over fish going about their mysterious business below. Citadels of coral, mauve and green, housed hundreds of fish of all different shapes, colours and sizes. You will be familiar with the kind of thing - but the colours are startling. You hang in the water, fascinated. It is like birdwatching, only with more variety and they let you get closer.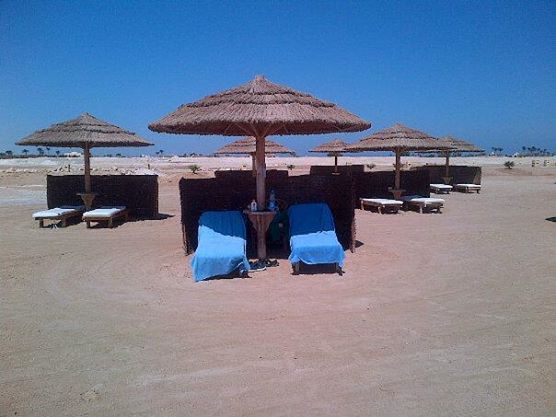 The quiet and comfortable La Residence beach where we fought over who was going to read the Kindle.
We recuperated on the beach, served sunbed side with pizza and cold drinks, and glued to our books; occasionally wandering into the deliciously cool sea, or admiring some passing camels. The service was delightful, kindly and warm, and as a single female and parent I felt well looked after and appreciated as a client and guest. There is a particularly pleasant quality about the service, unique really. The prices are very affordable for such refined levels of luxury too. Highly recommended for mothers and sons like us, and indeed everyone else who needs to leave the clouds, rain and cold behind for blue skies and a boost of Vitamin D.
USEFUL LINKS
We flew with Egypt Air, and very nice it was too.
Soma Bay - for information about the whole fabulous resort
La Residence des Cascades - our base, from which we visited all the other hotels.