Middle Piccadilly... it conjures up a rumble of taxis and buses, the flash of electronic billboards and Eros poised on one toe, but that is far from the rural bliss to be found at this profoundly peaceful Dorset retreat.
Tucked away down a lane - you get a train to Sherborne and then a minicab deep into the countryside - Middle Piccadilly is a ramble of cosy converted farm buildings set in fields behind owner and chef Dominic Harvey's family home.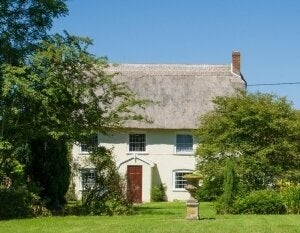 The Harvey family's home at Middle Piccadilly. The retreat lies behind the thatched farmhouse deep in Dorset countryside
I don't like big glossy spas, although my experience is slim and years ago, and involved shuffling herds of regimented, towelling-clad inmates and therapists who grumbled throughout treatments. Middle Piccadilly is the exact opposite of all that and I highly recommend it. For one thing it is tiny, only six bedrooms, and I was assured that it would never expand - 'It would lose its heart if it got any bigger' - which means the ethos of warm one-to-one care for each and every person will not disappear.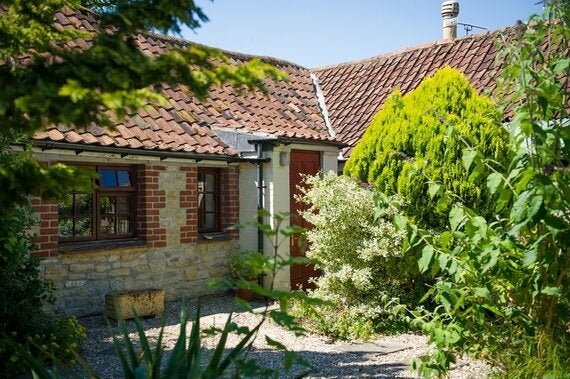 Lovely old farm buildings expertly converted to house bedrooms and treatment rooms
To give you a further idea of the ethos, there was a cluster of well-thumbed Penguin modern poetry books from the Sixties. I whistled them off to my room, and explored less familiar work by many favourites such as George Barker ('Who but the dead can kiss the not yet born?'), Roger McGough ('When we lay together for the first time, the room smiled and said excuse me and tiptoed away') and David Holbrook, hitherto unknown to me but perfect for countryside reading ('I broke the thistles' spent grey stems of spike and floss'). Healing for both body and mind, perfectly calibrated for me and others of my bookish ilk.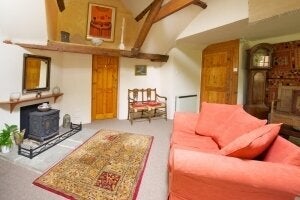 The sitting room where you wait to be collected for your treatments. The bookcase is worth exploring
In place of the sad inmates in the conventional spa, my fellow guests were extremely cheerful ladies who had been coming to Middle Piccadilly for years and felt completely at home. The gorgeous therapist who performed the treatments I chose, appeared absolutely to adore her job, the place and everything about Middle Piccadilly. Her positivity and clarity of purpose, as well as the quality of the massage, reflexology and meditation lesson warmed and soothed me.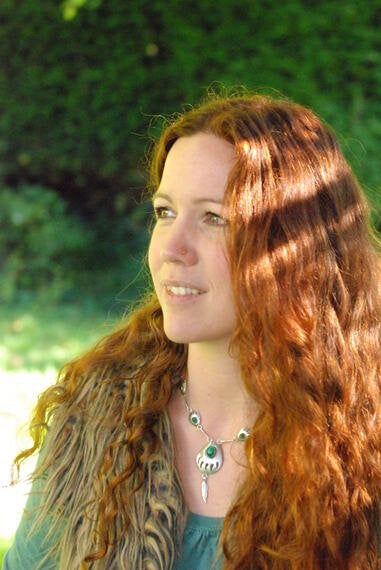 Maya, the therapist who delivered all my treatments with great charm and effectiveness
Eliana, mother of Dominic, who took my yoga session, is 85 but not, if you know what I mean. Unexpected, impatient and eager for new experiences, she sports the attributes of youth not age. We had a conversation about her fascinating life and what brought her to her vocation as a healer via a career in fashion and teaching.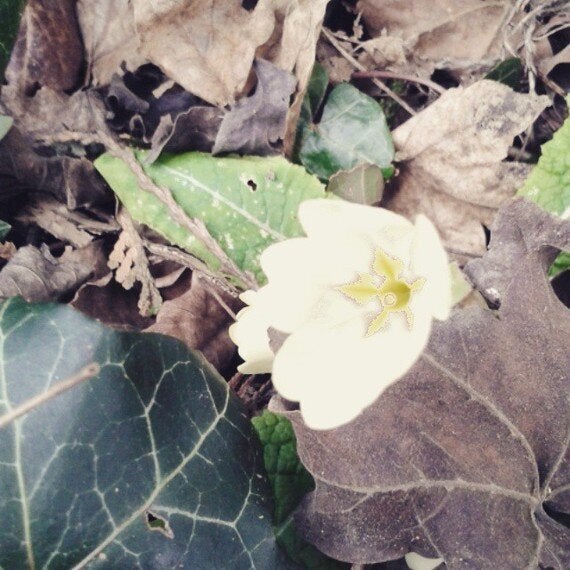 An early primrose in the garden at Middle Piccadilly
Her father, a fighter pilot in WWI, discovered within himself a healing gift, and became the first British osteopath in Wimpole Street. This unusual vocation did not stop him from being the kind of strict pater familias that the period and his class demanded. It was all nannies and nurseries and going down after tea in a party frock to see her parents.
She broke away from her background and met her husband Gerry at St Martin's School of Art - 'Skinny, blond fluffy hair, roll-up hanging out of his mouth - oh my God I've met my fate,' she says in fond reminiscence. After careers in teaching and fashion, and three children, they bought Middle Piccadilly in 1985. Initially 'not a proper commune full of rather dysfunctional people doing not very good crafts' (you get a feel for Eliana's wry humour from this) it evolved through a series of really quite mystical coincidences and happenings into a spiritual retreat that expressed the couple's shared vision.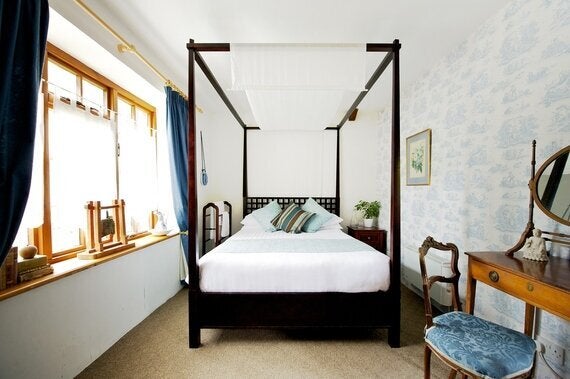 A bedroom at Middle Piccadilly. Only some are en-suite. It is recommended you choose en-suite if you are going for the full-on juice fast option
That is what I was there for, an experience outside both my own life and of the ordinary. On the recommendation of an equally spa-disliking friend, who did a well-deserved and highly effective whole week's detox, I was there for rare time off from a mad life as a single mum, working every hour God gives both at a full-time job to support the family, and simultaneously sustaining a burgeoning career as a novelist.
Anyone who is worried that they might fall in with a gang of annoying hippies can dismiss that thought. Although there are alternative healings available, such as shamanic, these are conducted by the forthright Eliana and Maya, and appear to be more matter-of-fact and effective than airy fairy and over the top.
I didn't try these visualised journeys myself, but I was tempted to because Eliana is so funny and real, her belief in the benefits in unlocking blockages in people's lives is sincere and proven by positive, life-changing results. She has studied with Hopi and Inca medicine men, and takes the best of what's on offer for her own practice - healthy scepticism is intact wherever she goes to learn around the world.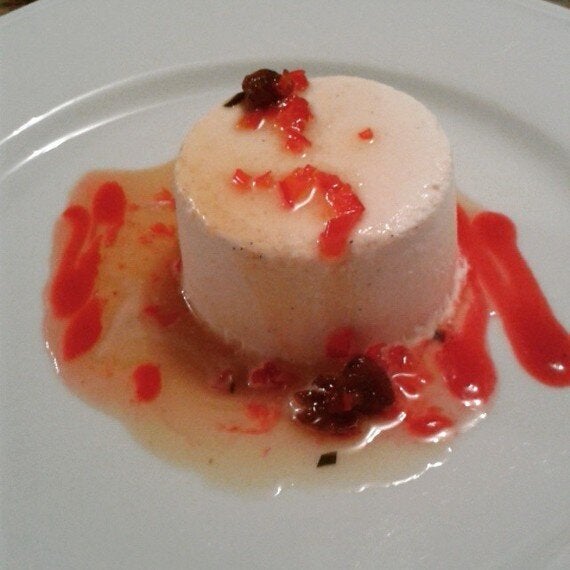 An iced raspberry pudding with red pepper compote - healthy yes, but also a delicious treat
Setting off after work on a Friday evening, I arrived late worried that I may have missed supper. But in this unregimented place, there are no strict rules - a great stress-reliever for the time pressed. The welcome could not have been more informal. There's no reception, just Dominic, who took over the running of Middle Piccadilly from his visionary parents in 1995, appearing and showing me to my room. He told me he had cooked my dinner and it was waiting for me in the kitchen. Lined with hand-carved wooden cupboards and pottery made by Gerry, Dominic's father, it is a real farmhouse kitchen. My vegetarian dinner was a nut burger and vegetables with gravy so delicious that I confess I drank it out of the jug when no one was looking.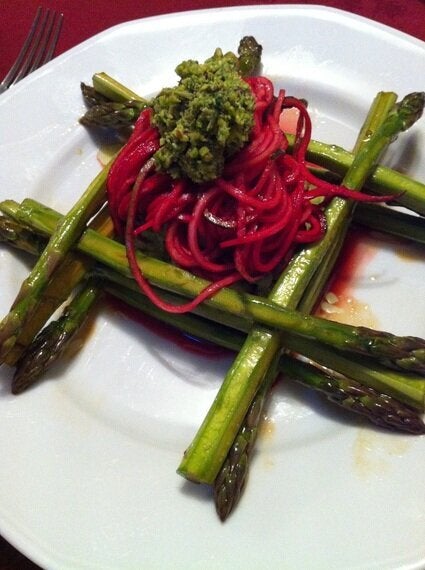 Vegetarian, vegan and raw food is available at Middle Piccadilly. Or you can do a complete juice fast. Everything is delicious
The first day was: massage, sleep, lunch, walk in the woods and fields, rest, yoga, sleep by 10pm. The second went: simple breakfast of muesli, reflexology, long chat with Eliana, meditation lesson, lunch, more chatting, home. Every single therapy was 5* - the very best you can get by the way but personal but without being remotely intrusive.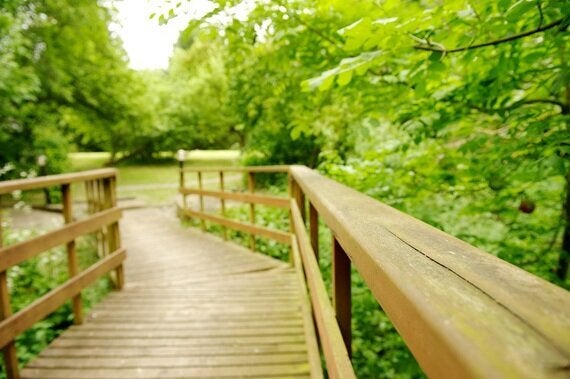 The path to the yoga room through the grounds
The yoga session took place in one of the out buildings. Eliana started us off rolling over and touching her toes to the ground behind her head. I only hope I can still do that when I am 85. It was a simple session - I only do yoga occasionally so it suited me fine: a cobra, a warrior and a couple of other poses. I felt marvellous afterwards and devoured another light and delicious vegetarian dinner.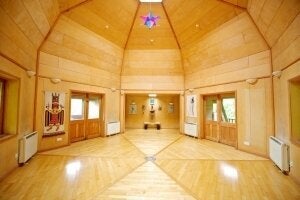 The yoga and retreat room at Middle Piccadilly. Cool and airy it smelled deliciously of sage incense
Reflexology, the gentle manipulation of the feet, brought memories to the surface. Each part of your foot has some kind of relationship with the rest of your body, and the therapist said, as I jumped off the bed: 'You're healthy.' Which was nice. Our meditation session was a delightful combination of practical and peaceful. She instructed me to put my hands inside the elasticated waistband of my track suit trousers in order to keep them in the right position. I, who am naturally impatient and restless, sat quite still and comfortably in a half lotus and went deep into myself, focused on my breathing and allowing thoughts to drift through, instead of trying to stop them forcibly.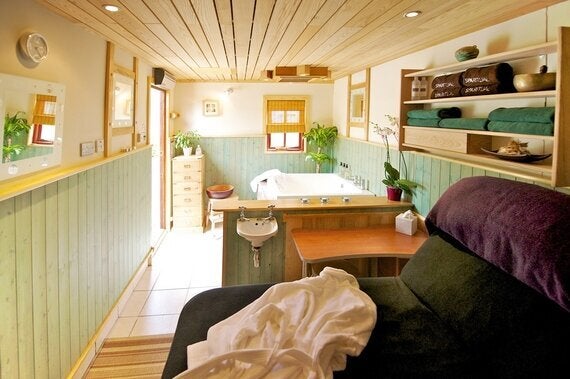 One of the treatment rooms. You will find all the normal treatments and therapies carried out to a 5* standard but just that little bit more personal and kind
Middle Piccadilly is not for those looking for lots of 'pampering' (loathe that word) coming at them from the outside to make them feel good. One client, booked in for a week's detox, couldn't get a signal on their iPhone and left on the same day. You are there to leave the world behind, not to continue on your crazy, social-media-distracted life. It's a hesitation, an interruption, a joint enterprise for you to find your own way and all the more healing as a result. The frightening rush of time slowed down and I with it. There is a road called Peaceful Lane nearby - sums it up really.
Middle Piccadilly is a few miles from Sherborne to which you can take a train from London Waterloo. Beaver minicabs will take you on to the retreat. You stay a minimum of two nights. It costs £100 a night including three wonderful fresh meals, and there are really cost-effective packages available, from about £340 for several treatments, room and board over a weekend. Sign up for their newsletter for special offers. There is no gym or pool - for cardio go for a good walking meditation across the fields and through the woods.