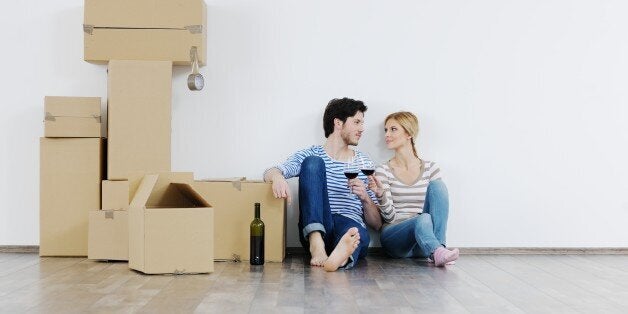 It's difficult enough to manipulate your other half into wanting to live with you but discovering you can barely afford to move in together makes it nearly impossible. When I say 'barely afford' I mean our combined income is pretty close to that of a graduates. Not one to be deterred I began investigating how on earth two low income individuals could go about making house together in London.
Rent in London in a house share seems to be between £650 and £800pcm, which is a lot. I have no idea how my friends can afford this kind of rent, I still live at home (to my shame). Admittedly they are in full-time employment and I work part-time but even so, most of them work in media, not the best paid of professions when you're starting out. As a couple do we really want to live with other people? Do other people really want to live with us? I doubt it, the only thing we have going for us is good personal hygiene.
Living with strangers is out and it's hard enough keeping friends so, living with friends is out.
Rent is a lot cheaper in the 'burbs but as my not-quite better half is an actor he's worried that he'd be reluctant to go to auditions if it involved a longer commute. Also, like I said, keeping friends is hard, keeping them when you live outside Zone 4 is impossible.
Living in a sleepy, leafy 'burb is out. No one would visit us, not even if I offered them cake.
Now, Share to Buy is fantastic, and we have actually been accepted to apply to some of the cheaper places. There are downfalls, however. Firstly, we both would have to be on the mortgage as you can't sublet and, because you can't sublet you can't swan off to Cardiff for a few months if your partner gets a part in Casualty, or something equally as glamorous. Secondly, I quote, "it's a bit soon to buy together". Deflated I've destroyed the glossy brochures for new builds in Wandsworth.
Living in a nice new, fancy flat is out because my boyfriend is a total wimp.
And so to live in guardian schemes. Basically, when a building becomes vacant, i.e. an office block, and the owner needs it protected from squatters and vandals, there are schemes that make it habitable (flushing toilets and hot water, I honestly think that's all that you need to qualify something as 'habitable') and the poor souls who can't afford normal London rent move in and become the property's guardian. We visited a friend who lives in an old police station in London, the best way to describe it is a throwback to university halls; a shared unisex bathroom and kitchen in a hostel state of repair. The rooms are huge though and with permission you can decorate them as you wish. This I like.
At the moment being a guardian is the clear winner, for rent starting at £50 per week we really can't complain about being 28 year olds living like 18 year olds. But, I'm one of those obsessive hand-gelers, I am constantly at war with bacteria so whether or not I can endure cubicle shared bathrooms and unsanitary kitchen services is debatable.
I've won the first battle, convincing my boyfriend that living with me will be great. It took a lot of home cooked meals. Now we just have to hope that a place becomes available with a guardian scheme. I'm already stock-piling anti-bacterial spray.