'EIGHT' was the bringing together of eight artists, four from Manchester, UK and four from Wuhan, China. Our collaboration was in celebration of the year of China/UK cultural exchange, 2015. So, last month, myself, fellow musician Denis Jones, and Kim May and Chris Paul Daniels (both film makers),
set off to Wuhan to work with musicians Victor Wang (alto sax) and Fen Peipei (acoustic guitar, vocals and traditional Chinese instruments), and two visual artists Zhou Gang and He Chengyun.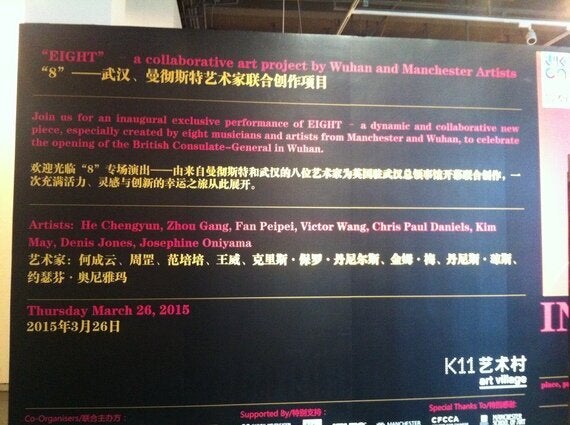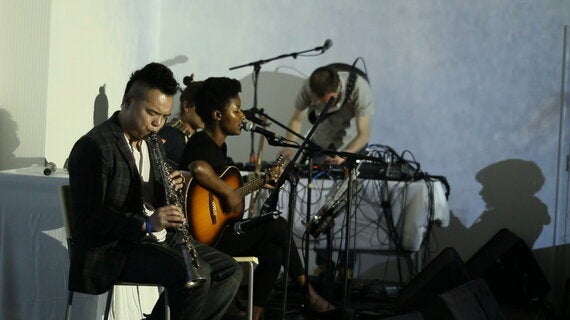 (Photo by Chris Paul Daniels)
The British Council, Manchester City Council and Brighter Sound and 'HOME' (two of Manchester's most creative arts organisations), worked alongside K11 Art Village and Vox Music Hall, in Wuhan to create a series of events that were filled with the music and film that the 'EIGHT' artists would create together. We were embarking on an amazing musical and cultural experience.
On the first day we met the Chinese artists at K11, the venue we would collaborate in and eventually perform in at the end of the project. Fan Peipei performed some of his amazing Mongolian influenced throat singing for us. And Victor played some of his smooth alto sax, which for the duration of the eight days would be drifting effortlessly through the sounds and sights of the collaboration.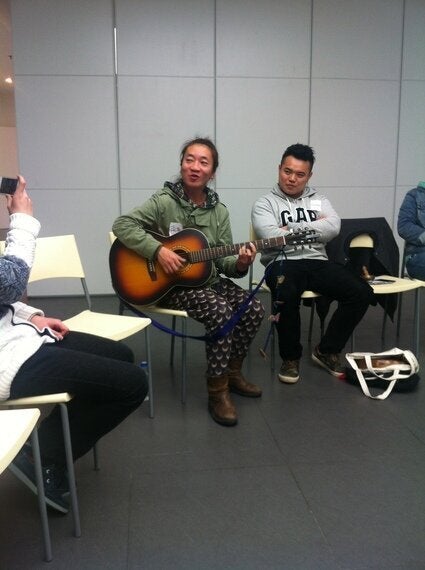 (Fan Peipei and Victor Wang)
As the days progressed, the visual crew went out into Wuhan, while Victor, Peipei, Denis and I, built up five tracks based on the themes of Wuhan and Manchester. When we all came back together we constructed a kaleidoscopic display of sounds and images, incorporating Manchester's industrial past and Wuhan's booming present. For the final performance, live music would be played over the footage, which would be VJ'd by Chris.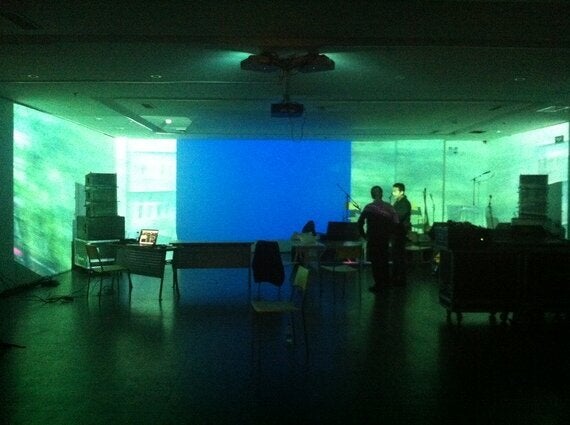 (The stage and the film sequence at K11)
Part way through the collaboration we broke off to go and play individual performances at Wuhan's seminal music spot, Vox. We each played a short solo set of our own material in the mist of the smoky club. Vox is a truly laid back and inviting musical space, comparable to any rock venue in the world. For my set, 'What a Day' seemed popular and had people singing along. And I had become pretty confident saying 'xièxiè' ('thanks') by that point too, so we all got along nicely.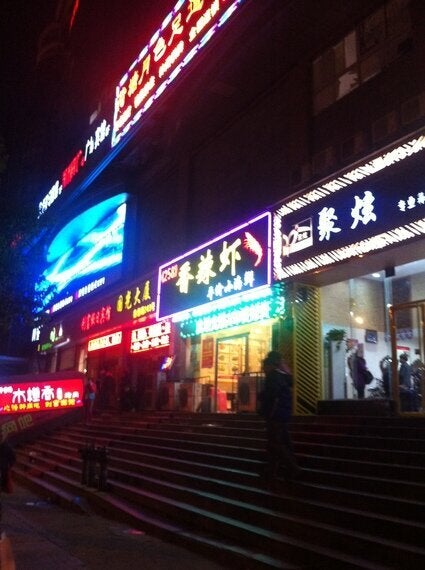 (Outside Vox Music Hall, Wuhan)
It was an intense eight days but somehow we also found time to visit East Lake, a vast area of water which, in March, becomes surrounded by blossoming cherry trees. We were in the heart of Wuhan, but seemed far away from its multitude of towering new apartment blocks.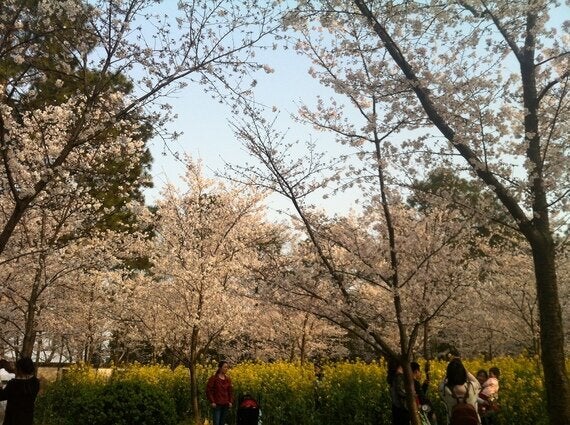 (The cherry blossoms at East Lake, Wuhan)
The final performance at K11 was so rewarding. We performed our five linked pieces, while the film overlapped and whirled on the walls behind us. We performed the whole thing twice that evening; Kim filming each performance, and John, our tech manager, recording the sounds. After eight amazing days, we came away with a wealth of imagery and sound that can often take months to produce.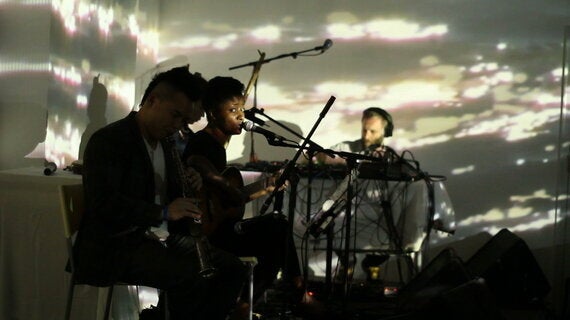 (Live at K11, Wuhan. Photo by Chris Paul Daniels)
Later, we moved on to Beijing to repeat the performance, so I got to see the Forbidden City, Tiananmen Square and the Ming dynasty palace. I got into bed on the last day in China exhausted, sad, elated, motivated and feeling overwhelming lucky to be invited to participate in such an event.