Jamaican poet Linton Kwesi Johnson will be making an appearance in Manchester this week. On Saturday 23rd July, 2016, he'll be introducing Upon Westminster Bridge, a film about another Jamaican poet, Michael Smith. His introduction will also feature a reading of his own work. For me this is a rare and special treat.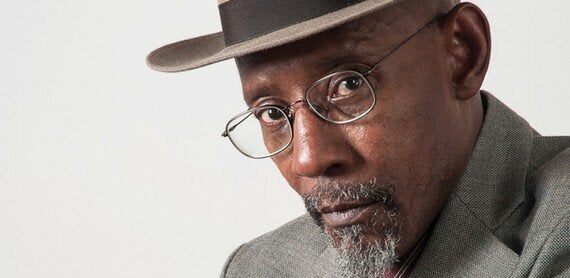 After arriving in the UK in 1963, Johnson proceeded to release three outstanding collections of patois-voiced poetry: Voices of the Living and the Dead (1974), Dread Beat An'Blood (1975) and Inglan is a Bitch (1980). Read any verse from these collections and you are treated to the confrontational rhythmic style Johnson is known for. In his early work his fight is with the oppressive British mother state of the 60s, 70s and 80s. With blunt observations, he tells a tale of defiance. And the defiance turns to celebration with the triumphs of social uprisings.
His poems are direct reflections of his times, but they still speak volumes today. In Sonny's Lettah, a poem about the disproportionate violence directed at black people by police in 70s London, two black men are 'waitin pan a bus/ nat cauzin no fuss' when, 'out jump tree policemen/ di hole a dem carryin batan'. The patois is light, unofficial, humorous, but the message is brutal: Sonny and his brother are about to be beaten and arrested for no reason. You only have to look at the "Black Lives Matter" protests in the US right now to see that this work is still relevant. Sonny's Lettah could have been written right now, today, in 2016.
It is no surprise that Johnson is only the second living author to be published in the Penguin Classics series. His work has always been 'classic'. The Penguin anthology, Mi Revalueshanary Fren, which features Sonny's Lettah, traces Johnson's poetic exploration of race and class relations in Britain. It's a work I'll be recapping before the weekend.
Micheal Smith is the subject of Anthony Wall's film, Upon Westminster Bridge (1982). A contemporary of Johnson, Smith was another important dub poet of the time. In the film he can be seen performing in Brixton Market and on Westminster Bridge. After being murdered in 1983, Smith's work never reached the standing of Johnson's, so it will be wonderful now to see Smith perform in this 1982 film and to hear his friend and fellow dub master give the audience an introduction to the work.
If you want to know more about Linton Kwesi Johnson or Michael Smith, get to HOME, Manchester on 23rd July. You could also watch Johnson's recitation of Inglan is a Bitch (another brilliant work in his extensive repertoire) https://www.youtube.com/watch?v=Zq9OpJYck7Y. With a reggae swing, The poem recounts the perennial cruelty of the British class system and the resulting realisation that work doesn't always pay. Sound familiar? Sound like a comment on the "living wage" rhetoric of today? Yeah, I thought so too. Johnson, prophetic as ever.