On Friday night (31st Jan 2014), the National Theatre live streamed a performance of one of Shakespeare's lesser know plays, Coriolanus. From the Donmar Warehouse, London, the performance went out to hundreds of theatres around the world.
Two things made me apprehensive about attending this event: 1) Just the name SHAKESPEARE! conjures up memories of tedious high school course work, unfathomable soliloquies, and of having to play the prince of Verona in a classroom rendition of Romeo and Juliet at 14 (when I should totally have been Juliet... or at very least the good nurse). And, 2) I remembered what it used to be like watching plays broadcast on TV. One solitary static camera, placed seemingly to make archive footage, capturing the play at a distance. The films were stuffy and never really catered for people watching on small screens months, or even years, possibly decades, later.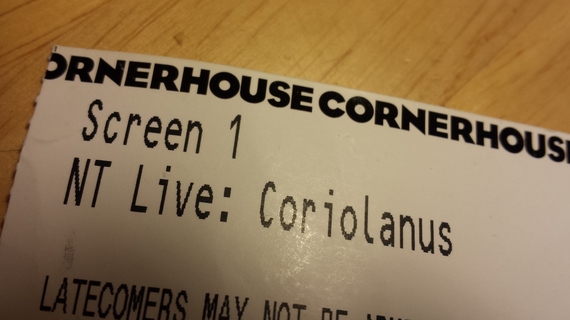 The space at the Donmar is small. And though the play is set in ancient Rome, what we see at first glance is ultra modern and basic. A simple, effective square - audience on three sides of the square and a wall on the fourth, the action taking place in the middle (no proscenium arches here). The singular wall is red, white and graffiti strewn, reflecting the coming tension. The atmosphere is dark and Brechtian, theatre without fantasy.
Three actors play the important citizen 'herd', and they start the action with a well choreographed argument. Starving and mistreated some citizens want to rebel against the state. There is something for everyone here. The three-piece 'mob' is speaking Shakespeare's dialogue, but their gestures, their flow, and costume are new. These citizens are 'street'. They are today's discontented working class, starved of commodities, but they are saying it the way Shakespeare wrote.
Now to Tom Hiddleston, Coriolanus himself. I must confess I didn't know much about Hiddleston before last week, but by the interval I was following him on twitter, Google imaging him, and searching his filmography on Imbd. Caius Martius Coriolanus, a renowned solider and member of the ruling class of Rome, is banished for his sweeping hatred of the people, whom he is supposed to protect and govern. Then, passionate, angry and immovable, he launches an attack on Rome with the aid of her enemies. But, it is very hard not to be taken by the power of Hiddleston's interpretation of Coriolanus. The watery blue eyes - seemingly, always on the verge of tears - gave Coriolanus a power I didn't expect, he is truly intense. It is Martius's uncontrollable vehemence that makes this a tragedy. Far from being a ruthless tyrant, Hiddleston's Coriolanus is just far too emotional for his own good.
Mark Gatiss played the silver tongued Patrician, Menenius. Gatiss is one of the best in a pretty fantastic cast. Throughout, his delivery is faultless. For me his best moment is when his sharp tongue finally fails him. When it really matters, Menenius fails to dissuade Coriolanus to call off his attack on Rome. At that moment, the cameras (no longer the dusty relics of my childhood recollections) get up close and personal and you can see the pain in poor Menenius's eyes, his distress is clear. His 'son' (in feeling, not in blood) has just sent him packing and it makes him look pathetic.
Next, it would be the turn of Volumina, Coriolanus's mother, played by Deborah Findlay, to try and persuade her beloved son to call off his attack. The emotional relationship between mother and son was now to be tested, and my resolve to stay dry-eyed was to be tested also. I was stunned by the power of this scene. The long close up on Coriolanus/Hiddleston's face, is crushing, because he himself is being crushed as he desperately tries to stay strong against his mother's agony.
Later, on the way out of the theatre, I heard an audience member say that this scene was overdone, but for me this was the whole point. Volumina is a mother that knows her son and she milks him for any drop of sympathy he has left. Hiddleston, in floods of real tears, takes Volumina's hand - Coriolanus calls off the war. His allies aren't very happy about him crying like a baby when his mum turns up though, so they kill him.
It's fair to say I've found a new love of the theatre, and modern tech means that people can experience the west end from hundreds of locations around the world. This is truly exciting. Not only that, but I think I am a Shakespeare convert.