A few days ago I posted a video of my onstage view of the Snoop Dogg performance at T in the Park. Since then, the question I have been continuously asked is 'did you meet him?' The answer is 'yes,' although Snoop might not see it that way.
Backstage at T in the Park, Snoop Dogg managed to do what few other artists are capable of doing; make other famous people star-struck. His cool demeanour spoke for itself; Snoop is used to making other people stop and stare. On the sunny Saturday evening everyone fell silent as Snoop and his entourage arrived backstage. They walked, or rather they "bowled," through the very swish artist area - think free bar, hair salon and restaurant - entered his dressing room and closed the door (the bodyguard stayed outside of course). It was only after the Dogg had disappeared that there was a collective breath out.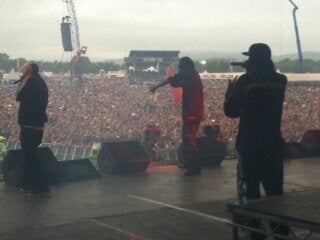 Now, even though Steve and I were due to play the T Break stage on Sunday afternoon, we managed to get passes which allowed us to watch events from the main stage viewing platform (the complicated story of how this happened will have to wait for some other blog). The platform was to Snoops right. Along with Neil (road manager) and Paula, my photographer for the weekend, we arrived up there in what we thought was enough time to get a good spot but, as usual, everyone else had the same idea. We were at the back and at 5ft 4inch (Paula is smaller) I couldn't see anything.
Soon however, we saw that Paloma Faith and her backing ladies (who played a fantastic show just prior to Snoop) had gone around to the left side of the stage and were watching from just behind Snoop. So, naturally, in true northern spirit, we decided: 'We can only get chucked out,' and went to join them.
We stayed there for the whole performance. The little group swelled and soon included Dizzie Rascal (see previous post), Ke$ha and a host of others. We watched while Snoop's man in a dog suit waved a giant spliff; his hype men spread themselves around the stage and helped entertain the vibrant crowd, and his dancers - three very pretty, meagrely clad ladies - jostled around him.
So, Snoop comes off stage having played the classics, P.I.M.P, Gin & Juice etc., etc.; off come the hype men and the dancers too, and we rush to the backstage area ahead of them all to try and catch their re-entry backstage. Wondering if a second dose of Snoop will produce the same effect backstage. And lightning does strike twice; the artist area goes silent once more as the entourage arrives. It is remarkable.
Something occurs to me however. If everyone always goes silent when you enter a room, if nobody says anything to you after your show, how lonely must that feel? What happens if nobody ever talks to you, either through amazement or through fear? Now, I'm not suggesting the Dogg is too fussed about such things, and he probably isn't short of a few people telling him he's great, but I thought I'd better make sure. So, as he came past me, over one of the white picket fences decorating the backstage area, I said "good show". To this, someone laughed. But Snoop turned around and said "thanks", (although it was rather quiet, so it might easily have been a grunt). Nonetheless, I was satisfied.
This blog doesn't have enough space for the story about how Neil, the luckiest man in the world, ended up in Snoop's dressing room and Snoop telling him to wish me the best with my career (that will have to wait for another blog too). This post is just a little about my very few words with the Dogg.
To watch footage of Snoop from my stage view, visit my facebook page here and scroll down to 15 July.