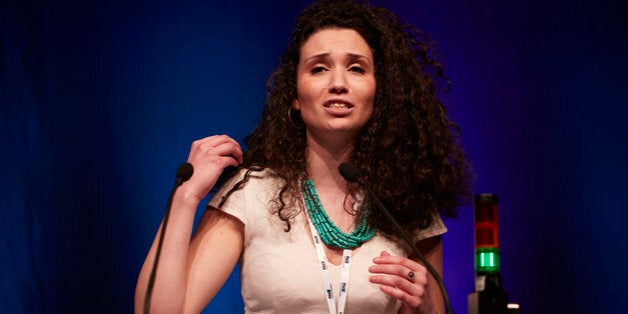 Six weeks ago I sat across the table from the NUS National President, Malia Bouattia. I told her why Jewish students are angry and frustrated, and why many find her comments antisemitic. Her remorseful reaction appeared sincere; her attentiveness was noticeable. I was hopeful that we had taken a first positive step to rebuilding trust.
Instead, Malia once again placed the blame back on Jewish students, suggesting that their anger was misplaced or invalid. She expressed regret that her words had been 'interpreted' as antisemitic. She apologised for having 'caused offence'. Nowhere did she apologise for what she had said, or acknowledge that only Jewish students can define antisemitism. Defining their identity and their oppression is their right, but Malia has taken that away from them again and again. Did she really think half-hearted efforts would be enough for Jewish students to trust her?
When 57 Jewish Society (J-Soc) presidents wrote to Malia expressing concern about her past rhetoric, she could've apologised for using conspiratorial language that violated the European Union Monitoring Centre (EUMC) Working Definition of Antisemitism to which NUS itself subscribes. Instead, she stood by her use of terms like 'Zionist-led media', 'Zionist lobby', and calling the University of Birmingham a 'Zionist outpost.' Nine months since that letter, Jewish students still await a proper apology.
Malia's letter to the wider student movement last Friday was indirect and insincere. Stating your opposition to 'racism in all its forms' does not disqualify you from being antisemitic or from acknowledging the antisemitic nature of your past comments. An apology for 'offence caused' is a dismissal and a rejection of the Macpherson principle that is applied to every other group; it's not a proper apology at all.
Malia's comments, rhetoric and excuses ignore that this is a question of identity. In fact she displays a distinct lack of respect for Jewish students' multifaceted identities.
Because what Malia fails to understand, accept or acknowledge - despite many Jewish students trying to tell her, time and time again - is that as multiple pieces of research show, their identities are inextricably linked with Israel.
So whilst UJS encourages political debate and critical engagement with the Israeli-Palestinian conflict, and I personally admire Malia's campaigning for the rights of Palestinians, her words and behaviour alarm Jewish students across religious and political spectrums.
More than 100 students affiliated with Yachad, a group of Jewish students who campaign against the occupation and have worked alongside J-Socs to host many events critical of Netanyahu's government, released a statement in support of the 57 J-Soc Presidents back in April. They said: 'her public advocacy of violent resistance against civilians is appalling, unconstructive, and does nothing to further the already toxic debate on British campuses regarding Israel Palestine. No Jewish student should be made to feel like they must distance themselves from the State of Israel (the home of around 40% of the Jews on earth) in order to have a place in the student movement.'
Yet, soon-to-be-published research by UJS with the Institute for Jewish Policy Research [JPR] found that Jewish students are occasionally afraid and hiding their identities:
'A Nottingham student took off her Star of David necklace before going into a nightclub because "you just don't want to take the risk." Another finds it "personally very uncomfortable talking about [Israel]... When people asked me what I did on my gap year, I said I volunteered in the Middle East...I was scared of someone saying, well you know... Israel... There's obviously a stigma and reputation about it. So I personally do get quite scared." A London student similarly maintained, "There is a sinister undertone of something on campus... When I say I'm Jewish, and especially when I say I support Israel, it sounds more of an admission than just a statement of fact about my identity... It's like a dirty secret..."'
How can a leader who purports to champion minority students not only tolerate this atmosphere, but refuse to hear the call of minority students who keep trying to tell her that her words and deeds fuel this menacing situation?
When Malia claims this is about politics, not faith, she is wrong on both counts. It is nothing to do with politics; it has everything to do with attacking Jewish identity.
Let me be completely clear, this is not about criticism of particular political views. Malia, a supposed liberation champion, rejected the national liberation of the Jewish people in a Channel 4 interview in May. In that same interview she refused to condemn violence against Jewish Israeli citizens, having endorsed a violent struggle against them during a September 2014 talk. Unsurprisingly, she failed to condemn vigils for 'Palestinian martyrs' this time last year on campuses including the one where I personally faced intimidation and even death threats because I dared to express my Jewish identity within which Israel is central. This was in light of a wave of terror that, since October 2015, has claimed the lives of 42 Israelis and injured a further 577 people
Malia thinks this is a political argument, but to many I know, it's a matter of life or death.
I want Jewish students to engage with the work that Malia has outlined to tackle antisemitism, as many have with Rob Young's research, but until she apologises for her antisemitic comments - directly to Jewish students, not in an email to the wider student movement - it won't surprise me if Jewish students vote to suspend UJS' working relationship with NUS this Sunday.
In 1925, NUS called for the abolition of unjust discrimination against Jewish students. In the 1970s and 80s, NUS peers stood with Jewish students against those trying to ban Jewish Societies. In 2012, when
UJS' stall at NUS National Conference was vandalised with anti-Israel stickers, the then-NUS president Liam Burns launched an investigation and condemned the incident almost immediately.
For nearly 100 years, Jewish students and UJS have worked with NUS to combat racism and fascism, to fight for a better world. It saddens me greatly that because of antisemitic comments and crucially, a lack of action from its current president, Jewish students will take a decision this Sunday that could suspend UJS' relationship with NUS.
Josh Seitler is President of the Union of Jewish Students (UJS)