A Greater Manchester Police force came under fire yesterday for appearing to downplay the seriousness of online harassment. In a Facebook status, GMP Salford East posted: "If you are being 'Harassed' on facebook please follow these instructions: 1. Close your facebook account".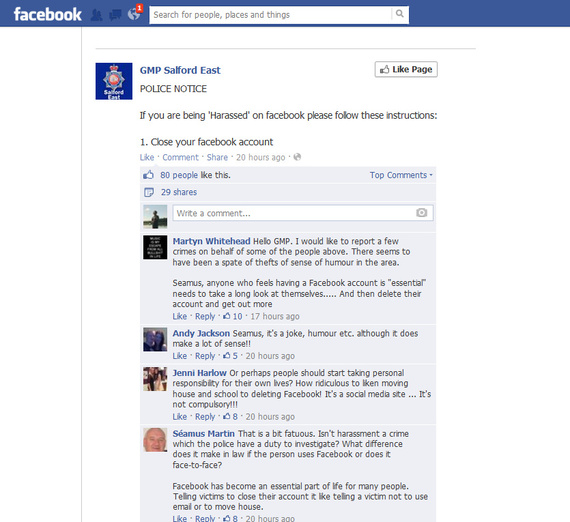 Some suggested the comment was distasteful and 'victim-blaming', with one person writing: "'Isn't harassment a crime which the police have a duty to investigate? What difference does it make in law if the person uses Facebook or does it face-to-face?"
Another said: "I can't work out if this is all a case of "ooops hit enter too soon" or my instincts are correct in telling me GMP Salford East is ridiculing the plight of those who genuinely suffer from online harassment and abuse and the lack of action taken to curtail it."
However, others supported the police's casual approach, "it's a joke, humour etc... it does make a lot of sense!!" while another joked: "Hello GMP. I would like to report a few crimes on behalf of some of the people above. There seems to have been a spate of thefts of sense of humour in the area."
The comment also appeared to have been posted on Twitter and then deleted, with @GMPSalfordCen tweeting:
Apologies for our earlier tweet. Bullying and harassment is, of course, serious. For help and advice - http://t.co/YP46ZUneLX

— GMP Salford Central (@GMPSalfordCen) February 6, 2014
Several called for the officer responsible to be disciplined:
@RoughEstateDate@GMPSalfordCen Please confirm the person who tweeted it has been appropriately advised. Thanks.

— IBH Ardipithecus (@tonycollinet) February 7, 2014
Others initially thought it was a spoof:
@GMPSalfordCen@stewartgilray Wow, I really thought that was a tweet from a spoof account. It was real?

— Byron Atkinson-Jones (@xiotex) February 6, 2014
The statement was widely shared and at time of writing was still on Facebook but had been taken down from Twitter.
In an apparent backtrack, the force then pointed to a future anti-bullying event:
Next Tuesday is Safer Internet Day. For helpful advice and information visit http://t.co/SMCgu06Wcx#SID2014pic.twitter.com/nhBQptZ0vO

— GMP Salford Central (@GMPSalfordCen) February 6, 2014
GMP's own website on stalking and harassment seemed to contradict their sarcastic post. "If there is a pattern of harassing behaviour, then officers will always seek to apprehend the stalker and hold them to account for their actions.
"It is not necessary to warn the stalker in the first instance or give them words of advice. Harassment is a crime which is best tackled through prosecution. Greater Manchester Police will seek to support you throughout this process in partnership with our multi-agency partners.
"Anyone who is being stalked or harassed should come forward to get the assistance that Greater Manchester Police is able to provide."
In a statement, Greater Manchester Police said: "The officers who posted this have been spoken to and advised and as soon as we were made aware the correct advice regarding online safety and cyber bullying was put on the social media accounts.
"GMP takes all reports of online bullying and harassment extremely seriously and all such matters are thoroughly investigated."
Childline, who deal with cases of cyber-bullying, were satisfied by the police response and did not wish to comment.