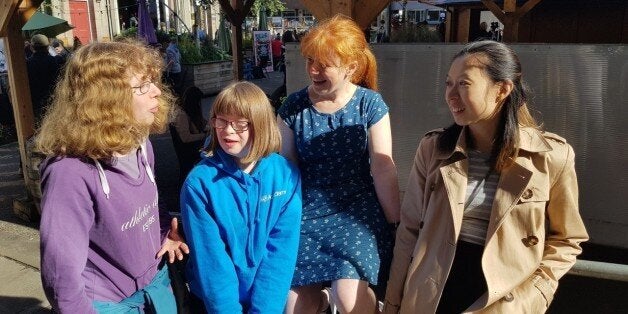 I am an old millennial, an immigrant in the UK working in the arts, and now I am going to be a mother. If you have ever read this article about Lucy you probably know why I am always unhappy, so I won't repeat it, but I want to tell you about a few of my friends who are Lucys with a learning disability.
Alison, JoAnne and Anna are some of the rare cases of people with learning disabilities employed as professional artists by Mind the Gap theatre company, under the government's supported employment scheme. This means they get paid to be actors. I got to know them when I joined the company in 2010. Since then I have made and performed in many shows with them and toured to countries like France, Switzerland, Germany and Singapore. I didn't realise people with learning disabilities could do these things before I joined the company.
A couple of years ago, I started to hear (fear) the clock ticking but I was still struggling with 'adulting': career in the arts, save for a mortgage, bills, laundry, weeds in the garden, that broken cupboard door, etc. How am I ever going to look after a helpless little human being? Then Alison came to work looking obviously stressed out one day. She told me that she was involved in the family support planning of her pregnant sister who is on the autistic spectrum.
"Family support planning?" I asked.
"Yes, it is part of the assessment." Alison answered.
"Assessment? Of what?" I continued, still puzzled.
"Because my sister has a learning disability, she needs to go through this assessment with the social worker to see if she can keep the baby. Her husband is also learning disabled so that doesn't help, the social worker wants to know who can be around to support." Alison stated, as-a-matter-of-fact-ly.
I was baffled! After some Googling, I found this Parental Assessment Manual, in which over 300 skills are assessed including how to change a fuse. More stories surfaced when I dug deeper, most were sensational and melodramatic; worthy of EastEnders. Worse still, the stories were presented as lives of these other people who are far away and no-one's business except an object for charitable sympathies.
Working for a learning disability theatre company, I've witnessed relationships, break ups, engagements and a marriage. The everyday struggle of adulting is real, but it's as if adult life wasn't for them. Anna said she wasn't taught sex education at school, and doesn't know why. You might assume she knows nothing about sex? She is 27 and could read 50 Shades of Grey to her heart's content and her dance moves are as sexy as Beyoncé's!
Learning-disabled women are often viewed as permanent children, helpless victims, or a combination of both. Mainstream media doesn't help. We have joked about our female artists being typecast; four of them have played at least six different roles as learning-disabled pregnant victims on BBC and ITV. JoAnne recently appeared on Doctors and her character was, same story, pregnant with problems.
What about those women who wanted to have children, those still struggling to decide, or those who decided not to? What about those learning disabled women who are agents of their own choice?
We decided to tell the truthful and everyday stories of learning disabled people's parenthood through a new show called Mia. Besides being entertaining, we want to tell people these hidden stories, make them aware of the ordinary lives of some extraordinary people. Mia carries hard-hitting stuff, sometimes the absurdity of reality renders us not knowing whether to laugh or cry.
"It's very complicated. It's a big commitment and I know I can't do it on my own. I want to live my life now, I am not ready." Anna said.
"I want to (become a mum) one day, but I'm not sure if my child will have learning disabilities. I don't want my child to go through what I've been through. I know what it's like growing up with a learning disability. You get bullied, it's not easy," JoAnne said.
Alison recently got married. "My husband and I both want to become parents. We have practiced baby-sitting for my sister, and I have an idea of what I need to go through if I get referred to social services. My desire to have a child is bigger than my fear of losing it. I will fight to keep any child in my care." Her eyes glistened with determination.
For me, the journey of making Mia made me question what makes a good parent. Is it the ability to provide? Ability to sacrifice? Ability to love? I guess the ultimate question is what kind of world do we want to live in.
Joyce is the creator and director of Mia: Daughters of Fortune, which is being performed until 27 August at Summerhall for the 2017 Edinburgh Festival Fringe, before going on tour
HuffPost UK Lifestyle has launched EveryBody, a new section calling for better equality and inclusivity for people living with disability and invisible illness. The aim is to empower those whose voices are not always heard and redefine attitudes to identity, lifestyle and ability in 2017. We'll be covering all manner of lifestyle topics - from health and fitness to dating, sex and relationships.
We'd love to hear your stories. To blog for the section, please email ukblogteam@huffingtonpost.com with the subject line 'EveryBody'. To flag any issues that are close to your heart, please email natasha.hinde@huffingtonpost.com, again with the subject line 'EveryBody'.
Join in the conversation with #HPEveryBody on Twitter and Instagram.