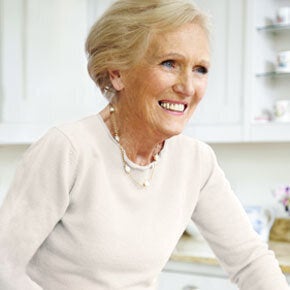 Image Credit: BBC Good Food Bakes and Cakes Show
It came as a bit of a surprise to read that Mary Berry would be cooking on stage for the very first time with her daughter Annabel Hunnings at the BBC Good Food Bakes and Cakes Show, leading to quite a bit of speculation about Mary's time in the tent and whether she might be considering retirement. Relevant part of the press release (which I was really surprised by) was "... and for the first time ever will see Mary Berry cooking live on stage with her daughter Annabel Hunnings. In live theatre sessions Mary will be baking her Raspberry and Apple Muffins with the help of Annabel and will share some baking tips and tricks with the audience."
Much like Bruce Forsythe, I always assumed Mary, despite her age, would be in the Bake Off tent for the duration. From year to year, Mary and Paul were constants - Mary with her helpful tips and advice and Paul with is cryptic advice and warning cries of "that's brave" and "good luck" which became synonymous with 'abandon hope all ye who bake this way'. Many a contestant withered under pressure from Paul. Mary always seemed the encouraging, helpful and friendly expert in the tent. Everyone I talk to about Bake Off seems to love Mary and that is why I was so surprised to see the sudden inclusion of her daughter in the baking line-up at a BBC show.
Offering feedback to the contestants and being a bit of a mother to all the bakers, Mary was and is an important part of Bake off for contestants and viewers alike. Even my husband who swears he is not watching Bake Off and only keeping me company, has gotten in to the show and has fallen for Mary's charms and baking skills during the masterclasses. To lose her would be a serious blow to the chemistry of the show's presentation and the participants in my opinion. Not that Mel and Sue aren't fab, but Mary is Paul's perfect counterpoint. Mary's daughter, however, is now possibly being mooted as a potential successor to the crown with her first outing with her mum at the BBC Bakes and Cakes show. I'm not keen on change and I want to see Mary in the tent for years to come though I know as she approaches 80 her age may be becoming a bit more of a bother to her.
Annabel is no stranger to working with her mother. She and her mother set up Mary Berry & Daughter Salad Dressings in the 90's and it has since become one of the largest suppliers of sauces according to Green Fields Online (among other sites). Interestingly as well the Daily Mail reports that those same sauces are 27% sugar (one of the cheapest ingredients) - perhaps a natural addition given her baking background, if an undesirable one. Sugar is in the cross-hairs of various groups right now as one of the worst things for our health - but that won't stop me baking! I have a little bit of a crush on golden caster right now.
Mary Berry herself has a CBE and is considered by many (if not all) as the doyenne of family cookery, specialising in cakes and desserts. Her television career has spanned more than four decades, and she has written over 40 best-selling cookery books. She isn't just a self-taught home baker but she trained at the famous Cordon Bleu in Paris and by the 1960's she was already cookery editor of Housewife magazine. Before I was even born she was a success and in the 1970's as I was growing up she was a hit with her program Afternoon Plus.
For the last 20 years she has teamed up with Lucy Young with whom she tests recipes and Lucy also teaches at Mary's Aga Workshop. It would seem more natural for Mary to pass her baking queen crown on to Lucy than her daughter but the recent news about her baking on stage with Annabel could signal a change to that assumed line of succession. If there is anything I have learned from British history it is that the line of succession is seldom easily determined when there are two possible strong contenders. Will it be a line of succession in the baking tent from mother to daughter, Mary to Lucy or something else?
It remains to be seen what happens at this new BBC Bakes and Cakes show, building off the popularity of The Great British Bake Off. Will Mary begin paving the way for her daughter to take over her reign in pastry or is this just a nice family bake. I don't want Mary to go! If you, like me, are keen to be there live-Tweeting any announcement or breath of a hint that this might be happening, the BBC Good Food Bakes and Cakes Show is on at the Business Design Centre this weekend October 25 - 27 (yes, Saturday to Monday).