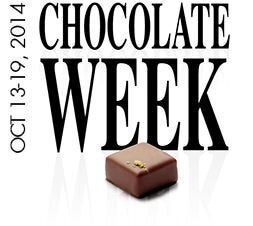 Image Credit: Chocolate Week
As a chocolate blogger for over five years I go to a lot of things for Chocolate Week, some open and some not. The thing I love about Chocolate Week though is that everyone gets to go to some great events all over the country that are fun and teach you about chocolate.
I've been interested in chocolate for a while but it was the second year of Chocolate Week that I really learned a lot about cocoa and the chocolate making process from bean to bar. I also learned about Pierre Marcolini that year - a passion for his chocolate that continues until this day. I still buy Pierre Marcolini chocolate and I've even toured his factory. That is what Chocolate Week is all about - learning and discovering more about chocolate.
As an insider I find out about things that aren't necessarily on the Chocolate Week website so I wanted to share with you all some of my picks for events that may not be easily found but are open if you know about them.
1) Not on the Chocolate Week website: Goviva - Wed Only! You have to email a RSVP
To celebrate Chocolate Week the lovely folk at Godiva Canary Wharf store have arranged for an evening of delicious chocolate and wonderful Port from Ramos Pinto. RSVP is essential and because this is not on the Chocolate Week website you have an exclusive heads-up! You can see the event here http://instagram.com/p/uAmUtvFlyW/ and just email charlotte.stuartjacob@godiva.com to reserve your space
2) Also not on the Chocolate Week website: Every weekend chocolatier William Curley has a dessert bar and over Chocolate Week it should be especially good. The dessert bar is an experience where you sit at the bar at the back as the five courses are created in front of you. For an example of the dessert bar just look at http://instagram.com/p/t69GWBAeCG/ and then look them up and have some this weekend!
3) York Cocoa House is having their Adventures Into Chocolate Making & Tasting especially for Chocolate Week. Passionate about chocolate, these folks are *growing their own cocoa tree* as well as making their own Chocolate Week Chocolate Bar. You can follow their progress throughout the week at 5.30pm daily in the shop as well as partaking in their other special Chocolate Week activities!
4) During Chocolate week Rococo is sampling a different bar every day. Just pop by any of the Rococo stores and you'll get a sample tasting of one of their new flavours. Chantal who is the creative genius behind Rococo is always striving to bring quality chocolate and you'll learn loads by just asking questions while you're nibbling on her latest creation.
5) Speaking of nibbling on creations, besides the special port and chocolate event Godiva is doing time-limited chocolate tastings in their shops every day. I usually hit up the one on Regent St and you can go every day to try something if you're super keen. The tastings are only from noon to 4pm daily to the 17th so get in!
6) In the South? Why not try The Chesil Rectory's Chocolate Inspired Tasting Menu - Thursday only! You have to email an RSVP
The Chesil Rectory is celebrating Chocolate Week with Chococo & has designed an exclusive chocolate-inspired evening at their restaurant. With Twisted Nose Gin and The Watercress Company, Chococo is supplying origin couvertures for this really unique tasting menu.
It's in Winchester and you'll need to email eleanor@dodzilla.co.uk to RSVP
7) Brighton sees a Divine Chocolate baking competition on Saturday 18 October judged by last year's GBBO winner Francis Quinn at Just Fairtrade. Why not let a little bit of that chocolaty creative side out and get your bakeface on and enter just for some fun and to celebrate Chocolate Week!
8) Speaking of Brighton, Chocolate Ecstasy Tours has a new tour in Brighton! It was on just such a tour that I learned about chocolate so why not go on one of Jennifer's tours which include Mayfair in London, Chelsea and of course Brighton. She's been running these tours for years so you'll be getting a real chocolate insider pro's view of chocolate and learning lots too!
9) Wanna keep learning or take it to an even higher level? The Academy of Chocolate Conference hosted by Simon Parkes is happening around everything that contributes to the price we pay - or should pay - for chocolate. As ever, there will be an opportunity to meet cacao and chocolate producers, watch master chocolatier demonstrations and, not least, taste sublime chocolate creations and all at The Royal Automobile Club on Thursday only.
10) Hungry after all this talk of chocolate? Me too - I'm keen to try the Chocolate Afternoon Party by Divine Chocolate. They have cakes and desserts named death by chocolate, chocolate and caramel shot, dark and white chocolate cupcake to name but a few of the nummies and it's all happening at The Royal Park.
11) Plum + Spilt Milk meets Gü at the Great Northern Hotel have a fixed price three course dinner with chocolate in every dish and a Gu pud for dessert. Easy to get to at King's Cross after all the Chocolate Week festivities you could chill and rest before your train home here. I called and they have space and I have had it and it was absolutely brilliant.
12) The amazing Akesson who owns his own chocolate plantation is doing an exclusive tasting at Alexeeva & Jones. Bertil Akesson is going to be talking about his experiences as a bean-to-bar chocolate producer and letting people who attend this FREE tasting try some of his chocolate but you need to get a free ticket by emailing natalia@alexeevajones.com
13) The Chocolate Show is the grand finale of Chocolate Week. Meet the best chocolatiers and chocolate companies from the UK and around the world, indulge in their exceptional chocolate creations along with demonstrations by renowned chefs, tastings and hands on workshops. I'll be on the blogger panel Friday and Saturday in the Academy of Chocolate room at noon.
So there you have it - my lucky 13 baker's dozen of things I picked from this year's Chocolate Week events. You can see more on the Chocolate Week website at www.chocolateweek.co.uk