I recently went to see "Beautiful", the Carole King bio-musical that follows her rise from Brooklyn bobby soxer to Brill Building hit machine. Does it get any better...a night of songs that feel like old friends?
Well actually it does, that is of course, when you get to see it with your current bass player and drummer, who, it just happens, were her 1970s rhythm section, the legendary Leland Sklar & Russ Kunkel. It's true!!!
We were touring Europe, had a night off in London and decided to go see the newly opened West End production at The Aldwych Theatre. Seeing it with them gave me the strangest sense that I was in a film about a film, slightly surreal and as if I was siting amongst the cast members!
Tough audience you'd agree, but we all left feeling the same way, that this was a truly entertaining show about a remarkable time in the music business and the equally remarkable relationship between hit writing teams/spouses Carole King/Gerry Goffin and Barry Mann/Cynthia Weil. The songs that poured out of them in their quest for the number one spot are nothing short of breathtaking... (Google them NOW)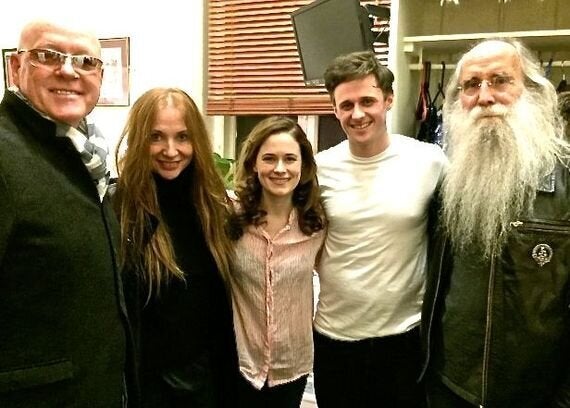 Competing for the number one spot, the foursome were adversaries and friends, though sadly only Mann & Weil, the emotional opposites of Goffin & King, (seductively portrayed by Ian McIntosh & Lorna Want), got to be life-long mates. All four performances are stellar, and the casting director should be applauded here for choosing great talent who physically resemble the originals. In addition, what a joy it was to see an actress really hammer that piano and embody King's performance style! I'm a bloody pianist and it took ME a while to realise that the conductor MD was playing the piano and the actress (a pianist herself), was miming perfectly.
Described by some as a jukebox musical, it was so much more than that, as Lee & Russ attested to. Brilliantly performed by the London cast, it's a study in contradiction, highlighting the young Carole, gifted with musical brilliance, yearning for normalcy and a house in the suburbs. The definition of genius, couched in the quintessential Jewish mother.
As a songwriter I was moved to tears whenever the quite fabulous Katie Brayben as King, sang her own heartfelt versions of songs like "Will You Love Me Tomorrow". And that's what really works about this show, seeing the life experiences and often-painful emotions that formed these exuberant hit songs.
The wonderful direction and choreography by Marc Bruni and Josh Prince, made the transition from writing and recording to performing seamlessly burst with brill cream humor via the cast's wonderful portrayals of The Drifters, The Righteous Brothers, Little Eva, The Shirelles, and a suitably oily Neil Sedaka, gave the production just enough retro joy to balance out the story's sad undertow.
My "zone" was of course interrupted by the usual Broadway-esque bumpers that let you know "the scene has ended" (why????), but what did I care? As a confessional writer who needs humor to get thru, I was hooked by the joy and the bittersweet irony of it all. Of course I felt for Goffin; brilliant and bi-polar, bringing depth to the songs with lyrics that soared, desperate for life, trapped in the suburbs, frustrated, disappointed and disappointing as husband, father and collaborator. Played sympathetically by Alan Morrissey, I really felt I was seeing a young and hopeful man walking the thin line between life and sanity at a time when such things were not really spoken of.
As a musician, it struck all the right notes in showing the craft of writing and the true toil behind the stage glamour. But this is a show for everyone, dealing as it does with the fundamental themes of life, love, loss, resilience and redemption. Wrapped in the joyful songs of a halcyon time when kids started writing for the kids, about the kids (thankfully resurrected by this show), it's the core theme that touches... how the shyest, most reluctant and unlikely of people can end up front and centre, shine and be beautiful.