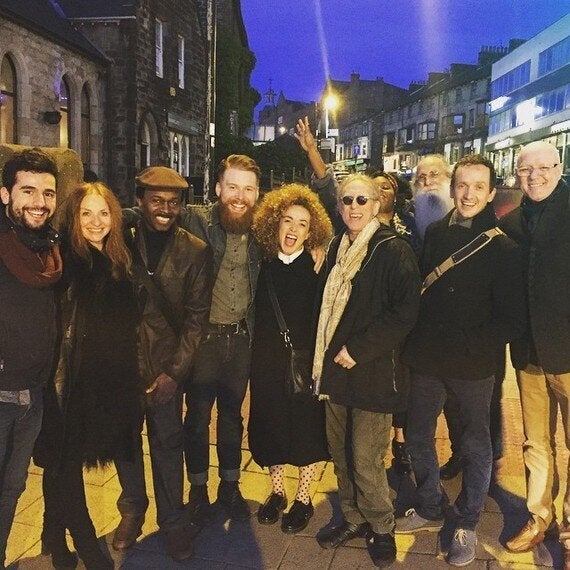 L to R - Pedro Segundo, Judith Owen, Fonzi Thornton, Jimmy Sims, Rhianna Kenney, Waddy Wachtel, Bobbie Gordon, Leland Sklar, Luke Bullen, Russell Kunkel
I'm a lucky S.O.B, no really I am!
I've gotten to work with the kind of artists who love talent in others and embrace it rather than be threatened by it. Artists like Richard Thompson, Julia Fordham, k.d lang, and now Mr. Bryan Ferry.
Yes, I'm opening for pop/rock's coolest man and his equally sublime band.
Thankfully I have my own band of legendary players to grace the stage with... Leland Sklar, Waddy Wachtel, Russell Kunkel & Pedro Segundo.
The fact that Waddy produced Bryan's 1978 solo album: "The Bride Stripped Bare", makes things even more familial, as does his guesting during Bryan's set. And that's what's been so unusual about this particular tour...speaking as the opening act...the sense of camaraderie.
We're playing gorgeous venues throughout the UK and each night we watch each other's sound checks and then hang out over dinner, and that's what being a touring musician is all about...loving the hang, the talent, the sense of being part of a musical family.
Being an opener isn't the easiest of gigs (you're playing to an audience who came to see someone else after all) but BF and his team couldn't be more supportive or enthusiastic about our set.
Musicians are really quite special people who love sharing the stage and seeing each other shine from the top man or woman down.
It's a strange and wonderful life, being on the road; living on a bus. It's not for everyone but if you're a social animal and you love the people you're with; then the bus starts to feel more like a womb on wheels than a mere means of transportation. I much prefer being on the bus than staying in a hotel room and I'm not alone.
I've heard about more than one behemoth road warrior who has to wean themselves slowly off the bus, parking it outside their home and making ever-lengthening trips into the family unit, until they're sure they won't freak out. (Think submarines) It's a cocoon where you get from A to B with one thing in mind: that night's performance.
Right now we're crossing the lowlands from Edinburgh to Glasgow, I'm writing and watching "Bridge on The River Kwai", Leland is quietly nodding off (everyone has narcolepsy on the bus), and all's well with the world.
We're on our way to Liverpool's Symphony Hall. We'll get there in time to hear Bryan's sound check. Then we'll eat with our new pals, sound check ourselves, do the show and drive to Sheffield for the next one.
I know what every day looks like. I have structure and a sense of purpose and that's what all we creatives crave.
I'm doing the thing I love, with the people I love, and thanks to this incredible opportunity, getting the love (plus I won't be emptying the cat's litter for a few weeks yet). It's not the real world of course but it's where I live right now.
Leland always says that walking off stage is like going "from God to cod", but sitting here in my womb on wheels I'm feeling like Princess sea bass. I have but one concern, actually an end of tour gift query....what DO you buy the coolest man in showbiz?