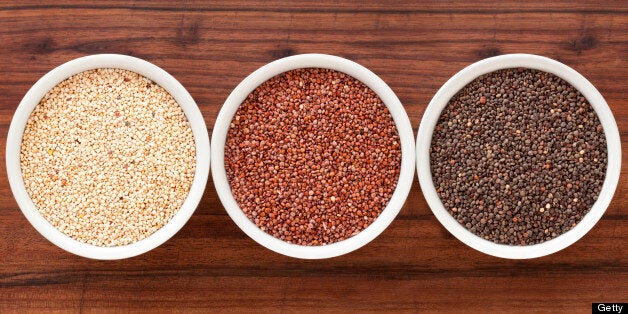 My favourite thing about quinoa is its texture. It's something a bit like barley with its chewiness, and it also has a light fluffiness akin to well prepared couscous. No matter how 'good for you' a food is, I don't include it in my diet unless it passes the taste test. Quinoa is slightly nutty and grainy, and it's something I could keep eating and eating. Just like grapes, quinoa comes in different varieties. The most common is white, but there are also red and black.
Quinoa happens to be higher in protein than most grains and so it's less carb heavy. It's also gluten-free.
Another thing I've noticed about quinoa is that most recipes instruct you to cook it using the absorption method which I find a bit 'hit and miss'.
So I thought I'd share my 'fool proof' quinoa cooking method.
1. Bring a medium pot of water to the boil.
2. Meanwhile, place quinoa in a fine sieve and rinse well under running water. Drain.
3. When the water is boiling, add the quinoa and simmer for 10-12 minutes or until quinoa is tender.
4. Drain and allow to sit in your strainer for a few minutes for the steam to disperse and allow the quinoa to dry out a little. Serve or store in the fridge. It also freezes well.
The kale and quinoa recipe below is inspired by Rodney Dunn's super lovely book 'The Agrarian Kitchen'. It was Rodney who gave me the idea to shallow fry the kale, and I just love the result. It's so different from the texture of kale when it's wilted. If you could probably get a similar effect by baking the kale with a good drizzle of oil, in a similar manner to kale chips. For a dairy-free version you can replace the ricotta with poached eggs or scrambled eggs.
Crisp Kale with Quinoa & Ricotta
enough for 4 as a side or 2 as a main
1/2 cup oil for shallow frying (I used rice bran oil)
1 bunch kale, finely sliced crosswise
1 cup cooked quinoa (150g / 5oz)
8 tablespoons creamy ricotta
1. Heat oil in a large saucepan and fry half the kale until crisp.
2. Drain the kale on paper towel while you fry the remaining half.
3. Transfer kale to a serving platter. Scatter over the quinoa.
4. Squeeze over a good drizzle of lemon juice and season well.
5. Top with dollops of ricotta.