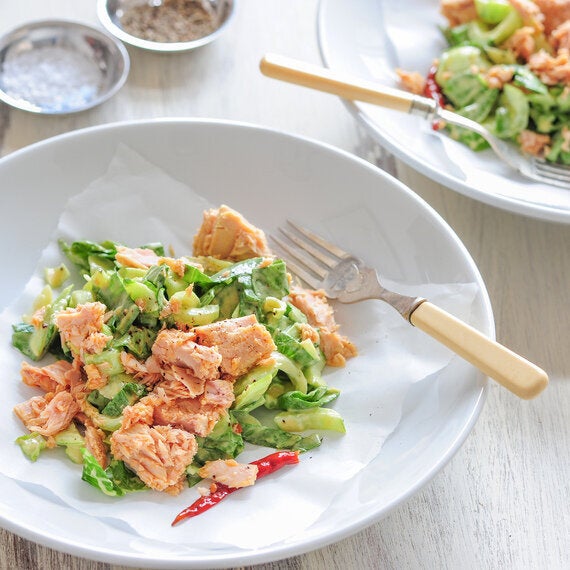 We all know that a homemade lunch tends to be more nutritious, less expensive and better tasting than grabbing lunch from the work canteen or local cafe. However, there seems to be a few myths lurking that may be holding us back from having a really enjoyable lunch experience.
What are two of the biggest homemade lunch myths?
Myth No. 1. You need to be super organised to have homemade lunches.
Repeat after me, 'I don't need to be super organised to have a homemade lunch'. All you need is time to go out at lunch (or on your way to work) and buy a few ingredients to make you lunch when you get back to the office. No forward thinking required.
Myth No. 2. You need loads of time in the mornings to prepare homemade lunches
Time in the mornings is precious. There are two super easy solutions here. Either pack lunch the night before or make it at work.
3 myth-busting tips for homemade lunches
I know it's not a new concept but it's really a brilliant way of getting yourself into the homemade lunch habit. If you're already going to the trouble of cooking, it hardly takes any extra effort or planning to double your recipe and then pack into lunch boxes as you're serving up. Then you can pop them in the fridge or freezer, and the boxes are ready to grab as you dash out the door.
2. Learn to make lunch at work
This is perfect for people who aren't into planning ahead. Just run out and pick up a few things from the local supermarket or deli then come back to the office and pull together your quick and tasty lunch in the work kitchenette area.
3. Try a bit of lunch customisation.
This is a compromise step where you maybe grab some BBQ chicken or fried fish from your local takeaway, but rather than just adding a side of chips, you duck into your local supermarket and grab a lemon and some washed salad leaves to add a healthy 'customisation' to your lunch.
Bok Choy & Mustard Salad Recipe
If you haven't ever had bok choy raw in salads, you're in for a real treat. The texture is just so good. Fresh and crunchy, you can just feel it doing you good as you eat.
The recipe below contains canned tuna. You could also make it with shredded cooked chicken or crispy pieces of bacon.
2 tablespoons dijon mustard
1 tablespoon rice or sherry vinegar
1 bunch baby bok choy, well washed
1 can tuna in oil, drained
1. Combine mustard, vinegar and 3 tablespoons extra virgin olive oil in a bowl.
2. Finely slice bok choy, crosswise into bite sized pieces. Toss in the dressing.
3. Divide between two bowls or lunch boxes and top with the tuna.