There is something inherently nostalgic about a Pompom. I must have made hundreds of them at primary school when I was a child. Colourful, tactile and the embodiment of the word nice. It's no wonder that the Deafblind charity Sense launched a campaign in 2013 to get as many Pompoms as they could.
The Great Sense Pompom Challenge aimed to collect thousands of pompoms from around the UK and beyond, which were woven into a massive tapestry that travelled across the UK raising awareness of sight and hearing loss wherever it went. For Deafblind people the Pompom is a sensory experience because for people with hearing and sight impairment, the sense of touch is so important. Over 6,000 Pompoms were collected.
Fast forward one year and Sense are now involved in a Guinness World Record attempt again involving Pompoms and linked to the upcoming Handmade Fair with the hashtag worldpomination. The Fair, which takes place at Hampton Court Palace, is supported by Kirstie Allsopp. If you have ever watched her craft shows on the TV you will know that she surely is the Queen of Pompoms. Kirstie doesn't limit herself to just fluffy Pompoms made of wool, oh no, she will turn any material she possibly can into a Pompom even paper and she enthusiastically passes on her passions. At the Handmade Fair visitors will be able to take part in a Grand Make with 250 other people, making, among other things, you guessed it, Pompoms, some of which will be donated to the record breaking attempt.
Just in case you can't make it down to Hampton Court, I thought I would show you some different ways of making Pompoms, from the laborious to the super quick and efficient. Then, if you feel like joining the challenge, you can take your Pompoms to your local Hobbycraft store or maybe you would consider donating £3 to Sense by texting POMPOM to 70111.
First of all, there is the old-fashioned method the dreaded cardboard circles. Cut out 2 circles of cardboard like the image. Wind lots of yarn around (short balls work best. When the hole in the middle is nearly full, cut between the two circles, thread a length of wool in between and pull tight before sliding the discs off. It seems to take the ever, threading lengths and lengths and lengths of yarn through to little cardboard discs. But, I guess the teachers of my youth thought it was a great way of keeping us occupied and quiet.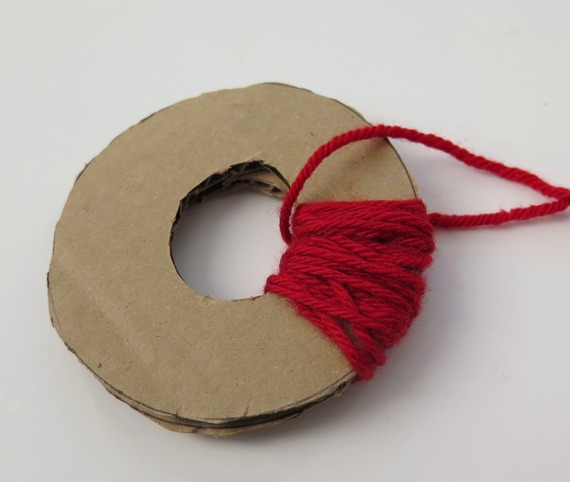 © Juliet Bernard
These days you don't have to do cut up a cereal packet. There are lots of interesting gadgets that will help you do the job quicker and better. Most of them are very similar, featuring two circles that are hinged and come apart into the shape of two U shapes, allowing you to wrap half of your Pompom at a time. When each side is full, you clip the two together, cut through the plastic ridge as indicated. Then tie an extra piece of yarn tight around all the cut strands, and hey presto, you have a lovely ball of yumminess. Pompoms made in this way are wonderfully dense and when you trim them are saturated balls of colour.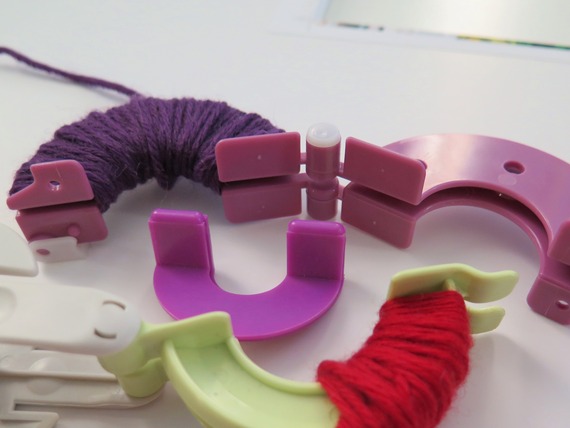 © Juliet Bernard
There is also a new kid on the block called the Multi-pom. I'm afraid the lady that has created the Multi-pom, has asked me not to feature a picture of the actual product. However I can tell you that it is the fastest way I have ever made Pompoms. It took a little while to get the knack (not winding the yarn onto tight, using a different less slippy yarn to tie the Pompom) but soon I it was taking me only about 15 minutes to make 20 Pompoms. So, if like Kirstie, you want to fill your house with Pompoms, the Multi-pom is definitely one for you.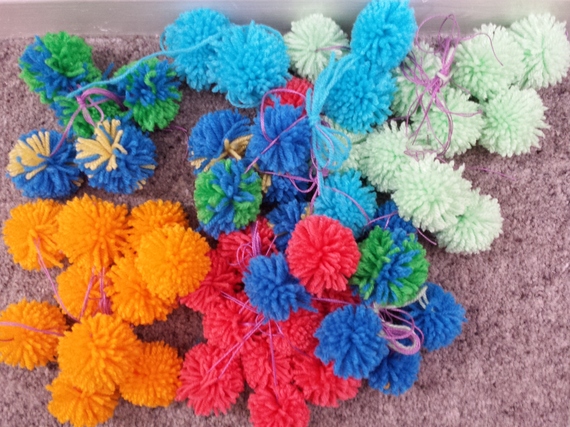 © Juliet Bernard
Whether you use the old-fashioned technique or the high-tech method, please try to make a couple of Pompoms for Sense - it really is a wonderful charity.