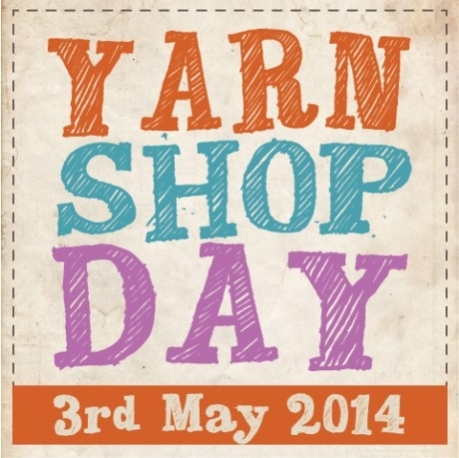 © Aceville
In the UK we are about to celebrate a momentous event in the crafting calendar. Yarn Shop Day will take place this Saturday, 3 May but I'm sure you already had it in your diary. To be honest I can't think of a better way to kick off the Bank Holiday weekend than to potter around a yarn shop all day. The Creative Sanctuary in Hertford is my nearest and they have planned a fun-packed day. As well as meeting a really great designer called Julie Williams from Little Cotton Rabbits, I hope to successfully conquer my fear of zips making a new bag for my knitting at a special workshop. I'm told they are easy but I am not convinced. Still, I will be in the hands of an expert called Ange and if anyone can help me she can!
There is actually a serious side to this event. Love Your Yarn Shopwas a campaign created by Let's Knit magazine as a nationwide event and celebration. It's easy to buy yarn on line and there are some great retailers but nothing is quite the same as getting out there and squidging a ball or two, so we really don't want to lose them.
There are some quite incredible figures bandied around about how many people can knit in the UK - 10% of the population is the most popular figure. Imagine if that many people were buying yarn regularly, there would be a yarn shop on every corner. But just because they can doesn't mean they do knit, so the retail landscape is much more challenging. Running any independent retail outlet is tough at the best of times and after the last few years the number of yarn shops and haberdashers have markedly decreased. Arguably some of those businesses had had a good life and as their owners retire so do they. But many losses are down to the changing retail environment and consumers simply not having the money. But despite economic doom and gloom there are lots of new outlets opening - a new breed of yarn shop appearing in towns and cities all over the UK. They are most likely to be run by passionate crafters but with banks demanding in-depth business plans before they will part with the penny, these owners have had to learn how to run a business properly; they understand margins and ROI but they also understand their customers and what we need by offering a huge diversity of delectable products. The new yarn shops are inviting, some even have a cafe or a deli alongside, often with sofas to sit on and new people to meet. These retailers are cleverly building communities around their shops which hopefully will give them a foundation of regular loyal customers. But selling yarn, fabric and buttons doesn't necessarily pay the rent. An essential part of most yarn shops today is the workshop. What could be better than learning something new with like-minded people on a Saturday afternoon, exploring techniques that could well be centuries old. As you know I tried willow weaving but I have also enjoyed book binding, crochet, spinning and felting. In fact I'm pretty much up for anything
The Creative Sanctuary is a perfect example of this new movement. Before they opened there was a dingy haberdasher in the same spot. They weren't very friendly and it was a nightmare trying to find anything. How different the shop is now - light and airy with exciting new things to see and Angela's smile ready to greet you. For me she encapsulates why we need a Yarn Shop Day to help and support innovative and inspiring business people.
The Creative Sanctuary is 113 Fore Street, Hertford, SG14 1AS
If you want to find an event near you Let's Knit have produced this essential map