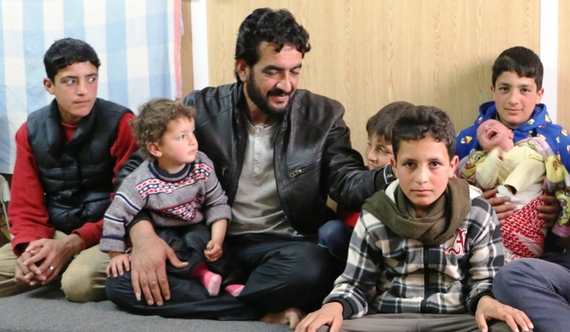 Three years ago, a group of school-children scrawled political graffiti on a wall in the remote Syrian town of Daraa. Their subsequent arrest and torture was the spark that ignited the civil war now ravaging Syria and devastating the lives of so many of its 22million people. This civil war is now thought to have spawned the world's worst humanitarian crisis.
"I remember that Wednesday so clearly," says Salah, now a refugee in Jordan's Zaatari camp with his wife and six sons. His raw reflections on life before the conflict, and then on the family's first weeks in Daraa to the present day, is a microcosm of the lives of millions of their country-folk, as the Syrian crisis enters its fourth year.
"We were living in freedom, with a good economy; we had good lives. I had a motorcycle and I could go anywhere freely," says Salah. "To be honest, this crisis is also our fault because we took it for granted. We never imagined anything like this could happen."
He recalls the start of the conflict: 23 March, 2011. "There was a lot of killing that day... we call it Bloody Wednesday. 70 people were killed."
Salah and his community were besieged for eight long months. No food, no fuel, no medicine was allowed in. Then, amid the festival of Ramadan, the bomb strikes began. "They destroyed everything. I can give you the names of the people killed in front of us," he recalls.
Salah's wife and six sons were at home. His eldest, Habib, picks up the description. "I was so afraid. I thought we were all going to die. Isaa (Habib's 10 year-old brother) had a gun put to his head. They came into our home, they went through all our things and asked if we had any food. My grandmother was making bread for our neighbours and they took it from us."
Salah then described with horror the tipping point that made the family flee their home. "They killed our neighbour's son, he was only 10 or so. They cut him up right in front of his father and then they took out his father's eyes, before they killed him too. He was disabled; he only had one leg. There were dead bodies on the road for 10 days. This is not humanity. We need to live like humans. We decided we had to leave."
Guards took the family to the border before they trekked 13 kilometres on foot through the valley, where the Jordanian army picked them up. "They were such kind people. They gave us water and food, even sweets for the children. Then they brought us here to Zaatari. We hadn't been able to sleep for nine months of bombing. Once I got here, we felt safe. I slept for three days almost without waking. My sleep was filled with bad dreams; so were my children's."
Arriving at Zaatari was not the end of their challenges. There are up to 100,000 refugees living in that camp, but 400,000 have passed through it since opening less than two years ago. Zaatari is considered a Syrian city on Jordanian soil, run by the government, United Nations and a host of aid agency partners including World Vision, providing water, food, shelter, education and healthcare.
After many early problems arising from the sheer scale and mushrooming growth of its population, conditions have recently improved with efforts to bring not only relief, but dignity, and some sense of normality. Small businesses and even a couple of 'supermarkets' have sprung up. But the psychological and social impact of what's gone before and life as a refugee, without an end date to the misery, of has taken its toll on social norms. The camp is surrounded by ditches dug and guarded to prevent smuggling. Over 60 buildings have been stolen, literally dismantled brick by brick, ceramic toilets stolen away in the dead of night.
Many families have left the camp by desperate means, some bribing the drivers of the water delivery trucks to hide them and their families inside the water containers when they leave.
Salah and his wife, Mariam, now live in a small simple Portacabin-style home with all their sons, including 10 day-old Khaled, born a refugee. "I'm afraid for my children here," Salah says. "The environment is not good; there are a lot of bad boys. Many children and young people have psychological and emotional problems and that's causing bad behaviour, lots of bad words, fighting, even sexual abuse. It's not safe. My son said he'd gone to school, but he was lying - I found him watching a fight in the market. Even if I put delicious food in front of my boys they won't eat it. Life is too stressful."
Sixteen year-old Habib says: "it's impossible to think about the future, to have hopes."
There are millions of stories like Salah's in the long list of places that followed the inhabitants of Daraa - Homs, Yarmouk, Ghouta, Aleppo. Places whose names have come to signify to the world a descent into inhumanity in all its hideous forms. Thousands besieged and starved in Homs and Yarmouk, rows of children's bodies poisoned by gas in Ghouta, the carnage of barrel-bombed Aleppo. An array of grotesque images, even an ultrasound scan of an unborn baby with a bullet in its partially-formed body.
Official reports from the UN and human rights groups list the beating, burning, electrocution and rape of tortured children. Brave reporting from courageous journalists that has cost some their lives or freedoms has at least meant these tragedies have not gone unreported.
But it's little wonder that back home in the UK, drowning in this relentlessly painful testimony, we want to look away, to stop hearing. A recent cartoon in the New Yorker magazine depicts a couple reading newspapers at their breakfast table, saying: "without the Olympics, Sherlock or Downton Abbey, what's going to distract us from Syria?"
From that spark in Daraa three years ago and the suffering that followed, through the destabilising ripples across the Middle East, failed peace talks in Geneva, UN security council resolutions and hard-fought but tiny humanitarian breakthroughs, for those who resist the temptation to look away, it's easy to despair. I urge people to do neither. We must keep listening to the millions of voices like Salah - and then act.
"Three years is enough. In this century is it not possible for the big powerful countries to end this war?" asks Salah. "Take away their weapons. We want to live in peace."
If only it was that simple. The challenges and geo-political complexities of this conflict require boldness, determination and tough choices to bring about change. As it enters its fourth year, we desperately need a spark that ignites public and political urgency and action worldwide. We must prevent a whole generation of Syria's children being lost to this confluence of factors and actors so outside their control.
Justin Byworth is chief executive of World Vision UK. To donate to World Vision's Syria Crisis appeal, go to http://www.worldvision.org.uk/ways-give/make-donation/syria-crisis-appeal/