Ecuador's underlying ethos is a good one, one which could provide a blueprint of responsibility and sustainability for the rest of the world to follow. But as oil demands increase, the emphasis on environmental protection faces huge threats.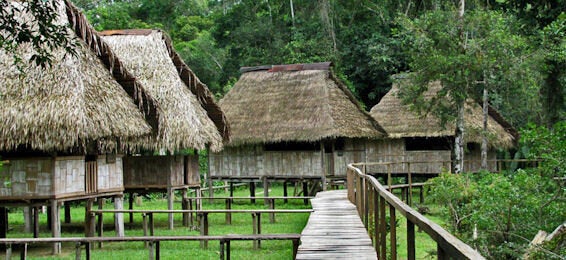 Eco-lodge in the Ecuadorian Amazon. Credit: Vicki Brown
Boasting more biodiversity per square kilometre than any other country in the world, and with a range of environments from active volcanoes and altiplano to Amazon rainforest, diminutive Ecuador is a veritable microcosm of South America. Fitting then, that responsible tourism also seems to come naturally. A generous community ethos pervades in the country; going local seems to be part and parcel of Ecuadorian life and it is the first nation on earth to include the "Rights of Nature" in its constitution, giving its myriad of people the legal authority to protect and enforce these rights on behalf of its myriad of ecosystems. It's a socially and environmentally conscious society which we could all learn from, but is it working?
The reassuring number of eco-accommodations scattered through the country could suggest it is. Looking for somewhere to stay that is environmentally responsible, rooted in local community life, managed by local people and serving local food is surprisingly easy in Ecuador; natural, some might say. Shining examples have featured in our World Responsible Tourism Awards; the Huaorani Ecolodge, owned and operated by and for the isolated Huaorani people to preserve cultural traditions and protect their section of the pristine, but threatened Yasuní Rainforest, and the Black Sheep Inn in the remote highland village of Chugchilán, 100% community operated ensuring a sustainable, alternative source of income for local people. It is these experiences, which the country has in abundance and does exceptionally well, that allow us to connect with the authentic Ecuador. Our travel guide to Ecuador lists the Quilotoa Loop, home to Chugchilán and the Black Sheep Inn as one of the country's most underrated experiences for its vibrant local markets, stunning scenery and insights into real, rural Ecuadorian life.
Rights of nature, wronged
As the world wakes up to Ecuador's incredible diversity, its mind-boggling assortment of landscapes, flora and fauna, and the fragile marine environment of the iconic Galápagos Islands face ever-growing threats from ever-growing tourism. It bodes well for the country that the ethos of community-led, environmentally sensitive tourism is widespread and accessible, that a multitude of ecologically and socially responsible initiatives are protecting both its people and biodiversity from a potentially destructive industry. However tourism is not the only threat to Ecuador's natural bounty; A dark, oily cloud hangs over some of its most pristine rainforest, threatening to rain on the environmental and social achievements of the 1990s, when the Ecuadorian people took on the oil companies in a landmark case to protect their indigenous lands from inevitable drilling destruction. What resulted was the Yasuní-ITT initiative, a groundbreaking deal whereby the Ecuadorian government wouldn't exploit the oil in fragile Yasuní, one of the most pristine areas of Ecuadorian Amazon in return for international financial support.
However, in 2013 the government abandoned its support of the initiative, announcing that it will auction off over 3 million hectares of Amazon Rainforest to Chinese oil companies. The future of Yasuní, and the future of the isolated communities which call it home, protect it and defend its constitutional rights, is looking bleak.
The pervading eco-consciousness and community spirit of the Ecuadorian people means responsible tourism is easier to find here than in many countries, but it is also a country facing huge pressures from oil and other forces, and it needs to apply the same ethos to protecting its unique biodiversity and indigenous people from these, in the same way it is from tourism.