She's stylish. She's smart. She's silver.
And her name is Jeanine de Groot. To be honest, we never asked her how old she is. Because her age didn't really matter. We just loved how she carried herself and effortlessly oozed confidence. It made us (silently) sigh and say, "I want to age this way".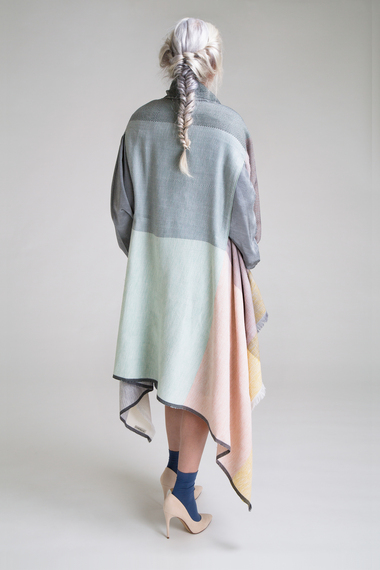 When we first spotted her, we had already been looking for a more mature model for our first attempt at visual branding. Why a mature model with silver hair, you may ask? To us ageing gracefully signified a choice. It hinted at timelessness. And just like we want to offer people a choice with our sustainable, handcrafted wraps, we thought a graceful, older model could show that you can choose to be natural and age with beauty and style.
World over, the fashion industry has slowly but surely been embracing the silver shopper in its marketing and communication. Just this week, 73-year-old Lauren Hutton was shown as one of Calvin Klein's underwear models for their upcoming Spring Summer collection. Last year, 60-year-old Gillean McLeod modelled swimwear for H&M and this year 63-year-old Lyn Slater became the face for Mango's 'A story of uniqueness' campaign. Slater, started her blog/alternative e-magazine Accidental Icon for, "Women (like me) who are not famous or celebrities but are smart, creative, fashion forward, fit, thoughtful, engaged, related and most importantly clear and comfortable with who they are." And her definition of real women is something more consumers globally are starting to identify with.
With modelling agencies that only sign up people older than 45, and age no longer being a barrier to enter America's Next Top Model, how old you are is becoming something to be flaunted. Even fashion icon Iris Apfel, who has always been ahead of her time, summed it up perfectly: "I don't see anything so wrong with a wrinkle. It's kind of a badge of courage."
Photocredit: Karen Kikkert