How many post-mastectomy brands have appeared in Vogue? Answer: just the one. Clover Lewis Swimwear.
In its 100-year history the fashionista's bible has never featured a brand aimed at the post-surgery market until now. Describing the range as "stunning" and saying it "can be worn by all women who desire figure-enhancing swimwear," Vogue included the "Dive Collection" in the "Making Waves" edit in their celebratory 100 years edition, massively boosting diversity in the fashion industry at the same time.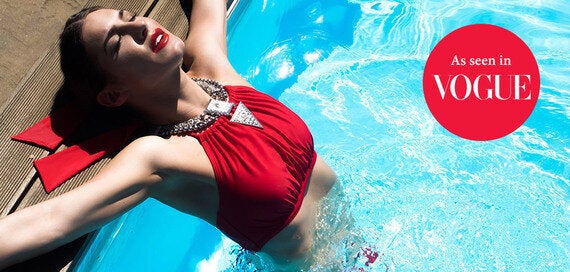 Well, Clover Lewis got a fast-growing breast cancer six years ago and realised there were three possible outcomes for herself: 1) Spiral into death, 2) Take the treatment, get better and as you were, or 3) Emerge from cancer with a life that was bigger and better than ever.
Not sure which option was on the horizon, Clover made a Bucket List.
On the list she firmly wrote scuba diving. This was an unusual list item for Clover, as she was scared of diving deep into the ocean, but she felt she needed to challenge herself. If life was about anything now, it had to be about letting go of fear, and doing the things she really wanted to do, or, as Clover puts it "taking a plunge into the unknown".
"When I first found the lump, I was completely devastated, and yet the cultural pressure to stay positive when you have breast cancer is huge. I didn't feel positive so I isolated myself and retreated. After my surgery I was depressed about the loss of my breast, and suffered Postsurgical Pain Syndrome. I didn't wear pink for breast cancer, I wore black, to conceal and hide. I used colour and style as armour."
Post-mastectomy, and conscious of her changed body, Clover was keen to treat herself to practical but flattering high-end swimwear for her diving course. "I wanted a bikini that would make me feel like the beautiful young woman I am" she explains. She searched, but to no avail. So, having previously designed costumes for the Royal Opera House, and not one to be defeated, Ms. Lewis got out her sewing machine and fashioned herself the perfect bikini, before boarding a plane, arriving in Bali, and bagging her Open Water Diving Certificate.
"Diving deep under the surface of the water I felt really alive in a way that I never am on terra firma. The environment is completely different and so is my perspective. Fish are swimming downwards, whilst I am horizontal, and I no longer know what is up and what is down. At first I felt disoriented, as I did when I got my diagnosis, then I touched base with my fear, plunged right into it, and overcame it."
A practising Buddhist with a strong desire to tread The Middle Way*, Clover wanted to help other women feel as beautiful and fearless as she did after breast cancer. So she designed her own range of (award-winning) swimwear. "Often with post-surgery swimwear, people just throw a print at it!" she tells me laughing as we sit in her studio at the end of the garden, "but with my history in theatrical costume-making, I know how to conceal and embellish in a more, shall we say, clever, way?" We shall, I think. Looking at the ruching and gathers she has used in designing her latest collection hanging brightly from the rails, I tell her that the swimsuits and bikinis look beautiful and that I, an enthusiastic swimmer and one of many women for whom buying a swimsuit is a careful exercise in covering and revealing, would definitely wear one. 'Yes, you don't have to have had mastectomy to wear one at all." says Clover, "My designs don't scream 'I've had breast cancer' but subtly say 'I've got style!'".
No wonder Clover Lewis Swimwear won the UKLA Post-Surgery Brand Of the Year Award for 2015. The collections are not only gorgeous, they are perfectly named to document the journey from Clover's plunge into the unknown with cancer to her sartorial victory. These garments represent the designer's transformation through confronting fear, and her ensuing desire to use her personal process and design skills to help others do the same.
Today Clover is dressed in a bright turquoise dress with pleated skirt and a netted, top-hat fascinator - everyday wear for someone who knows how much clothes can do for a woman. I'm reminded of something Virginia Woolf once said, that "Clothes change our view of the world, and the world's view of us".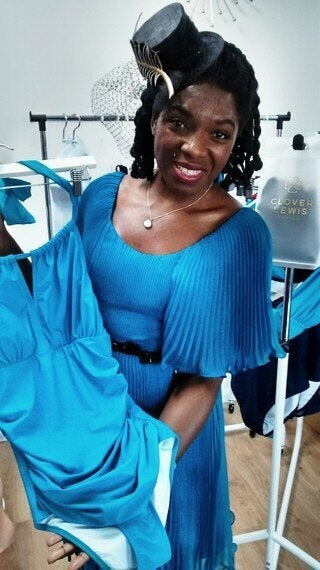 This designer knows first hand how losing part of your body can lead to a loss of confidence, and this is a problem she's intent on resolving for herself and others. In a feat of alchemy she's changed her original difficulty into a mission to provide swimwear which lends protection and self-esteem to survivors - presenting them as victors. Clover calls her work "Olympians Rule" for good reason. She sees her swimwear customers as heroes, not as victims of suffering or objects for the male gaze, and this is reflected in the names she gives her collections. There is the high-neck "Dive" collection for adventurers, "La Victoire" for the victors, and the 50's-inspired "Jump" for all those courageous movers and shakers. Each collection adds its own contribution to the perfect attire for a hero completing a journey.
Beautiful, elegant and practical swimwear for all women from "size 14s to fabulous post-surgery figures", Clover Lewis Swimwear, recognised by Vogue, is turning the tide for diversity in fashion with aplomb.
Karen Dobres, Loose Debra
*The Middle Way is a Buddhist term referring to the actions or attitude that creates happiness for oneself and others. This idea of mutual happiness transcends the either/or quality that underlies most thinking. Buddhists believe it to be the profound reality of life which will ultimately lead to happiness.